Fri Apr 30, 2021, 05:02 PM
peppertree (15,172 posts)
Argentina: Fernandez extends curfew, school closures as Covid-19 cases rise
Argentine President Alberto Fernández on Friday announced a three-week extension of restrictions to tackle the Covid-19 second wave, warning the nation that the "next few weeks may be very hard."
Fernández confirmed that the existing 8pm-6am nighttime curfew in the Buenos Aires metropolitan area (AMBA) - home to one in three Argentines - and other at-risk regions would remain in place.
The most controversial has been the cancellation of in-person classes at Buenos Aires metro-area schools.
Buenos Aires Mayor Horacio Rodríguez Larreta - whose right-wing JxC coalition staunchly opposes Fernández - has challenged the in-person schooling suspension. The city
lost in federal court on April 20th and the case has gone to the Supreme Court
.
Over 5,300 patients with Covid-19 are hospitalized in intensive care units across the country, with bed occupancy today at 69.1% nationwide and 77.9% in the AMBA region.
At:
https://www.batimes.com.ar/news/argentina/fernandez-extends-curfew-school-closures-as-covid-19-cases-rise.phtml


Buenos Aires Mayor Horacio Rodríguez Larreta visits a classroom on the first day of the current school year, February 17th.

Since then, new Covid-19 cases have jumped from around 6,000 to 22,420 today - with average daily deaths this week tripling to 384.

President Fernández's order suspending in-person schooling in the metro area has been challenged in court by the mayor.
2 replies, 369 views
Replies to this discussion thread
| | | | |
| --- | --- | --- | --- |
| 2 replies | Author | Time | Post |
| Argentina: Fernandez extends curfew, school closures as Covid-19 cases rise (Original post) | peppertree | Apr 2021 | OP |
| | Judi Lynn | May 2021 | #1 |
| | peppertree | May 2021 | #2 |
---
Response to peppertree (Original post)
Sat May 1, 2021, 03:20 AM
Judi Lynn (149,888 posts)
1. Just realized the Mayor of Buenos Aires is the old Macri ally from a long time ago!
Both have been the Mayor of Buenos Aires, both are misanthropic right-wingers. (Is there any other kind?)
It's sounding as if fascists globally are all using the same play-book now, doesn't it? Fighting government concessions made to combat Covid-19 isn't too intelligent. They are all coordinated, trying to block altering daily life to save lives until the disease has abated.
Looking for a photo, I recognized him immediately as one of Macri's cohorts. I had looked for his photo previously during Macri's time in office, while reading articles you had posted which had mentioned him. He has always looked every bit as slimy as Macri, throughout.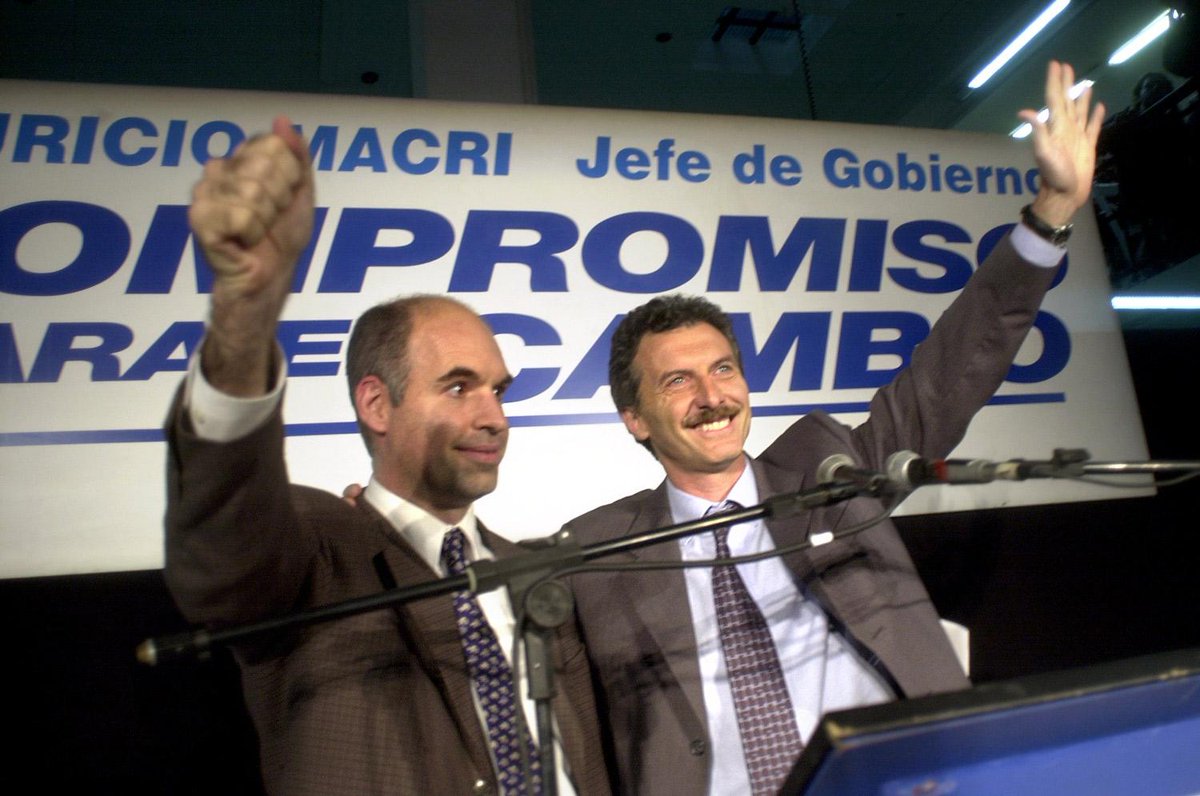 Have to hope the Supreme Court will support the earlier decision against the Mayor's destructive challenge.
Thanks, peppertree.
---
Response to Judi Lynn (Reply #1)
Sat May 1, 2021, 07:19 AM
peppertree (15,172 posts)
2. That first photo, from '03, must bring back memories for neocons - who wish they'd never met the guy
That photo's from Macri's first campaign for mayor of Buenos Aires that year - a race he lost, but which was later revealed to be backed by Bush's cold-warniks in the U.S. embassy.

Many of these embassy staffers/CIA post people, you see, are Cubans who don't know the first thing about Argentina, or how much of a liability these Argentine right-wingers actually are - without the upside they get in Chile, for instance.

But in '03, after failing to get old Menem back in office in the presidential elections in May (which he forfeited), getting Macri elected mayor was seen as the best way to eventually get him elected president.

They eventually succeeded as you know - and he turned out to be a major financial loss and foreign policy embarrassment, just as I could have told them he would.

Thanks as always for your revealing photos and insights, Judi. A backstory behind each one.