Sun Apr 11, 2021, 03:45 PM
peppertree (15,079 posts)
Ecuador's Guillermo Lasso wins presidential election
Last edited Sun Apr 11, 2021, 11:38 PM - Edit history (1)
Ecuador on Sunday elected a conservative former banker and supporter of free-market policies as president over his populist opponent, setting the country on a pro-business path.
Guillermo Lasso, 65, received over 52% of the vote to clinch the presidency, his third attempt at running for office. He defeated Andrés Arauz, a 36-year-old leftist economist and protégé of powerful ex-president Rafael Correa.
Arauz conceded with more than 95% of votes counted.
Lasso, who will be sworn in on May 24, will inherit a bruised economy and health crisis in the nation of 18 million as the Covid-19 pandemic rages across South America.
At:
https://www.wsj.com/articles/ecuadors-guillermo-lasso-wins-presidential-election-11618195085


Ecuadorian President-elect Guillermo Lasso addresses supporters during tonight's victory rally.

His center-right CREO alliance defeated the center-left Union for Hope led by Andrés Arauz after a surprise surge in support.

Lasso, who won despite charges of profiting from Ecuador's dollarization in 2000 and his links to offshore shell companies, will have the task of addressing a deep economic crisis worsened by the COVID-19 pandemic.
6 replies, 385 views
Replies to this discussion thread
| | | | |
| --- | --- | --- | --- |
| 6 replies | Author | Time | Post |
| Ecuador's Guillermo Lasso wins presidential election (Original post) | peppertree | Apr 2021 | OP |
| | Judi Lynn | Apr 2021 | #1 |
| | peppertree | Apr 2021 | #2 |
| | Judi Lynn | Apr 2021 | #3 |
| | EX500rider | Apr 2021 | #4 |
| | Judi Lynn | Apr 2021 | #5 |
| | Judi Lynn | Apr 2021 | #6 |
---
Response to peppertree (Original post)
Mon Apr 12, 2021, 12:09 AM
Judi Lynn (149,397 posts)
1. What a miserable shame. He's dead wrong for the vast majority of Ecuadorean citizens.
Hope they can show him the door long before his term is completed. He can only bring more suffering.
Thanks for the latest, peppertree.
---
Response to Judi Lynn (Reply #1)
Mon Apr 12, 2021, 12:23 AM
peppertree (15,079 posts)
2. You're welcome, Judi. After 4 years of Moreno (the 'Trump of the Andes'), here's hoping Lasso
will at least be an improvement over
that
.
Electing a
known
fraudster certainly isn't promising (as your excellent recent find spelled out in such detail:
https://www.democraticunderground.com/110875793
) - but of course, people will surprise you sometimes.
Still waiting on results from neighboring Perú, where labor leader Pedro Castillo appears to have pulled ahead of the crowded (18-candidate) field.
But with only 18%, he would certainly face a runoff (on June 6th) - and a lot will depend on who the other choice is.
Exit polls suggest it'll be either pro-business economist Hernando de Soto or (wouldn't you know it) Keiko Fujimori.
I was waiting for more solid data before updating the Perú story - and that probably won't be available until Monday at least. Things are getting interesting - as they so often do in South America (as you know!).
Have a nice evening, Judi, and a great week.
---
Response to peppertree (Reply #2)
Mon Apr 12, 2021, 01:49 AM
Judi Lynn (149,397 posts)
3. There's something so wrong in a country where the daughter of a dictator stays in the forefront,
always
threatening to win the next Presidency.
Everyone knows she is unscrupulous, vicious, and determined. It seems she has always been a threat ever since her dad went to prison.
You're so right, South America is impossible to predict, it seems. The only constant is the hard right of every country will always be heavily supported by every right-wing dominated Congress and all right-wing President until the world becomes much cleaner.
Thank you, peppertree, you are a unique authority on South American history and politics and such a gift to people who see your comments, making words on paper or on screens gain depth, come to life where there has only been a vacuum!
Hoping for special week ahead for you. 🐦🌷🌼🌄⭐️
---
Response to Judi Lynn (Reply #1)
Mon Apr 12, 2021, 02:09 PM
EX500rider (7,221 posts)
4. "He's dead wrong for the vast majority of Ecuadorean citizens."
According the the voting results they do not agree with you.
---
Response to peppertree (Original post)
Mon Apr 12, 2021, 09:22 PM
Judi Lynn (149,397 posts)
5. Images from a year ago, also struggling under a business-and-US-interests-serving President:
Coronavirus nightmare in Ecuador's port city Guayaquil - pictures
Published 17 April 2020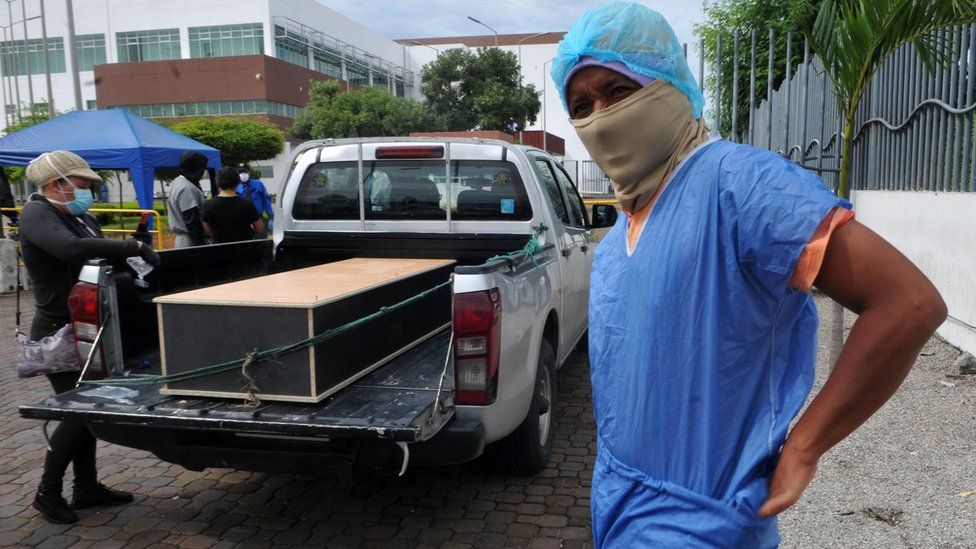 AFP
image captionA man in Guayaquil wears protective kit so that he can enter a morgue and identify a relative who died of Covid-19
Ecuador's port city of Guayaquil is one of the worst-hit places in Latin America in the coronavirus pandemic.
Its health service is overwhelmed and hundreds of bodies have been left unburied, sometimes lying in the street.
Officially Covid-19 has killed 421 people in Ecuador and infected 8,450, but the real figures are believed to be much higher. A relatively low rate of testing means many cases have probably gone unreported.
The official charged with collecting bodies in Guayaquil, Jorge Wated, said in the first two weeks of April almost 6,000 more deaths had been registered than the average for this time of year.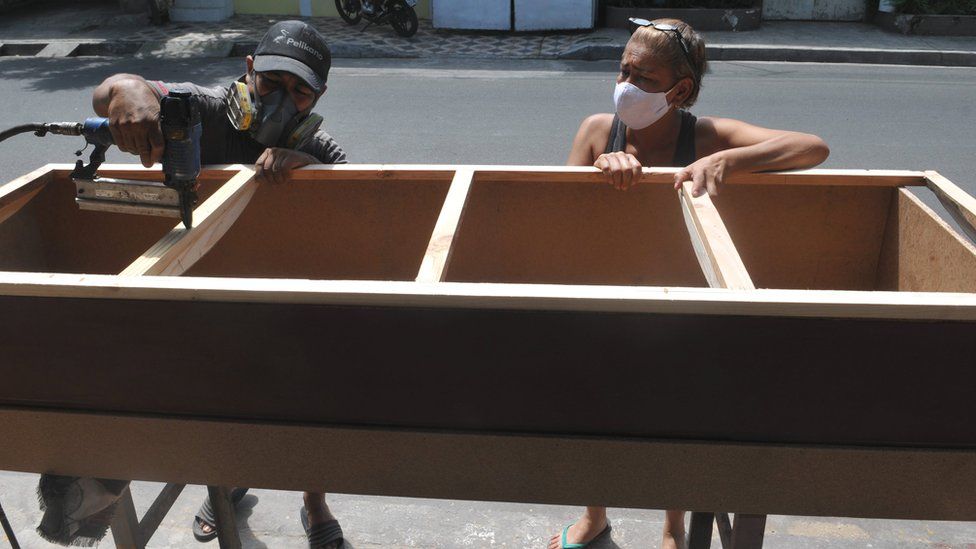 AFP
image captionA furniture-maker and his wife are now making desperately needed coffins
More:
https://www.bbc.com/news/world-latin-america-52329500
---
Response to peppertree (Original post)
Mon Apr 12, 2021, 10:19 PM
Judi Lynn (149,397 posts)
6. Editorial from 4 days ago: The will of the Ecuadorian people is under threat
The world should watch Ecuador's April 11 presidential runoff closely to ensure no foul play, whether internal or external, disrupts the election or subverts the will of Ecuadorian voters.
Luis Ortiz
Political analyst, development consultant former counselor for Ecuador, Colombia, and Chile at the Board of Directors of the Inter-American Development Bank (2009–2017)
Ecuador's presidential candidate Andres Arauz gestures as he attends a closing campaign rally, in Guayaquil, Ecuador April 7, 2021 [Santiago Arcos/Reuters]
On April 11, the small South American nation of Ecuador – home to the Galapagos Islands and one of the oldest civilisations in the Western Hemisphere – is set to hold a presidential runoff pitting a greying member of the country's financial elite, Guillermo Lasso, against 36-year-old Andrés Arauz, a progressive US-trained economist.
Arauz won the election's first round with a 13-point lead over Lasso, and recent polling suggests that he could win the runoff by a landslide. Yet a fraught electoral process, foreign interference, and an avalanche of fake news threatens to derail Arauz's candidacy and imperils the runoff election.
That Arauz won the first round by a wide margin is hardly surprising. While still in his 20s, the young economist played an important role in developing and executing popular government programmes during the administration of Rafael Correa (2007-17), which oversaw a period of dramatic social progress. Under Correa, poverty was reduced by 38 percent, extreme poverty by 47 percent, and inequality by almost 10 percent (as measured by the Gini coefficient).

Correa's confrontational style and numerous clashes with the owners of large media companies and private banks earned him powerful enemies and a steady stream of negative media coverage, but did not seem to dampen his popularity. He was re-elected twice in massive landslides. In his last election, in 2013, he won by a margin of nearly 35 points against the runner-up, who happened to be Guillermo Lasso, a conservative banker.

It now appears that history will repeat itself, with Arauz widely expected to trounce Lasso at the polls. After four years of austerity and the repression of popular movements under President Lenín Moreno, the majority of Ecuadorians appear eager to support a return to progressive governance. Moreover, Arauz has a less confrontational approach to politics than Correa, and has reached out earnestly to Indigenous groups and to those who voted for the rival left-leaning Social Democratic Party. His plan to build an inclusive national coalition to tackle climate change, poverty, and social exclusion seems to have resonated with much of the population.

But dark clouds are gathering over Ecuador's elections. A leading Ecuadorian newspaper recently published a call for the military to intervene to prevent the victory of a "Correista", and some prominent public figures have echoed these appeals. This is particularly troubling in a country that has suffered numerous military coups, and in a region where military involvement in politics has been making a comeback (see, for instance, the role of the Bolivian military in the removal of Evo Morales in 2019, and the Brazilian military's current involvement in the government of Jair Bolsonaro).

More:
https://www.aljazeera.com/opinions/2021/4/9/ecuador-elections-3