Fri Dec 11, 2020, 02:58 AM
Judi Lynn (149,484 posts)
With U.S. weapons, Salvadoran military massacred a village. The trial continues.
The story of the December 1981 attack carries on. Florida veterans recall their part in the country's civil war.
By Ileana Najarro
Published Yesterday
Updated Yesterday
EL SALVADOR - Inside a dimly lit garage, sweating from the heat of the flat-top grill before her, Sofía Romero Pereira shapes the dough in her hands. She lays down pupusas — Salvadoran stuffed corn cakes — and the sizzle creates a symphony broken only by the occasional laughter from diners telling jokes.
More customers chat outside the garage's open wooden doors, waiting for their orders under the flickering streetlights.
Romero's house is a short walk from the town plaza, where the memorial stands.
This is El Mozote, a village in the northeast region of El Salvador. This is the place Romero, 58, first called home. This, she said, is where 32 of her relatives — including her parents, her grandmother and some of her siblings — were massacred.
Approximately 1,000 men, women and children, including infants and the elderly, were slaughtered by a Salvadoran battalion in El Mozote and surrounding villages over a period of days in December 1981. The soldiers were trained by the U.S. and came with American rifles.
It was near the start of the country's civil war, with the right-wing military government fighting leftist guerrillas.
More:
https://www.tampabay.com/special-reports/2020/12/10/with-us-weapons-salvadoran-military-massacred-a-village-the-trial-continues/
5 replies, 552 views
Replies to this discussion thread
| | | | |
| --- | --- | --- | --- |
| 5 replies | Author | Time | Post |
| With U.S. weapons, Salvadoran military massacred a village. The trial continues. (Original post) | Judi Lynn | Dec 2020 | OP |
| | gopiscrap | Dec 2020 | #1 |
| | Judi Lynn | Dec 2020 | #2 |
| | gopiscrap | Dec 2020 | #3 |
| | Judi Lynn | Dec 2020 | #4 |
| | gopiscrap | Dec 2020 | #5 |
---
Response to Judi Lynn (Original post)
Fri Dec 11, 2020, 03:26 AM
gopiscrap (21,880 posts)
1. those soldiers were trained
at the School of the Americas Fort Benning Georgia
---
Response to gopiscrap (Reply #1)
Fri Dec 11, 2020, 06:23 AM
Judi Lynn (149,484 posts)
2. They were, and are monsters. Ft. Benning's SOA has also been called "School of Assassins." Fits.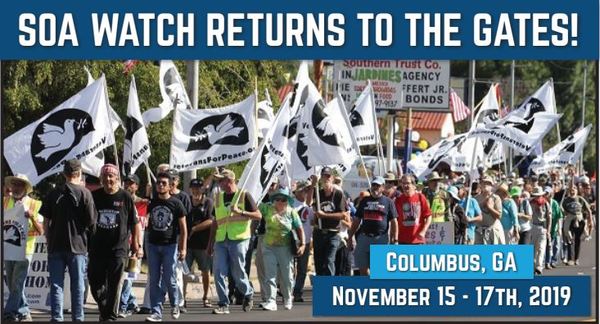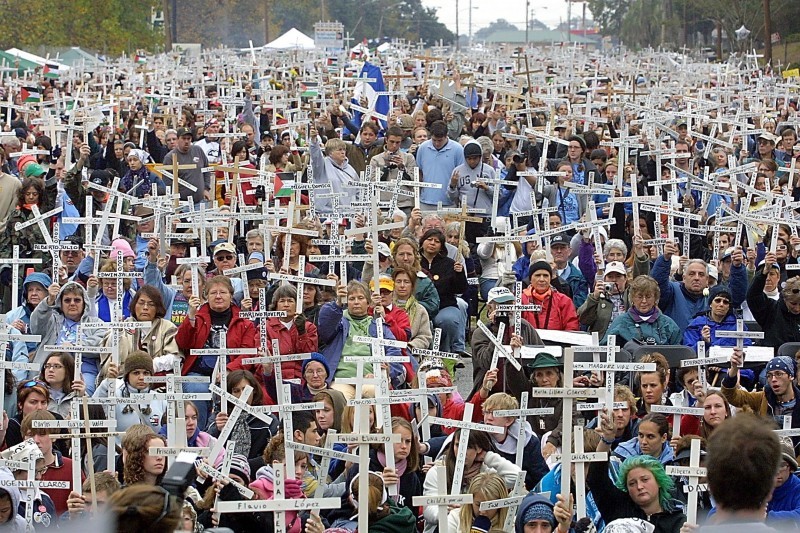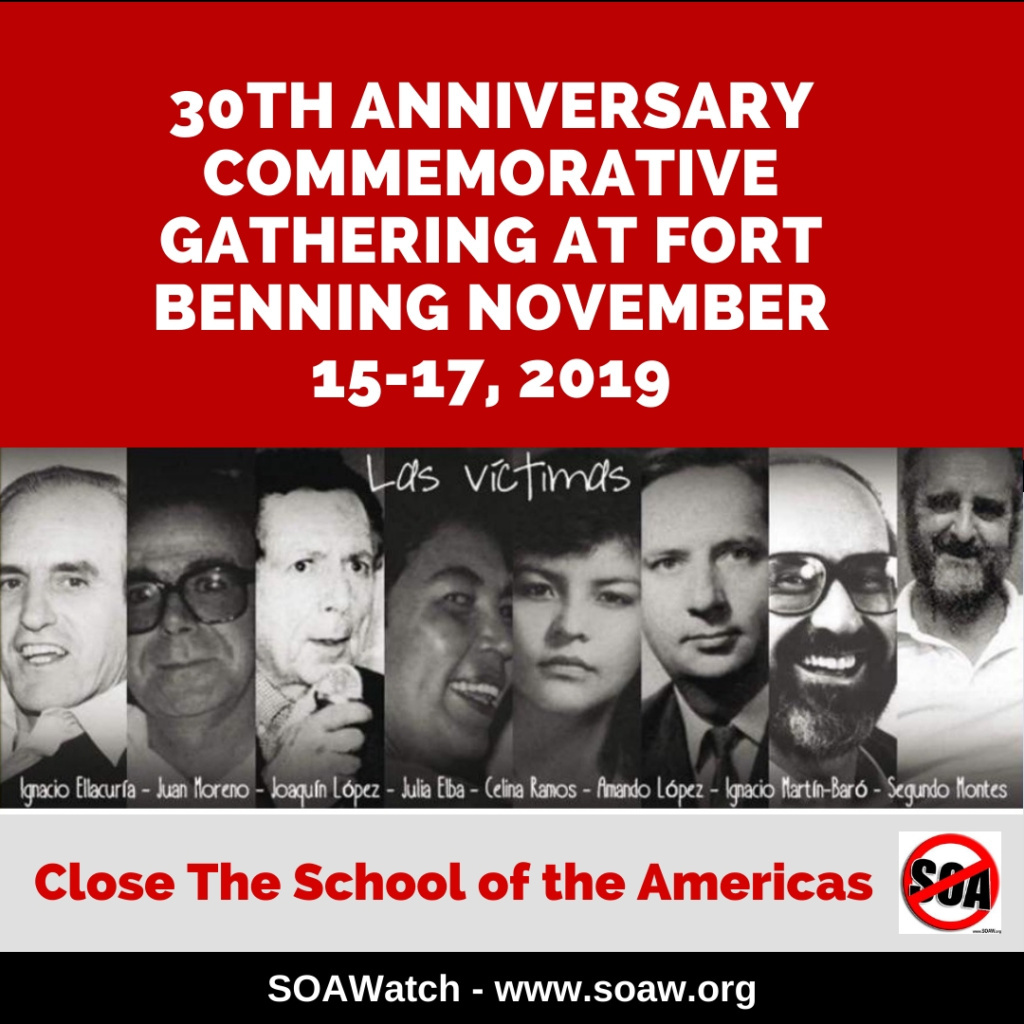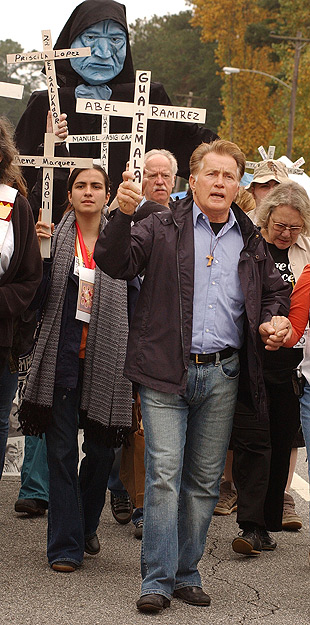 Martin Sheen attends, too.
If the corporate media ever acknowledge these protests happen annually, more people will finally get the picture better concerning where so much of the Treasury has been going from their tax dollars to torture, maim, and obliterate people they've never known we hated.
---
Response to Judi Lynn (Reply #2)
Fri Dec 11, 2020, 02:17 PM
gopiscrap (21,880 posts)
3. thank you I was a part of the protest in 2014
it was because of the 6 Jesuit priests who were murdered by SOA assassins that I ran for US Congress from the left against our DINO rep. I got about 38% of the total vote to his 52% and we forced him to change his vote on funding the SOA in late 1990
---
Response to gopiscrap (Reply #3)
Fri Dec 11, 2020, 08:14 PM
Judi Lynn (149,484 posts)
4. Protesting these covert, expensively funded operations against leftists in LatAm is courageous.
It's no small matter to persuade a US Congressperson to change a position on such a dark, powerful organization like the SOA. (WHINSEC)
Just found this article which refers to the assassination of the six Jesuits, their housekeeper, and her daughter:
Shut Down the School of the Americas/ WHINSEC
BY
DÉVORA GONZÁLEZ AZADEH SHAHSHAHANI
The School of the Americas/WHINSEC in Fort Benning, Georgia, has become notorious for training and enabling torturers, dictators, and massacres throughout the Western Hemisphere. But the SOA's crimes aren't a thing of the past — the school is still training the human rights abusers of today, especially through ICE and the Border Patrol.
On November 16, 1989, the US-trained and funded Salvadoran Atlacatl Battalion entered the grounds of El Salvador's Central American University (UCA) and brutally murdered six Jesuit priests, sixteen-year-old Celina Ramos, and her mother, Elba Ramos. Nineteen of the twenty-five Atlacatl Battalion soldiers were graduates of the US Army School of the Americas (SOA) — a combat training institution with the ostensible aim of instructing Latin American militaries in control tactics over armed counterinsurgent groups.
SOA was founded in the Panama Canal Zone in 1946 and expelled from Panama to Fort Benning near Columbus, Georgia, in 1984. The slain Jesuit priests worked in solidarity with El Salvador's poor and marginalized and were outspoken critics of the country's military dictatorship. They are among the 75,000 civilians murdered during the US-backed war in El Salvador between 1980 and 1992.
The SOA has trained more than 83,000 Latin American security forces since its founding. Notorious graduates of the SOA — including nearly a dozen dictators and some of the worst human rights violators in the continent — are guilty of using torture, rape, assassination, forced disappearance, massacres, and forced displacement of communities to wage war against their own people. Former Panamanian president Jorge Illueca stated that the School of the Americas was the "biggest base for destabilization in Latin America." US-led and supported state violence abroad has ravaged and devastated communities in Central and South America, many of whose people are forced to migrate north.
On September 20, 1996, under intense public scrutiny, the Pentagon released the SOA training manuals, which advocated torture, extortion, blackmail, and the targeting of civilian populations. The release of these manuals proved that US taxpayer money was used to teach Latin American state forces how to torture and repress civilian populations.
More:
https://www.jacobinmag.com/2019/11/shut-down-school-of-the-americas-whinsec-ice-border-patrol
---
Response to Judi Lynn (Reply #4)
Fri Dec 11, 2020, 08:19 PM
gopiscrap (21,880 posts)
5. yup I remember all of this well
I was asked to run by a group of progressives from a Jesuit staffec Roman Catholic Church in downtown Tacoma. I had just chaired a liberal initiative asking for a call to defund 10% of the military budget and send it to social services funding, mass transit and deficit reduction Tacoma being a huge military town we weren't supposed to get on the ballot, but we got on and won with 64% of the vote. 9 days after the election the Jesuits got killed in El Salvador. Our Congressman on the Jesuit world wide day of mourning came to the church and basically said tough luck they (the priests) were in a war zone, half the church walked out on him and it was then that they asked me to run.