Wed Nov 25, 2020, 01:24 PM
sandensea (15,091 posts)
Diego Maradona, one of the greatest footballers of all time, dies aged 60
Diego Maradona, regarded as one of the greatest footballers of all time, has died aged 60.
The Argentine, who had brain surgery this month, died of a heart attack in his home in the Buenos Aires suburb of Tigre, his lawyer said. Maradona inspired his country to World Cup glory in 1986 when as captain he displayed a level of skill, creativity, strength and desire arguably not seen before or since.
In the 2-1 quarter-final victory over England he also scored perhaps the greatest goal of all time, a match in which the forward also showed his darker, mischievous side with the infamous 'Hand of God'.
Maradona also achieved success at club level, most notably with Napoli, whom he led to their first Serie A title in 1987. A second followed in 1990, alongside an Italian Cup in 1987 and a Uefa Cup in 1991, and such was the player's impact at a club which previously had lived in the shadow of Italy's northern powerhouses, particularly Juventus, Milan and Internazionale, that Napoli announced in 2000 that they were retiring his No. 10 shirt.
It was during his seven years in Naples, however, that Maradona's addiction to cocaine took grip.
From there Maradona's personal life spiralled out control and in 2000 and 2004 he was hospitalised for heart problems, the second time requiring the use of a respirator to breathe properly. The following year he underwent gastric-bypass surgery to help stem his obesity.
None of that, however, could overshadow his talents on the pitch which, at their peak, were almost supernatural.
At:
https://www.theguardian.com/football/2020/nov/25/diego-maradona-dies-one-of-greatest-footballers-of-all-time-argentina-world-cup-1986


Renowned Argentine football midfielder and striker Diego Maradona raises the World Cup in Mexico City in 1986.

Known for his talent and personal struggles, as well as activism on behalf of progressive causes, the flamboyant Maradona was considered - along with Barcelona forward Lionel Messi - the greatest Argentine footballer.
9 replies, 571 views
Replies to this discussion thread
| | | | |
| --- | --- | --- | --- |
| 9 replies | Author | Time | Post |
| Diego Maradona, one of the greatest footballers of all time, dies aged 60 (Original post) | sandensea | Nov 2020 | OP |
| | Ponietz | Nov 2020 | #1 |
| | sandensea | Nov 2020 | #2 |
| | Judi Lynn | Nov 2020 | #3 |
| | sandensea | Nov 2020 | #4 |
| | Judi Lynn | Nov 2020 | #5 |
| | Judi Lynn | Nov 2020 | #6 |
| | Judi Lynn | Nov 2020 | #7 |
| | Judi Lynn | Nov 2020 | #8 |
| | Judi Lynn | Nov 2020 | #9 |
---
Response to sandensea (Original post)
Wed Nov 25, 2020, 01:52 PM
Ponietz (2,002 posts)
1. This person embodied the best and the worst of human potential
In four minutes against England in 1986, he scored both the greatest, and the most notoriously 'underhanded' goals in soccer history. The remainder of his life seems an elaboration on that theme.
SMH
---
Response to Ponietz (Reply #1)
Wed Nov 25, 2020, 02:01 PM
sandensea (15,091 posts)
2. Well said.
---
Response to sandensea (Original post)
Wed Nov 25, 2020, 03:55 PM
Judi Lynn (149,435 posts)
3. May he rest in peace, he's earned it.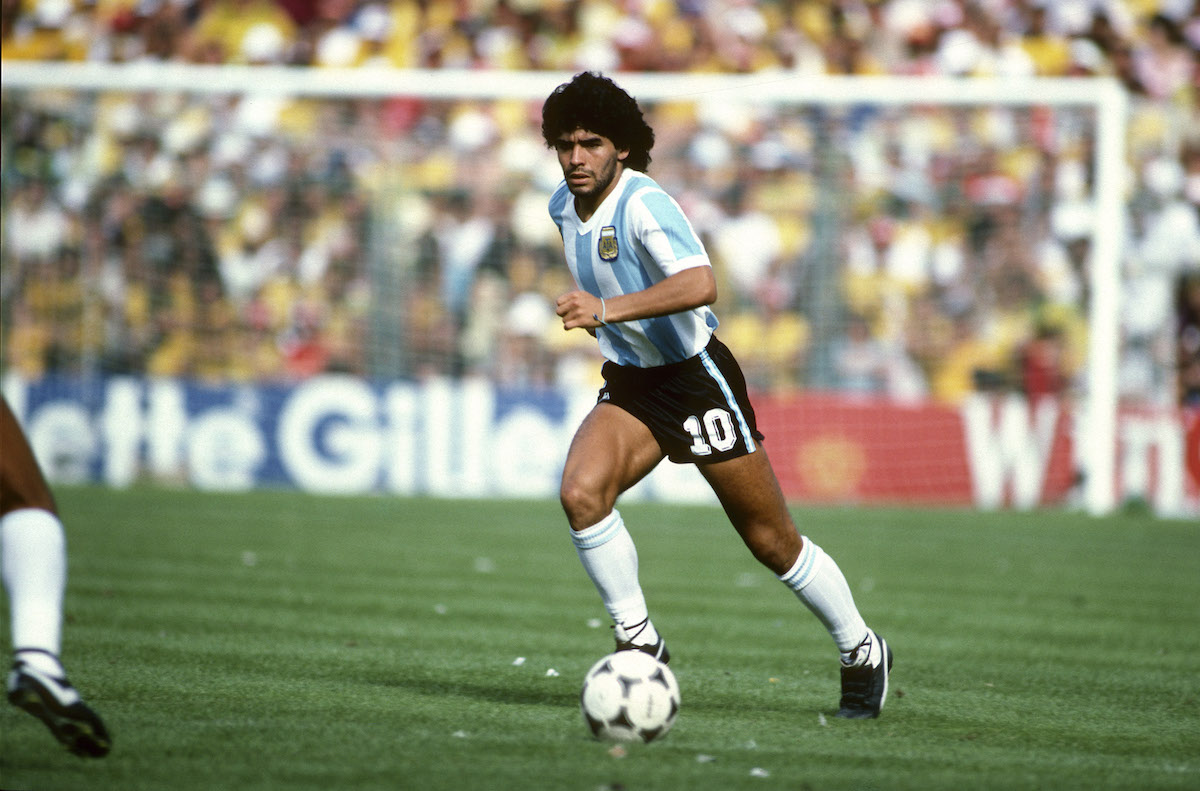 No one's name has been mentioned more than his in his sport. Amazing.
---
Response to Judi Lynn (Reply #3)
Wed Nov 25, 2020, 05:36 PM
sandensea (15,091 posts)
4. May he indeed. Peace was always elusive to him, as adamant and erratic as he could often be
I suspect one of Maradona's favorite songs was "My Way."

He was frank, bold and kind - but also willful and rash. And that got him into trouble with a lot of influential people, as well as with friends who cared about him.

He was also very demanding of himself, and his guilt pangs led to a lot of self-destructive behavior (hard drinking, mainly).

The gastric bypass surgery in 2005 gave him a new lease on life, and he really seemed to be back - until his disappointing stint as Argentine national team manager in the 2010 World Cup.

Everyone blamed him for the poor showing - and he knew they were right, what with all that risky tinkering with player positions (for reasons no one understood). After 2010, his weight began ballooning again, and his health suffered.

It's been reported in Argentina that after surgery for a head injury three weeks ago, he demanded to go home much sooner than what doctors recommended. As always, it was hard to contradict el Diego.

And in the end, that got the best of him.

I thought you might appreciate footage from some of the many popular tributes taking place right now in Argentina, Judi. As a man of the people, most of his fans are working-class - just like he was.

No translations, sadly; but some things don't really need it.


---
Response to sandensea (Reply #4)
Wed Nov 25, 2020, 08:37 PM
Judi Lynn (149,435 posts)
5. There's no doubt Maradona would have been deeply touched if he could have seen these people.
A couple of fathers of young boys were so unhappy I got tears listening to them speaking. One of their little sons who looked as if they had bought a little Maradona wig for going to games, etc., himself seemed to understand how much his father admired and loved Maradona, as he looked close to tears, himself. It looked as if he had developed a deep sensitivity to people already so early in his life.
It was genuine, too. Impressive. I had never seen fans speaking about him before, so it was very impressive.
I liked the T-shirt a grandmother was wearing showing Cristina Fernández de Kirchner standing with Diego Maradona. Double good!
I noticed the area around the first group of speakers was darker, with a few weeds, and the people seemed poorer, then at the next location, a different part of the area, far more sunlight, and the people looked more expensively dressed, and spoke in a more articulated way, and they all loved him. I noticed a couple of those middle school boys seemed more like suburban brats! (That could just be the age group!)
There were flowers and candles on the turnstiles, a thoughtful touch which was really sweet, and personal. It's very unexpected.
From the general feeling of identity with him, and caring about him, it seems people admired him, loved him so much, they may have almost suffered sympathetically right along with his struggle. It was tremendous that he aired his support for leftist politics, that was admirable.
The one man with a full tattoo, head to toe of his hero also seemed to really be taking this hard. You'd have to really look up to someone to put his/her likeness on your skin.
If I could have understood what they were saying, it might have been too distracting! It was possible to recognize occassional words, so that was interesting. I liked the diction of the news man, and things started going down hill as soon as they went to the people in the street.
Very nice to see the report, and a real eye-opener to see how many typical people are genuinely very sad to see this man go who was truly here too briefly, and struggled far too hard. Thank you, sandensea.
---
Response to sandensea (Original post)
Wed Nov 25, 2020, 08:39 PM
Judi Lynn (149,435 posts)
6. 'We will play football together in heaven,' says Pele in tribute to Diego Maradona
By Ben Church, CNN
Updated 2246 GMT (0646 HKT) November 25, 2020
(CNN)Soccer icon Pele has paid a moving tribute to his "great friend" Diego Maradona after the Argentine died at the age of 60 after suffering a cardiac arrest on Wednesday.
Both men are considered two of the greatest soccer players in history and come from similarly humble backgrounds.
"I have lost a great friend and the world lost a legend," wrote Pele, who turned 80 last month, on Twitter.
"There is still much to be said, but for now, may God give strength to his family members. One day, I hope, we will play football together in heaven."
More:
https://edition.cnn.com/2020/11/25/football/pele-tribute-diego-maradona-spt-intl/index.html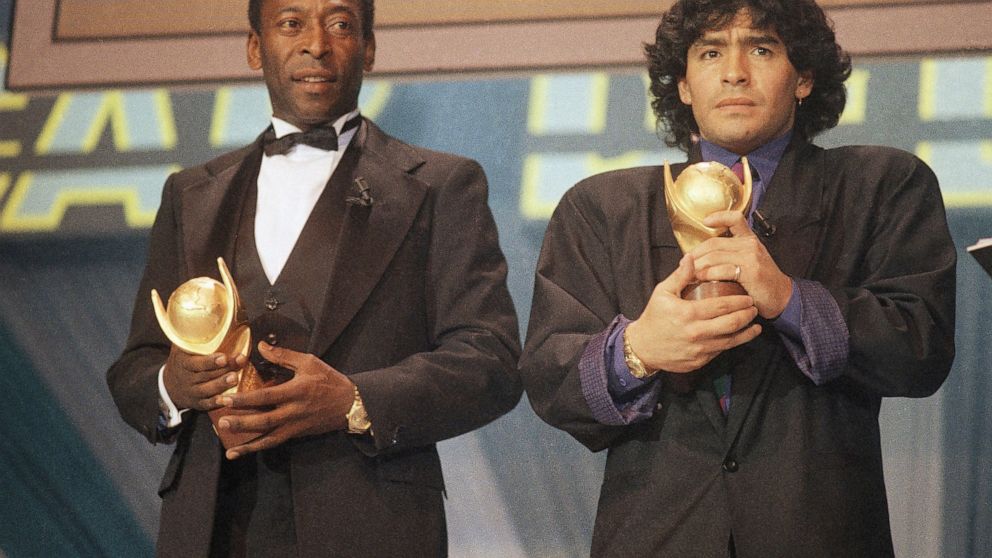 ---
Response to sandensea (Original post)
Wed Nov 25, 2020, 11:39 PM
Judi Lynn (149,435 posts)
7. Chinese Football Association mourns the death of Argentine legend Diego Maradona
Source: Globaltimes.cn Published: 2020/11/26 10:18:55
As arguably the best player in the 20th century, World Cup winner Diego Maradona made a tremendous contribution to the game of football, and brought so many beautiful and indelible memories for Chinese fans: Chinese Football Association
The death of the Argentine legend heavily saddens all who love the sport. We salute his glorious career and farewell the King of Football, wrote the Chinese Football Association on Thu.
https://www.globaltimes.cn/content/1208096.shtml
(Short article, no more at link.)
~ ~ ~
RIP Maradona: Shah Rukh Khan, Kareena Kapoor pay tributes to the GOAT who 'made football even more beautiful'
Bollywood stars such as Shah Rukh Khan, Ranveer Singh, Kareena Kapoor, Priyanka Chopra, Richa Chadha, Abhishek Bachchan and multiple others paid tributes to legendary football player Diego Maradona, who died on Wednesday.
BOLLYWOOD Updated: Nov 26, 2020, 07:49 IST
Hindustan Times, New Delhi
Diego Maradona died of a heart attack.
Bollywood actors have paid tributes to the legendary football player, Diego Maradona. The Argentinian player died on Wednesday of a heart attack at the age of 60.
Shah Rukh Khan shared a picture of Maradona lifting the World Cup and wrote, "Diego Maradona....you made football even more beautiful. You will be sorely missed and may you entertain and enthral heaven as you did this world. RIP." Abhishek Bachchan called him the 'Greatest Of All Time' and wrote, "#RIPMaradona legend! #GOAT." Ranveer Singh shared a picture of the star player on Instagram.
More:
https://www.hindustantimes.com/bollywood/rip-maradona-shah-rukh-khan-kareena-kapoor-pay-tributes-to-the-goat-who-made-football-even-more-beautiful/story-x4CEyooh50JhfkogJDmcNP.html
---
Response to sandensea (Original post)
Thu Nov 26, 2020, 02:33 PM
Judi Lynn (149,435 posts)
8. 'He made the poor feel rich': Napoli fans break coronavirus lockdown to mourn Maradona
Pasquale Porciello
Thu, 26 November 2020, 9:34 am GMT-6·3-min read
He is dead.
The demigod - a God on the field, human, too human outside - Diego Maradona died at the age of 60 in his Buenos Aires house.
He is not dead, not least in Napoli.
In spite of a strict coronavirus lockdown, hundreds of supporters flocked to the streets on Wednesday night and Thursday.
"There have been talks about his mistakes in life, his conduct. We forgive him everything because of the champion and the generous person he has been," Andrea told
The Independent
in the Quartieri Spagnoli (the Spanish Quarters), the working-class heart of Naples.
Nearby, Giovanni has a broken voice when he remembers the Sundays with his family at the stadium.
He is now 42. "He gave voice to the people who could not speak, a feeling of satisfaction to the marginalised. He made the poor feel rich. There was no social difference when Napoli was playing. We were all one," he says.
More:
https://uk.news.yahoo.com/made-poor-feel-rich-napoli-153401375.html
---
Response to sandensea (Original post)
Fri Nov 27, 2020, 09:02 PM
Judi Lynn (149,435 posts)
9. Diego Maradona: Comrade of the Global South
by David Zirin / November 27th, 2020
The world mourns today following the passing of Diego Maradona, the soccer God and revolutionary from Argentina whose play inspired all manner of poetry and prose. The best description of Maradona's abilities came from the late Eduardo Galeano who wrote of Maradona in his book Soccer in
Sun and Shadow,
No one can predict the devilish tricks this inventor of surprises will dream up for the simple joy of throwing the computers off track, tricks he never repeats. He's not quick, more like a short-legged bull, but he carries the ball sewn to his foot and he's got eyes all over his body. His acrobatics light up the field….In the frigid soccer of the end of the century, which detests defeat and forbids all fun, that man was one of the few who proved that fantasy can be efficient.
That Maradona died of a heart attack at the too young age of 60 seems preordained for multiple reasons. He lived a life of excess and addiction; of cocaine and massive weight fluctuations that undoubtedly placed a mammoth stress on his heart. He also lived a life of passionate, rebel intensity, always standing against imperialism; always standing for self-determination for Latin America and the Global South, always speaking for the children growing up in similar conditions to the abject poverty of his own upbringing in the Villa Fiorito barrio of Buenos Aires. He was the fifth of eight children, living without running water or electricity and never forgot it for a moment. His heart may have simply been too big for his chest. Diego Maradona took political stances throughout his life that were never easy. A Catholic, he met with Pope John Paul II and told the press afterwards, "I was in the Vatican and I saw all these golden ceilings and afterwards I heard the Pope say the Church was worried about the welfare of poor kids. Sell your ceiling then, amigo, do something!"He tried to form a union of professional soccer players for years, saying in 1995, "The idea of the association came to me as a way of showing my solidarity with the many players who need the help of those who are more famous… We don't intend to fight anyone unless they want a fight." Maradona always stood with the oppressed, particularly with the people of Palestine. He made sure they were not forgotten, saying in 2018, "In my heart, I'm Palestinian." He was a critic of Israeli violence against Gaza and it was even rumored that he would coach the Palestinian national team during the 2015 AFC Asian Cup.
More:
https://dissidentvoice.org/2020/11/diego-maradona-comrade-of-the-global-south/