Tue Oct 13, 2020, 08:31 PM
Judi Lynn (150,198 posts)
This is my message to the western world - your civilisation is killing life on Earth
This is my message to the western world – your civilisation is killing life on Earth
Nemonte Nenquimo
We Indigenous people are fighting to save the Amazon, but the whole planet is in trouble because you do not respect it
Mon 12 Oct 2020 05.00 EDT
Dear presidents of the nine Amazonian countries and to all world leaders that share responsibility for the plundering of our rainforest,
My name is Nemonte Nenquimo. I am a Waorani woman, a mother, and a leader of my people. The Amazon rainforest is my home. I am writing you this letter because the fires are raging still. Because the corporations are spilling oil in our rivers. Because the miners are stealing gold (as they have been for 500 years), and leaving behind open pits and toxins. Because the land grabbers are cutting down primary forest so that the cattle can graze, plantations can be grown and the white man can eat. Because our elders are dying from coronavirus, while you are planning your next moves to cut up our lands to stimulate an economy that has never benefited us. Because, as Indigenous peoples, we are fighting to protect what we love – our way of life, our rivers, the animals, our forests, life on Earth – and it's time that you listened to us.
In each of our many hundreds of different languages across the Amazon, we have a word for you – the outsider, the stranger. In my language, WaoTededo, that word is "cowori". And it doesn't need to be a bad word. But you have made it so. For us, the word has come to mean (and in a terrible way, your society has come to represent): the white man that knows too little for the power that he wields, and the damage that he causes.
You are probably not used to an Indigenous woman calling you ignorant and, less so, on a platform such as this. But for Indigenous peoples it is clear: the less you know about something, the less value it has to you, and the easier it is to destroy. And by easy, I mean: guiltlessly, remorselessly, foolishly, even righteously. And this is exactly what you are doing to us as Indigenous peoples, to our rainforest territories, and ultimately to our planet's climate.
More:
https://www.theguardian.com/commentisfree/2020/oct/12/western-worldyour-civilisation-killing-life-on-earth-indigenous-amazon-planet
Also posted in Environment and energy:
https://www.democraticunderground.com/1127140848
6 replies, 765 views
Replies to this discussion thread
| | | | |
| --- | --- | --- | --- |
| 6 replies | Author | Time | Post |
| This is my message to the western world - your civilisation is killing life on Earth (Original post) | Judi Lynn | Oct 2020 | OP |
| | niyad | Oct 2020 | #1 |
| | Judi Lynn | Oct 2020 | #3 |
| | Ponietz | Oct 2020 | #2 |
| | Judi Lynn | Oct 2020 | #4 |
| | Ponietz | Oct 2020 | #5 |
| | Judi Lynn | Oct 2020 | #6 |
---
Response to Judi Lynn (Original post)
Tue Oct 13, 2020, 08:44 PM
niyad (82,024 posts)
1. KNR and thank you for posting.
---
Response to niyad (Reply #1)
Wed Oct 14, 2020, 04:38 AM
Judi Lynn (150,198 posts)
3. Thank you for reading, niyad. 👋
---
Response to Judi Lynn (Original post)
Tue Oct 13, 2020, 09:00 PM
Ponietz (2,033 posts)
2. This is undeniably, tragically, true
Thanks for posting. Maybe GD, too?
---
Response to Ponietz (Reply #2)
Wed Oct 14, 2020, 04:43 AM
Judi Lynn (150,198 posts)
4. Thanks for your post, Ponietz. I just posted this article in G.D., hope it stays.
---
Response to Judi Lynn (Reply #4)
Wed Oct 14, 2020, 07:31 AM
Ponietz (2,033 posts)
5. Look at it go!
🙏
---
Response to Ponietz (Reply #5)
Wed Oct 14, 2020, 10:59 PM
Judi Lynn (150,198 posts)
6. It was a huge surprise! Any chance for people to be exposed to the information is important!
I hope it will happen during my lifetime when the owners of the world's largest meat producers, and destroyers of the environment, the Batista brothers, will finally be brought down, broken, their empire of greed and cruelty erased from the surface of what's left of the planet.
Their Wikipedia, concerning US operations people might recognize instantly:
. . .
2007–2010: US acquisitions
In 2007 JBS went through with a US$225m acquisition of U.S. firm Swift & Company,[8] which was the third largest U.S. beef and pork processor, renamed as JBS USA. It leads the world in slaughter capacity, at 51.4 thousand head per day, and continues to focus on production operations, processing, and export plants, nationally and internationally.[citation needed] With the new acquisition, JBS entered the pork market, to end the year as the third largest producer and processor of this type of meat in the United States. The acquisition expanded the company's portfolio to include rights to the worldwide use of the Swift brand.[citation needed]
The next year, JBS acquired Smithfield Foods' beef business. It was renamed JBS Packerland.[citation needed]
On 31 August 2010 it was announced that the company had acquired 64% of Pilgrim's Pride for a bid of US$800 million, establishing JBS's position in the chicken production industry,[9] but currently the company owns 75.3% of Pilgrim's Pride.[citation needed]
More:
https://en.wikipedia.org/wiki/JBS_S.A.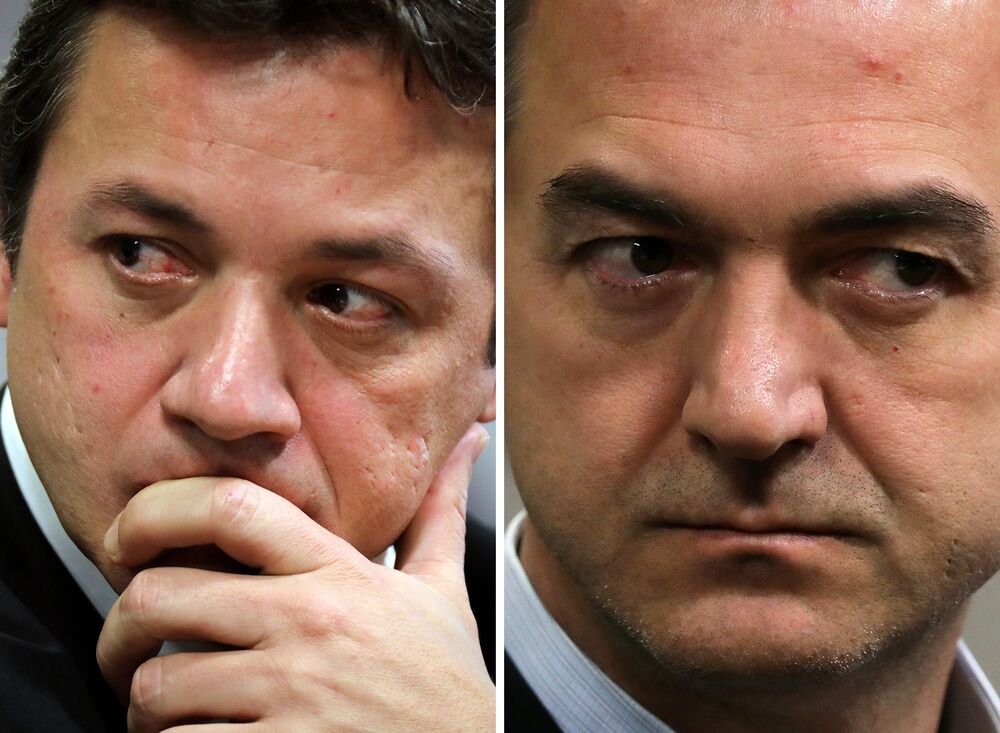 Wesley and Joesley Batista Source: Getty Images
~ ~ ~
JBS Names Founder José Batista Sobrinho as CEO, Two Sons in Jail
Drovers
September 18, 2017 02:30 PM
JBS SA's board voted on Sept. 17 to name company founder José Batista Sobrinho as the chief executive officer, following a week of turmoil for the business named for his initials.
José, 84, replaces his son, Wesley, Sr., 47, who was arrested by federal police in Brazil for alleged insider trading four days earlier. His other son, Joesley, 44, is also suspected of insider trading and gave himself up to police for not meeting the terms of a plea deal the sons organized with the government.
More:
https://www.drovers.com/article/jbs-names-founder-jose-batista-sobrinho-ceo-two-sons-jail
(Apparently a mere inconvenience, after all...)
Thanks for giving this information a bigger range, Ponietz!