Tue Aug 25, 2020, 11:19 AM
Judi Lynn (150,182 posts)
The Gramsci of the Brazilian Right
Once a major influence on Jair Bolsonaro, Olavo de Carvalho's ambition is to establish a new right-wing, nationalist cultural hegemony in Brazil.
Mitchell Abidor ▪ Summer 2020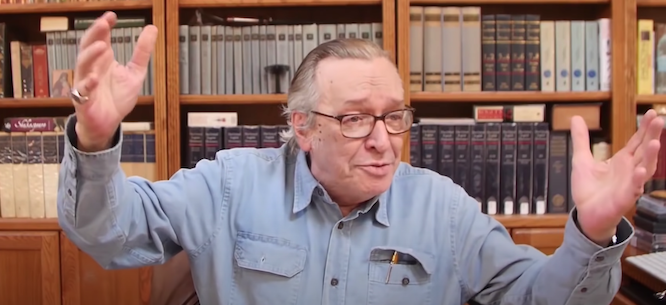 Olavo de Carvalho speaks on his Youtube channel.
Watching online lectures by the Brazilian philosopher Olavo de Carvalho one might take him for just another angry YouTube ranter. His videos have poor production values: the camera looms too close to his face, and the lighting is often too bright or too dark. He records himself at his home office in Petersburg, Virginia (he abandoned his native Brazil during Lula da Silva's first term), with crammed bookshelves visible behind him. If he's not smoking as he talks, he's ready to, with cigarettes and a lighter placed before him on his desk.
Carvalho speaks without notes on a wide variety of subjects, some with intellectual pretensions, others on the fringe of politics, if not reality. He has held forth on theories of perception in modern philosophy, and also claimed that PepsiCo uses the cells of aborted fetuses to manufacture its sodas and that the Inquisition has been unjustifiably traduced.
Remarkably, the seventy-three-year-old autodidact who, though the son of a provincial lawyer, did not complete his secondary education, exerts enormous influence in his native Brazil. A champion of the extreme right, his ideas appeal to Brazil's president, Jair Bolsonaro. Bolsonaro's admiration for Olavo (as he is known, in Brazilian fashion, even to his enemies) was so great when he was elected that when the president visited Washington, D.C., not long after his election in 2019, Carvalho was seated next to him at an official dinner. On that occasion, Bolsonaro, whose policies and worldview are both echoed and reaffirmed by Carvalho, proclaimed, "The revolution we are living, we owe in large part to him." In 2020, as the coronavirus continued its rapid, worldwide spread, Bolsonaro insisted that the virus presented no real danger. It was, he charged, "fake news" and just "a little flu." Carvalho was quick to parrot his admirer. "This epidemic," he said in late March of this year, "simply does not exist."
Unlike Steve Bannon, to whom he is often compared, Carvalho has expressed no interest in serving in his country's government. He aims for something bigger and longer lasting. As João Moreira Salles, the filmmaker and publisher of the magazine piauí, told me, "Carvalho wants to be the Brazilian Gramsci." His ambition is to establish a right-wing, nationalist, hegemonic doctrine by force of will, and by means of videoconferences, articles, tweets, and Facebook posts. He has been facilitated in his mission, allowed to name ministers in Bolsonaro's government—among them Ernesto Araújo, who Carvalho described as "the Brazilian most qualified to be minister of foreign relations." Araújo has written that only "Donald Trump can save the West," and that climate change is a "Marxist conspiracy."
. . .
Much of what can be found in Carvalho's productions is fairly straightforward right-wing conspiracy fare, though couched in his pseudo-philosophical language. He opposes vaccination and believes Barack Obama was not born in the United States. More novel are his doubts that the earth revolves around the sun, and his skepticism about whether it truly is round, not flat. Most Brazilians are devout Catholics, but Carvalho nevertheless alleges that Christianity is in such a precarious state that "in Brazil . . . pedophilia is more respected and protected" than the Church.
. . .
The political scientist Miguel Lago told me that Carvalho has even alleged that the correlation of cigarettes and lung cancer is an invention of "cultural Marxists." The campaign to spread awareness of this seemingly unimpeachable fact represents, for Carvalho, the left testing its power to impose its will: if the left could convince the world of the relationship between cigarettes and cancer, then everything else was possible. For Carvalho, then, smoking in public is an act of political defiance.
More:
https://www.dissentmagazine.org/article/the-gramsci-of-the-brazilian-right
0 replies, 332 views