Tue May 19, 2020, 04:50 PM
Judi Lynn (139,703 posts)
Colombia's crumbling drug policy: farmers thwart attempt to resume aerial spraying of coca
by Adriaan Alsema May 19, 2020
The Colombian government thought it could outsmart farmers by taking advantage of the coronavirus pandemic to resume the aerial spraying of coca. Turns out farmers aren't stupid.
In the latest attempt to resume areal fumigation, the National Environmental Licensing Agency (ANLA) tried to obtain the compulsory approval of farming communities through online consultations in areas on lockdown and without internet.
A group of farmers from the southwestern Nariño province successfully sued the ANLA, which was ordered to suspend the consultations while the judge considers their legality.
The decision is the latest blow for President Ivan Duque, who said last year he would resume the controversial practice that was banned in 2015 in a matter of weeks.
More:
https://colombiareports.com/colombias-crumbling-drug-policy-farmers-thwart-attempt-to-resume-aerial-spraying-of-coca/
~ ~ ~
From March:
Colombia coca crop: Trump tells Duque to resume spraying
3 March 2020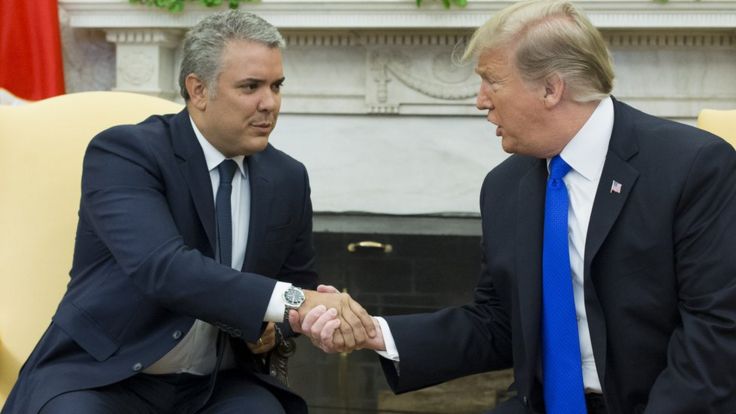 Colombia will have to resume aerial spraying to destroy coca crops, US President Donald Trump has said.
Mr Trump made the remarks at a joint press conference with Colombian President Ivan Duque in Washington.
Colombia is the world's largest producer of cocaine, while the US is the world's largest consumer.
Aerial spraying of crops was suspended in 2015 after a court ruled that the herbicide used - glyphosate - could cause cancer and pollute land.
"Well, you're going to have to spray. If you don't spray, you're not going to get rid of them. So you have to spray, with regard to the drugs in Colombia," the US president told Mr Duque.
More:
https://www.bbc.com/news/world-latin-america-51722456
Please take a moment to see the pictures in this post from an earlier thread. Teachers asked their students in Colombia to try to illustrate the effect of the aerial spraying on the land where they lived. It's too telling:
https://upload.democraticunderground.com/110861516#post1
0 replies, 208 views