Sat Nov 16, 2019, 04:01 PM
UpInArms (46,335 posts)
'I Miss Them, Always': A Witness Recounts El Salvador's 1989 Jesuit Massacre
"I saw them," Cerna, 73, recalls vividly in an interview with NPR in her living room. For privacy, she does not want to disclose where she lives today. "I saw the men with all their equipment and uniforms. I was seeing it and hearing it all from a window."

Cerna huddled on the floor with her husband and their 4-year-old daughter in a nearby house when the soldiers began firing on the Catholic priests.

Among the eight killed were Ignacio Ellacuría, rector of the university, the Jesuits' cook Julia Elba Ramos and her 16-year-old daughter Celina Maricet Ramos. The last voice Cerna heard was vice rector Ignacio Martín-Baró, screaming at the soldiers: "This is an injustice!"

... snip ...

The United States, wary of Soviet influence in Central America, backed El Salvador's anti-communist military regime. Between 1980 and 1992, the U.S. sent over $4 billion in economic and military aid to El Salvador's government, amounting to about $1 million each day.

While U.S. policymakers argued the need to develop a democratic government in El Salvador, the reality was that Washington was bankrolling a corrupt military, known for kidnapping, torturing, and massacring innocent civilians.
https://www.npr.org/2019/11/16/774176106/i-miss-them-always-a-witness-recounts-el-salvador-s-1989-jesuit-massacre
2 replies, 297 views
Replies to this discussion thread
| | | | |
| --- | --- | --- | --- |
| 2 replies | Author | Time | Post |
| 'I Miss Them, Always': A Witness Recounts El Salvador's 1989 Jesuit Massacre (Original post) | UpInArms | Nov 16 | OP |
| | Judi Lynn | Nov 17 | #1 |
| | Judi Lynn | Nov 17 | #2 |
---
Response to UpInArms (Original post)
Sun Nov 17, 2019, 03:37 AM
Judi Lynn (135,850 posts)
1. During that era, somehow the Fundamentalist Christians gained ascendance in Latin America,
even in Cuba. They were completely bloodthirsty in the way they treated Catholic clergy and people they imagined might be connected to leftists.
Spanish trial of soldiers who killed priests raises hopes of ending impunity in El Salvador
US-trained elite troops killed six Jesuits and two women at Central American University in 1989. Now the perpetrators face a criminal trial
Nina Lakhani in San Salvador
Fri 8 Apr 2016 06.00 EDT
Every so often, Father Jon Sobrino makes the short walk from his office in San Salvador to the pretty little rose garden where, 26 years ago, soldiers forced five of his Jesuit colleagues to lie face down on the ground before shooting each one in the back of the head.
After killing the five Spaniards, the soldiers then shot an infirm Salvadoran priest in his bedroom before opening fire on the Jesuits' housekeeper and her teenage daughter as they cowered in the guest room.
The 1989 killings at the Central American University (UCA) in San Salvador was one of the most notorious crimes committed during El Salvador's 12-year civil war, which left 75,000 civilians dead and only formally ended in 1992.
Sobrino – who still works just a few steps away from the site of the atrocity – only escaped because he was teaching missionaries in Thailand at the time. It was the middle of the night when a friend in San Salvador called with the news.
More:
https://www.theguardian.com/world/2016/apr/08/spanish-trial-of-soldiers-behind-uca-atrocity-raises-hopes-of-ending-impunity-in-el-salvador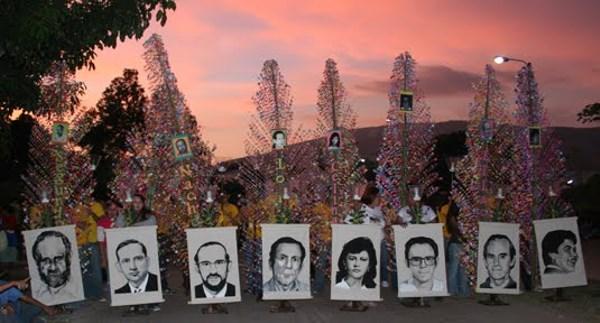 Think, love, challenge: the Jesuit martyrs' legacy
Thank you, UpInArms, so much, for sharing this information, this remembrance of what happened to these good people at the hands of the El Salvadoran death squad and their financiers and political backers. This is too horrific an event to let slide into oblivion. Too much is involved which has NEVER been resolved. Their lives should NEVER be taken in vain, they should never have been harmed.
---
Response to UpInArms (Original post)
Sun Nov 17, 2019, 06:48 AM
Judi Lynn (135,850 posts)
2. K & Rec. n/t