Wed Aug 14, 2019, 10:39 PM
Judi Lynn (133,603 posts)
Thousands Flock to Streets in Brazil to Protest against Bolsonaro
In São Paulo, the protests accused Bolsonaro of attempting to create a dictatorship
Aug.14.2019 1:38PM
Thousands of people took to the streets late Tuesday to protest President Jair Bolsonaro's education policy and cuts in the area in a protest organized by the student movement and central trade unions. There were demonstrations in Sao Paulo, Rio de Janeiro, Brasilia, Belo Horizonte, Curitiba, Porto Alegre, and Recife, among other cities.
According to the National Student Union (UNE), protests happened in 204 cities, squares, and university campuses and attracted 900,000 people across the country. At the May 15 protest, UNE had identified protest events in about 220 cities.
Demonstrators criticized the Future-se program, which encourages private funding by federal universities. In an act in São Paulo, a banner read: "Terminator or Future-deceiver."
This is the third wave of acts against Bolsonaro's education policy taking several cities.
More:
https://www1.folha.uol.com.br/internacional/en/brazil/2019/08/thousands-flock-to-streets-in-brazil-to-protest-against-bolsonaro.shtml
Organizers estimate that protests were held in 211 cities across Brazil. In the picture, demonstration in São Paulo / Elineudo Meira
A crowd protested outside the Brazilian Congress on Tuesday morning in Brasília | Rafael Tatemoto
Professor Cátia Barbosa during rally in downtown Rio de Janeiro holding a sign that reads
"Science and Education, sovereignty of the nation" | Clívia Mesquita
22-year-old university student Larissa Carvalho Mendes holds sign with a picture of a victim of the dictatorship who president Bolsonaro recently mocked | Igor Carvalho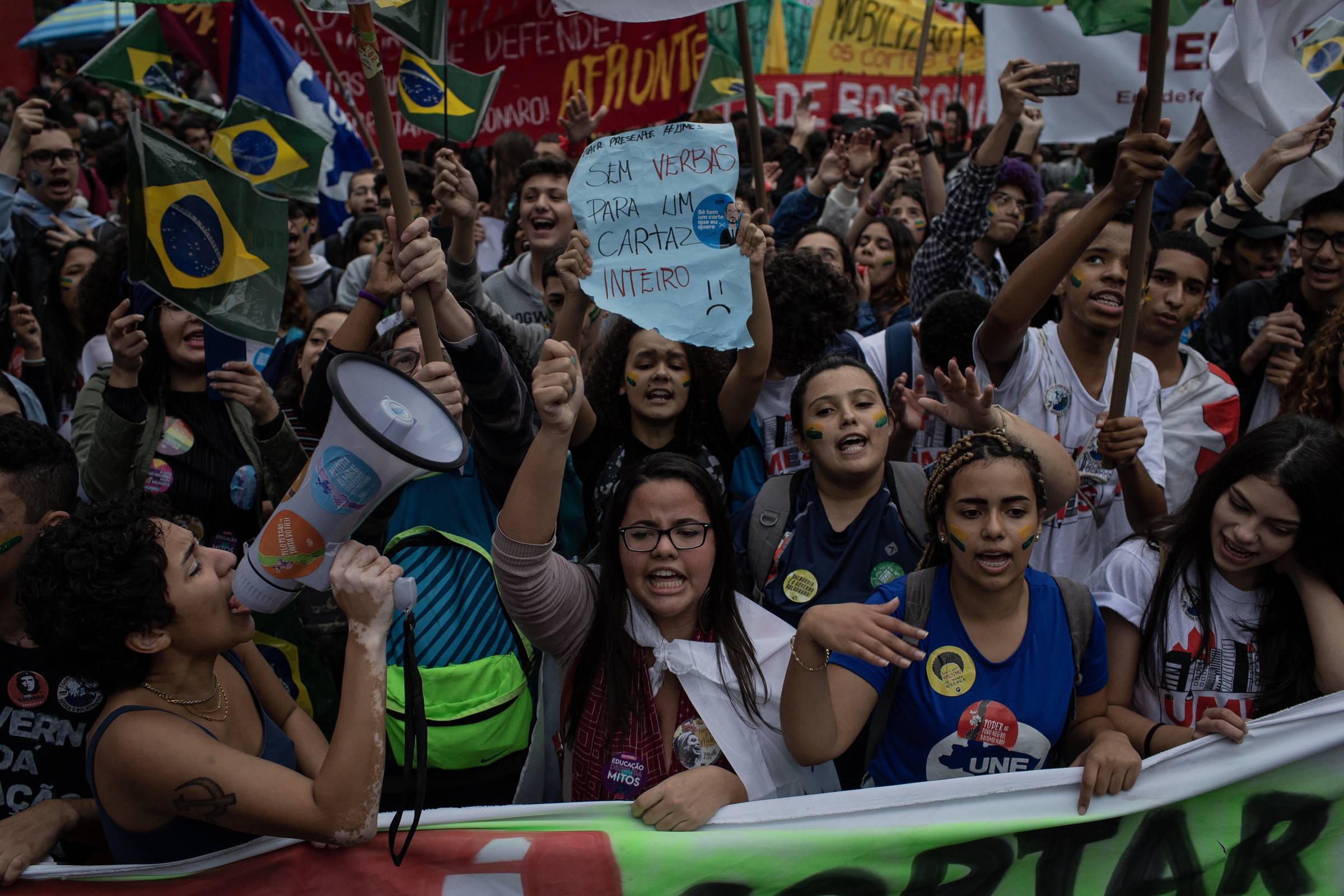 In a paragraph in this article, the former Labor Minister Luiz Marinho was quoted as shouting to the crowd that they faked a stabbing to Bolsonaro to get him elected, something a great South American expert here informed us about last year, and pointed out some photos taken when it happened which seemed to disappear quickly once they must have realized how revealing they were!
The paragraph is in Portuguese, and doesn't copy and paste to reproduce it here. You can put it in Google Translate and see it in English there, but it won't copy and paste, for some reason, restricted by El Folha:
https://www1.folha.uol.com.br/educacao/2019/08/atos-contra-bolsonaro-levam-milhares-as-ruas-no-rio-e-em-sp.shtml
3 replies, 193 views
Replies to this discussion thread
| | | | |
| --- | --- | --- | --- |
| 3 replies | Author | Time | Post |
| Thousands Flock to Streets in Brazil to Protest against Bolsonaro (Original post) | Judi Lynn | Aug 14 | OP |
| | Iliyah | Aug 14 | #1 |
| | Judi Lynn | Aug 14 | #3 |
| | Judi Lynn | Aug 14 | #2 |
---
Response to Judi Lynn (Original post)
Wed Aug 14, 2019, 10:43 PM
Iliyah (18,512 posts)
1. OK
But the Amazon is being destroyed.

Hopefully this will save Brazil.
---
Response to Iliyah (Reply #1)
Wed Aug 14, 2019, 10:56 PM
Judi Lynn (133,603 posts)
3. What Bolsonaro is doing is monstrous. Cannot be undone in time to prevent real tragedy. n/t
---
Response to Judi Lynn (Original post)
Wed Aug 14, 2019, 10:51 PM
Judi Lynn (133,603 posts)
2. Brazil's Student Movement Mobilizes to Oppose Bolsonaro's Education Privatization