Sat Feb 9, 2019, 01:22 AM
Judi Lynn (129,880 posts)
US trying to spur mutiny in military against Maduro
News North America Saturday 9 February 2019
Luc Cohen and Roberta Rampton
February 9 2019 2:30 AM
The United States is holding direct communications with members of Venezuela's military, urging them to abandon leader Nicolas Maduro, and is also preparing new sanctions aimed at increasing pressure on him, a senior White House official said.
The Trump administration expects further military defections from Mr Maduro's side, the official told Reuters in an interview, despite only a few senior officers having done so since opposition leader Juan Guaido proclaimed himself interim president last month, earning the recognition of the United States and dozens of other countries.
"We believe these to be those first couple [of] pebbles before we start really seeing bigger rocks rolling down the hill," the official said this week, speaking on condition of anonymity. "We're still having conversations with members of the former Maduro regime, with military members, although those conversations are very, very limited."
The official declined to provide details on the discussions or the level at which they are being held, and it was unclear whether such contacts could create cracks in the Venezuelan socialist leader's support from the military, which is pivotal to his grip on power.
More:
https://www.independent.ie/world-news/north-america/us-trying-to-spur-mutiny-in-military-against-maduro-37798188.html
LBN:
https://www.democraticunderground.com/10142262345
4 replies, 314 views
Replies to this discussion thread
| | | | |
| --- | --- | --- | --- |
| 4 replies | Author | Time | Post |
| US trying to spur mutiny in military against Maduro (Original post) | Judi Lynn | Feb 9 | OP |
| | marble falls | Feb 9 | #1 |
| | GatoGordo | Feb 10 | #2 |
| | Judi Lynn | Feb 10 | #3 |
| | GatoGordo | Feb 10 | #4 |
---
Response to Judi Lynn (Original post)
Sat Feb 9, 2019, 10:46 AM
marble falls (21,172 posts)
1. Because nothing says "American-style Democracy" like a military coup.
---
---
Response to GatoGordo (Reply #2)
Sun Feb 10, 2019, 06:28 PM
Judi Lynn (129,880 posts)
3. Which followed El Caracazo Massacre, February 27, 1989, with Carlos Andres Perez' invasion of slums
by his military, as they mowed down people in the streets?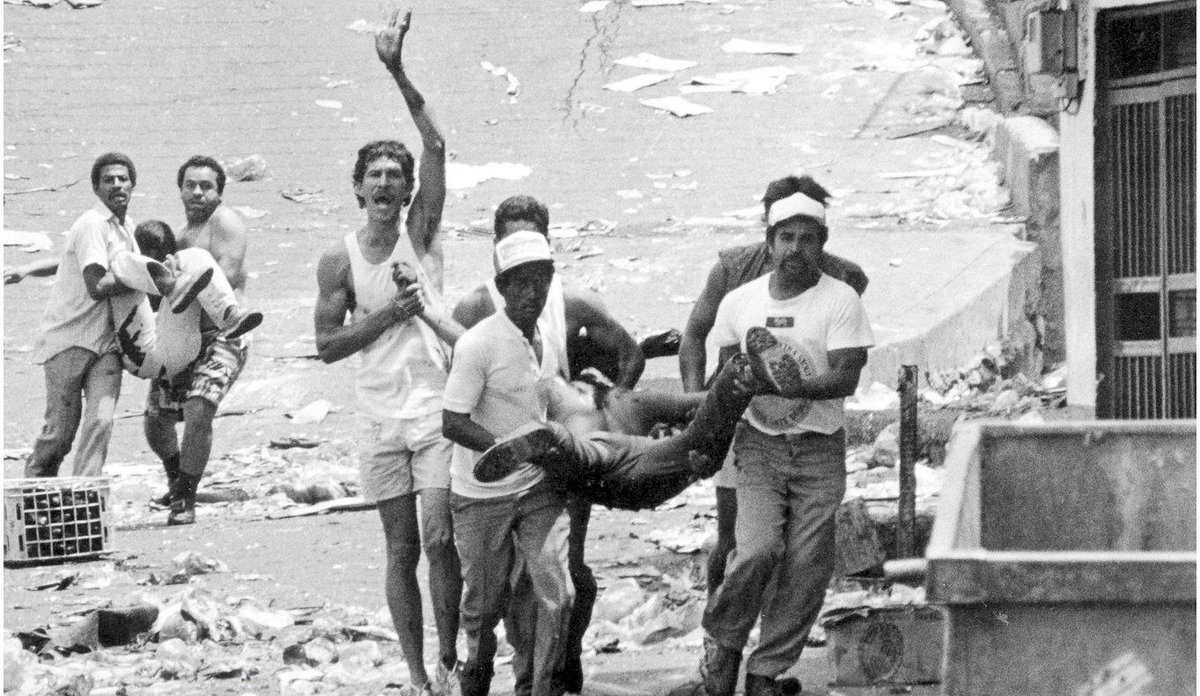 Images taken from a thread posted by a deeply decent progressive Brazilian, who was attacked viciously by right-wing trolls.
Also from that thread:
A simple Wikipedia condensed version of the facts:
The Caracazo, or sacudón, is the name given to the wave of protests, riots, looting, shootings and massacres[5] that began on 27 February 1989 in Venezuela's capital, Caracas, and the surrounding towns. The weeklong clashes resulted in the deaths of hundreds of people, thousands by some accounts, mostly at the hands of security forces and the military.[3][6][7] The riots and the protests began mainly in response to the government's economic reforms and the resulting increase in the price of gasoline and transportation.[5]
. . .
Background[edit]
A fall in oil prices in the mid-1980s caused an economic crisis to take hold in Venezuela, and the country had accrued significant levels of debt. Nevertheless, the administration of the left-leaning President Jaime Lusinchi was able to restructure the country's debt repayments and offset an economic crisis but allow for the continuation of the government's policies of social spending and state-sponsored subsidies.[8]
Lusinchi's political party, the Democratic Action, was able to remain in power following the 1988 election of Carlos Andrés Pérez as president. Pérez then proposed a major shift in policy by implementing neoliberal economic reforms recommended by the International Monetary Fund (IMF). The program, known as the
paquete
( the "package" ), was contrary to statements made during Pérez's populist campaign in which he had described the IMF as "a neutron bomb that killed people, but left buildings standing."[9]
Measures taken by Pérez included privatizing state companies, tax reform, reducing customs duties, and diminishing the role of the state in the economy. He also took measures to decentralize and modernize the Venezuelan political system by the direct election of state governors, who had previously been appointed by the president. The most controversial part of the economic reform package was the elimination of the gasoline subsidies, which had long maintained domestic gasoline prices far beneath international levels and even the production costs. When the subsidy was eliminated, gasoline prices rose by as much as 100% and so the costs of public transportation rose by 30%.
. . .
https://en.wikipedia.org/wiki/Caracazo
~ ~ ~ ~ ~
Loyola Law School > IACHR > CASE OF THE "CARACAZO" V. VENEZUELA
Case of the "Caracazo" v. Venezuela
ABSTRACT1
This case is about the violent repression of a wave of protests that shook
the Venezuelan capital, Caracas, in February 1989. The protests were
triggered when the Government implemented a series of measures to refinance
the State's external debt. The week-long clashes resulted in the
deaths of hundreds of people, most at the hands of security forces and
the military. The State eventually admitted responsibility and the Court
found violations of several articles of the American Convention.
I. FACTS
A. Chronology of Events
February 16, 1989: The President of Venezuela, President Carlos Andrés
Pérez, announces a series of measures to refinance the State's external
debt through the International Monetary Fund ("IMF").
2
February 27, 1989: The economic measures are implemented,
3
triggering
protests, in Caracas, in Garenas, Caricuao, La Guaira, Maracay, Valencia,
Barquisimeto, Guayana, Mérida, and Maracaibo.4
The protests,
known as "Caracazo,"
5
are targeted at increases in public transportation
rates and the Executive's failure to grant a preferential rate to students.6
During the protests, vehicles are burned, property is destroyed and
commercial properties are looted.7 Because a sector of the Metropolitan
Police was on strike, they did not promptly intervene to control the pro-
tests.8
President Pérez calls the Minister of Defense and orders the mobilization
of about 9,000 soldiers.9
The soldiers, equipped with assault
weapons, are inexperienced and unprepared to control the situation.10
February 28, 1989: President Pérez issues Decree No. 49, which orders
the suspension of several articles of the State Constitution on the right
to individual freedom, the right to immunity of domicile, the right to
freedom of movement, the right to freedom of expression, the right of
assembly, and the right to take part in peaceful manifestations.11 A secret
military plan entitled "Avila" is implemented.12
March 1, 1989: The army takes control and sets a curfew that requires
people to remain in their homes between 6:00 p.m. and 6:00 a.m.13
Throughout this state of emergency, the Metropolitan Police, the National
Guard, and the Army carry out various operations to suppress acts
of violence.14 According to official figures, 276 individuals die, many
are injured, and several individuals disappear during February and
March.15 However, the subsequent discovery of mass graves suggests
these figures to be grossly inaccurate.16 The State, through the Executive,
orders the burial of corpses in mass graves in the sector known as
La Peste I and II of the Southern General Cemetery of Caracas to "comply
with specific health-related instructions."17
Two non-governmental organizations that conduct on-site investigations
and international experts conclude that indiscriminate firing by
State agents and extrajudicial executions caused many of the deaths.18
The organizations also find that members of the armed forces opened
fire on crowds and homes, resulting in the deaths of many children and
innocent people who were not involved in criminal activity.19 Among
the victims are seven children and five women.20 Of the forty-four cases,
eighteen occurred on or after March 1, 1989, despite government re-
ports that it restored order on February 28, 1989.21 Eleven of these
deaths occurred in the victims' homes, five of which occurred during
curfew hours.22
More:
https://iachr.lls.edu/sites/iachr.lls.edu/files/iachr/Cases/Case_of_the_Caracazo_v_Venezuela/villa_case_of_the_caracazo_v._venezuela.pdf
You are kind to share this illumination with those of us who don't want to forget, and those who never knew about it, yet.
The US was very fond of Carlos Andrés Pérez, of course. He was very friendly with George H. W. Bush, former CIA head, as well as President, and father of George W. Bush, another winner.
Hey, HEY! Dirtbag Pérez moved right to Miami to his mistress' condo to live with her, after he was impeached by Venezuela.
He lived there until he croaked, then he and his wife argued over whether he could be buried in Miami, among other crooked Latin American scum, or back in Venezuela, with his twisted family and dirty friends.
~ ~ ~
A Tale of Two Massacres Tiananmen Square & Venezuelas Caracazo
06/06/2014 02:29 pm ET Updated Aug 06, 2014
By Dan Kovalik
One cannot escape the ample media coverage of the 25th anniversary of what has come to be known as the Tiananmen Square massacre, in which it is estimated that at least 300, and possibly 3000 civilians, were killed by state forces.
. . .
Another event, which took place 25 years ago, also deserves commemorating. This event, which the U.S. media has entirely ignored, involved the state murder of hundreds (at least 300), if not thousands (possibly 3,000) of protestors in Venezuela. In other words, the estimates of those protestors killed in Venezuela are identical to the estimates of those killed in Beijing, China. Of course, given that Venezuela has a tiny population (around 30 million) compared to that of China (over 1 billion), these numbers are proportionately much greater.
And moreover, these events in Venezuela, now known as the Caracazo, led to historic change in Venezuela and Latin America as they would lead to the political rise of Hugo Chavez who opposed the Caracazo massacre and who would become President ten years later in great part due to the population's reaction to it. And, as Noam Chomsky has opined, Chavez's leadership in turn led to "the historic liberation of Latin America" after 500 years of subjugation by the Spanish and the U.S. No small feat, indeed. Nonetheless, these monumental events, which began with poor Venezuelans rising up against an increase in fuel prices, apparently deserve no mention, at least as judged by the Western media.
Why this difference in coverage by the U.S. press? Again, if one were to look at the magnitude of these two events, Venezuela's Caracazo would deserve as much, if not more, coverage than the killings in Beijing. However, the killings during the Caracazo were, in the words of Chomsky again, of "unworthy victims," because these killings were carried out by a government - that of President Carlos Andres Perez - that was aligned with the United States. And, the David that would bring down this Goliath was Hugo Chavez, a perceived enemy of the U.S.
More:
https://www.huffingtonpost.com/dan-kovalik/a-tale-of-two-massacres-t_b_5459229.html
OBenario4, have surely missed your views here. You always were able to obsess, drive wild with fury the right-wing trolls. Always. I admire your spirit so much. The people are going to win, regardless. There is no doubt. Just a matter of time, of course.
---