Wed May 16, 2018, 04:02 PM
Judi Lynn (127,592 posts)
Oldest Oxygen Shows Earliest Stars Formed 250 Million Years After Big Bang
By Himanshu Goenka @HimGoJourno
05/16/18 AT 1:00 PM
Some 13.3 billion years ago, when the universe was still in its infancy — barely 500 million years old, or about 3.5 percent of its current age — there was already ionized oxygen in galaxies at the time. The discovery, made by the Atacama Large Millimeter/submillimeter Array (ALMA) of radio telescopes in Chile, provides the first tangible evidence that the earliest stars existed as long ago as a mere 250 million years after the Big Bang.
In the beginning, there was only hydrogen, the simplest of elements, permeating the early universe, before heavier elements began forming. A previous estimate, based on the interaction of hydrogen with the ultraviolet radiation from the earliest stars, put the stars' age at about 180 million years after the Big Bang. But this new discovery is based on more definitive proof.
"I was thrilled to see the signal of the distant oxygen in the ALMA data. This detection pushes back the frontiers of the observable Universe," Takuya Hashimoto, the lead author of the new paper and a researcher at both Osaka Sangyo University and the National Astronomical Observatory of Japan , said in a statement Wednesday.
The oxygen signal was observed from an ancient galaxy, MACS1149-JD1, which is the most distant galaxy observed yet.
More:
http://www.ibtimes.com/oldest-oxygen-shows-earliest-stars-formed-250-million-years-after-big-bang-2681391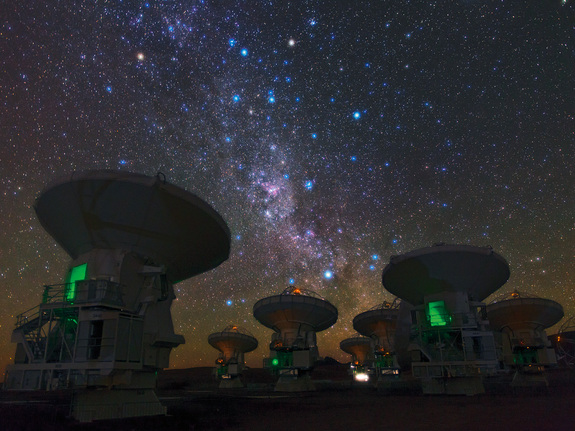 Atacama Large Millimeter/submillimeter Array (ALMA) of radio telescopes in Chile
More images:
https://images.search.yahoo.com/search/images;_ylt=AwrEwSx0lfxac.IALwaLuLkF;_ylc=X1MDOTYwNTc0ODMEX3IDMgRiY2sDZWFlcjdmOWNnbDI5ZyUyNmIlM0Q0JTI2ZCUzRGZFVE9PSzFyWUgzS3VfNWJGaWk4THF3a19jX3JYc19ya1E2azM1dGQ0N2NwM1EtLSUyNnMlM0RkayUyNmklM0RhUld1NUEwY3cxX0t4T1NsM1EyTQRmcgMEZ3ByaWQDcEZRNlRIdWRTZXlTV2lUTV9MOFVSQQRtdGVzdGlkA251bGwEbl9zdWdnAzAEb3JpZ2luA2ltYWdlcy5zZWFyY2gueWFob28uY29tBHBvcwMwBHBxc3RyAwRwcXN0cmwDBHFzdHJsAzgwBHF1ZXJ5A0F0YWNhbWEgTGFyZ2UgTWlsbGltZXRlci9zdWJtaWxsaW1ldGVyIEFycmF5IChBTE1BKSBvZiByYWRpbyB0ZWxlc2NvcGVzIGluIENoaWxlBHRfc3RtcAMxNTI2NTAyNzc3BHZ0ZXN0aWQDbnVsbA--?gprid=pFQ6THudSeySWiTM_L8URA&pvid=7BtkwDEwLjHlO2d6WQqJMAAfMjYwMAAAAACfhOh9&fr2=sb-top-images.search.yahoo.com&p=Atacama+Large+Millimeter%2Fsubmillimeter+Array+%28ALMA%29+of+radio+telescopes+in+Chile&ei=UTF-8&iscqry=&fr=sfp#id=69&iurl=http%3A%2F%2Fassets.atlasobscura.com%2Farticle_images%2F26794%2Fimage.jpg&action=close
Science:
https://www.democraticunderground.com/122857362
0 replies, 453 views