Fri Dec 15, 2017, 04:05 PM
Judi Lynn (149,522 posts)
How the Disappearance of an Indigenous Activist Sparked an Uprising in Argentina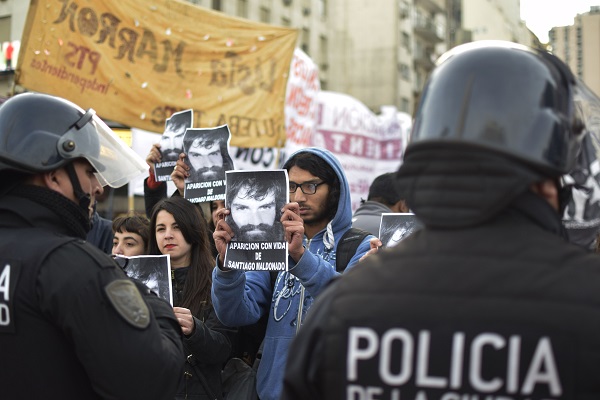 People have taken to the streets across Argentina to protest the disappearance of Santiago Maldonado. (Enfoque Rojo)
DECEMBER 15, 2017
A conflict between indigenous communities and capitalist plunderers has long been simmering. The case of Santiago Maldonado brought tensions to a boiling point.
BY JUAN CRUZ FERRE
For the past three months, an unsettling question has riled Argentina: Where is Santiago Maldonado, the indigenous rights activist disappeared under murky circumstances after a protest? The tragic answer took 78 days to establish.
Santiago Maldonado, 28, was last seen on August 1 at the Pu-Lof indigenous community in Chubut, Patagonia. An artisan and organizer from El Bolsón, he traveled to support the Mapuche's struggle. Dwellers of the Patagonia region, which abuts Argentina and Chile, the Mapuche people have been demanding the restitution of their ancestral land and protection from the encroachment of multinational corporations, such as the clothing manufacturer Benetton.
Since the 1990s, land grabs have plagued Argentina, where soil is sold at ridiculously low prices. Italian billionaire Luciano Benetton tops the list of foreign land owners in Argentina, with more than 2.2 million acres bought in the 1990s at a remarkably low cost.
But he is not alone. Ted Turner, Jacob Suchard (owner of Nestlé) and George Soros, among others, have also heavily invested in the large swaths of land in the Southern Cone, the southernmost part of South America. The arrival of foreign capital to the Patagonia has brought predictable consequences: the plunder of natural resources by extractive industries, the displacement of indigenous and first nation populations, the enclosure of land and violent state repression.
More:
http://inthesetimes.com/article/20770/Argentina-indigenous-activist-santiago-maldonado-protest-uprising/
0 replies, 472 views