Sun Apr 5, 2015, 06:36 PM
Judi Lynn (143,092 posts)
Bolivia's indigenous Aymara go from rags to riches
Bolivia's indigenous Aymara go from rags to riches
Saturday April 4, 201511:47 PM GMT+8
[font size=1]
Picture of the function room of a building built in neo-Andean baroque architecture known as Cholet style (combination of
the words cholo and chalet) in El Alto, Bolivia. ― AFP pic
[/font]
LA PAZ, April 4 ― Splashed in bright colours, sporting swank ballrooms and lavish apartments, new mansions are popping up in poor neighbourhoods in the Bolivian highlands, built by the booming nouveau riche of the indigenous Aymara.
Locals call them "cholets," a blend of chalet and "cholo," a sometimes derogatory word for Bolivians of indigenous origin. But their growing prevalence is a sign of the changing times in Bolivia, where indigenous people have gone from being a silent majority long marginalised from the worlds of politics and business ― to major players on the national scene.
The cholets have sprung up in tandem with an economic boom presided over by Evo Morales, who took office as Bolivia's first indigenous president in 2006.
He swore in for a new term in January after presiding over average economic growth of more than five percent a year during his first two terms. During Morales's presidency, increasing numbers of his fellow Aymara have accumulated fortunes in industries such as mining, retail and transport that they are now using to build sumptuous mansions that are reshaping the country's architecture.
More:
http://www.themalaymailonline.com/features/article/bolivias-indigenous-aymara-go-from-rags-to-riches#sthash.Fv2tEQmX.dpuf
[center]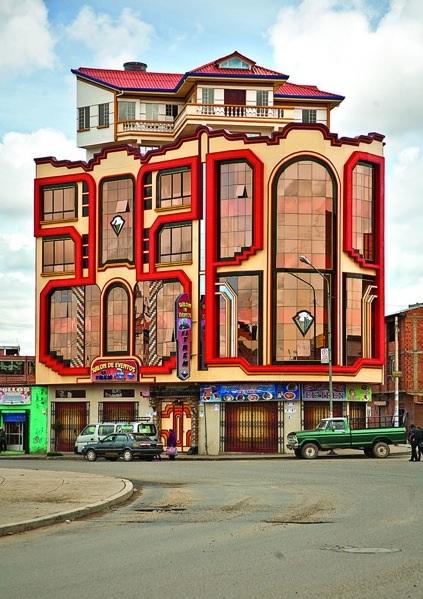 http://economictimes.indiatimes.com/thumb/msid-46755908,width-640,resizemode-4/new-architectural-style.jpg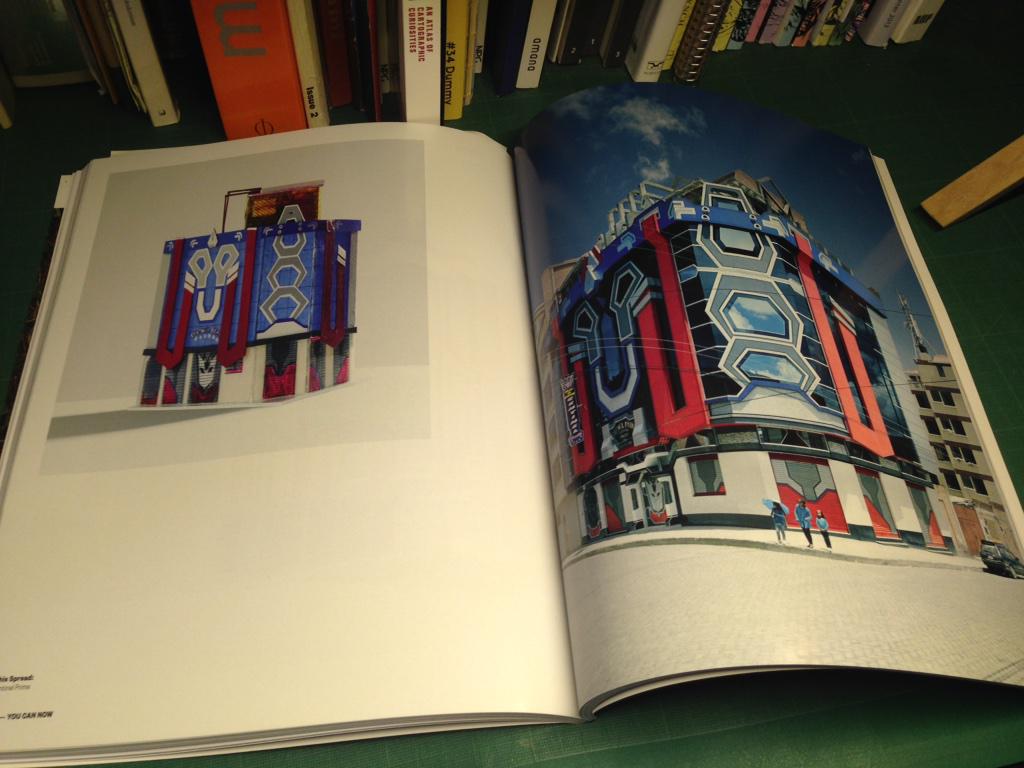 [/center]
6 replies, 3233 views
Replies to this discussion thread
| | | | |
| --- | --- | --- | --- |
| 6 replies | Author | Time | Post |
| Bolivia's indigenous Aymara go from rags to riches (Original post) | Judi Lynn | Apr 2015 | OP |
| | Scootaloo | Apr 2015 | #1 |
| | Warpy | Apr 2015 | #2 |
| | Judi Lynn | Apr 2015 | #3 |
| | Demeter | Apr 2015 | #4 |
| | AnotherDreamWeaver | Apr 2015 | #5 |
| | Judi Lynn | Apr 2015 | #6 |
---
---
Response to Judi Lynn (Original post)
Sun Apr 5, 2015, 07:13 PM
Warpy (98,726 posts)
2. I like the style a lot
bit the Texas bungalow on top of the first one has got to go.

There were a lot of near apartheid laws keeping the Aymara separate from the Europeans when Morales took office and those have been gone since his first term. No longer are they maids and laborers and regulated away from being in certain areas at certain times of the day and denied access to loans and a lot of the property in the country.

Morales has also been savvy enough not to put the Europeans into a world of hurt over it.

Morales has also given them one of the most stable governments they've ever had. Bolivia has been very lucky to have him.
---
Response to Judi Lynn (Original post)
Sun Apr 5, 2015, 08:36 PM
Judi Lynn (143,092 posts)
3. Native Bolivians were not allowed to walk in the sidewalks until the Revolution in 1952.
The Spanish conquerors used those who survived the invasion as slaves, and continued to ferociously abuse and despise them, and the descendants still do. Evo Morales himself was beaten and left for dead as a younger man.
In the lowlands, where the large agricultural farmers live in abundance, including Europeans who fled from the aftermath of the 2nd World War, in places like Croatia, and farmers from South Africa who were offered the ancestral lands of Native Bolivians as their own huge farms, offered by the late dictator Hugo Banzer, who tortured and murdered native citizens, Bolivian people are still persecuted, despised, harmed viciously by neo-Nazi youth groups who drive to their neighborhoods in trucks, and beat the holy bejesus out of the indigenous residents.
[center]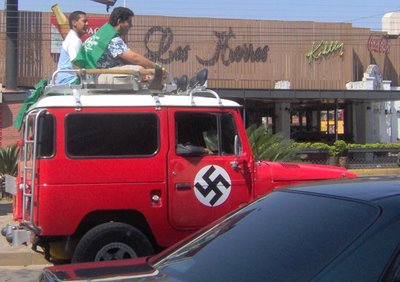 [/center]
These "youth union" groups started coming together the moment Evo Morales took office.
Here's a short article which describes them at that time:

The fascist coup has started in Santa Cruz, denounces the Bolivian government
Posted by Derek Wall on 13 September, 2008

The Bolivian government communicated today to the national and international community that a civil coup has been put into action in the departmental capital city of Santa Cruz, led by the President of the Civic Committee, Branco Marinkovic, and supported by Prefect Ruben Costas. The national government will not respond to "provocations by fascist groups" and will defend democracy and national unity without declaring a state of emergency in the convulsed regions.

The government denounced several times in the last few weeks that there were preparations for violent protests with internal and external support. Today the predicted events materialized and began a "civic prefectural coup against the unity of the country and democracy," said the government minister Alfredo Rada.

Students and activists of the [neo-fascist] group the Santa Cruz Youth Union (UCJ) and shock groups of thugs paid by the business-led civic movement from Santa Cruz attacked on Tuesday offices of Internal Revenue, the National Institute of Land Reform (INRA) and the National Company of Telecommunications (ENTEL).

The vandals stole computers, televisions, telephone equipment and other public goods, and burnt furniture and documentation. They beat conscripts and police guarding the State properties with sticks. After destroying public entities that had been taken over by the State recently, the fascist groups burnt the offices of the human rights organization, Centre for Juridical and Social Studies (CEJIS). In addition they burnt installations of Radio Patria Nueva, attacked offices of the State television company Channel Seven in Santa Cruz and robbed equipment. They forced Radio Alternativa to suspend broadcasts and intimidated other media that are not aligned to the movement for elite-led autonomy, in scenes reminiscent of the previous week in Cobija, where four radio broadcasters had to stop their work in order to protect the safety of their journalists.

They have installed a type of "regional and civic terrorism in four regional departments in order to take hostage the people's voice and the free ability to express one's opinions," lamented the Presidential Minister Juan Ramon Quintana. The curious fact is that the National Association of Press (ANP), a strong defender of private media, has not said a single word in defense of "freedom of expression" in the light of these events.

More:
http://socialistunity.com/the-fascist-coup-has-started-in-santa-cruz-denounces-the-bolivian-government/
[center]
http://www.katari.org/imagenes/brad/auto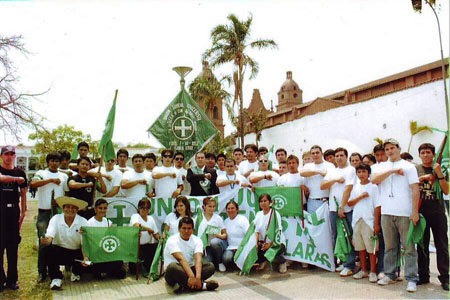 One of the ##### got hit back, apparently
They love using their clubs embedded with spikes on the Native Bolivians
[/center]
---
---
Response to Judi Lynn (Original post)
Mon Apr 6, 2015, 02:41 AM
AnotherDreamWeaver (2,447 posts)
5. Didn't see anything like that when I was there in 1977. nt
---
Response to AnotherDreamWeaver (Reply #5)
Mon Apr 6, 2015, 04:25 AM
Judi Lynn (143,092 posts)
6. No doubt! You need to go see it now. n/t