Tue May 21, 2013, 03:03 AM
ocpagu (1,954 posts)
Rumors about the end of family allowance are 'criminal', says Dilma
Last edited Tue May 21, 2013, 01:32 PM - Edit history (1)
Two days after the start of uproars across the country provoked by rumors about the end of the "Bolsa Família" ('family allowance', a social welfare program of the Brazilian government that provides financial aid to poor families), president Dilma Rousseff said this Monday (20) that the responsible for disseminating the false information is a "criminal".
"The author of this rumor is outrageously inhuman. He is also a criminal", said the president during a ceremony to inaugurate the petroleum ship "Zumbi dos Palmares", in the city of Ipojuca, metropolitan area of Recife.
"I want to make my government's commitment with Bolsa Família very clear: it's a strong, deep and definitive commitment. We won't give up Bolsa Família [...] Don't believe in rumors, because they sometimes are spread in this country in a surprising manner."
(...)
A wave of rumors about the end of the Bolsa Família drove thousands of people last weekend to the lottery stores and bank agencies of Caixa Econômica Federal to withdraw their benefits, mostly in the North and Northeast regions.
The rumor extended to ten states, causing long lines and a lot of uproars. Several people felt sick and fainted. There were fights and stations were plundered.
The government denied the rumor and requested the opening of an inquiry by the Federal Police. All possibilities are being considered, including that of political motivation. "It doesn't seem to be mere chance, and we won't reject any hypothesis, said the minister José Eduardo Cardoso.
(...)
Bolsa Família, which serves 13.8 million families and will complete ten years next October, is the most important income transfer program of the government. It has a strong politic and electoral weight and is also one of the symbols of the administrations of Luiz Inácio Lula da Silva and Dilma Rousseff.
Read more (in Portuguese):
http://www1.folha.uol.com.br/poder/2013/05/1281750-boato-sobre-fim-do-bolsa-familia-e-criminoso-diz-dilma-em-pernambuco.shtml
Some pictures: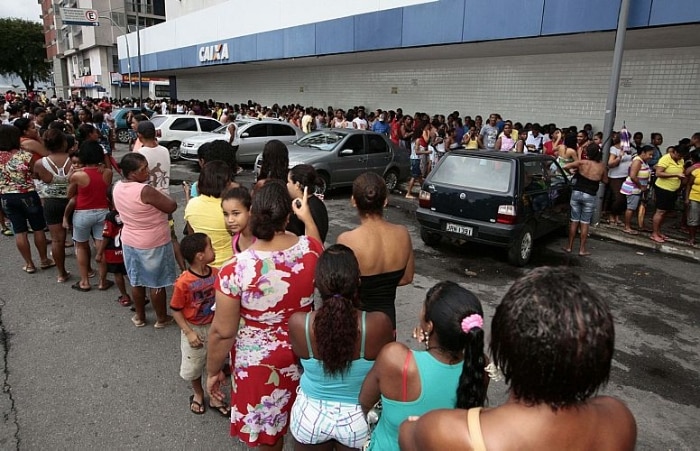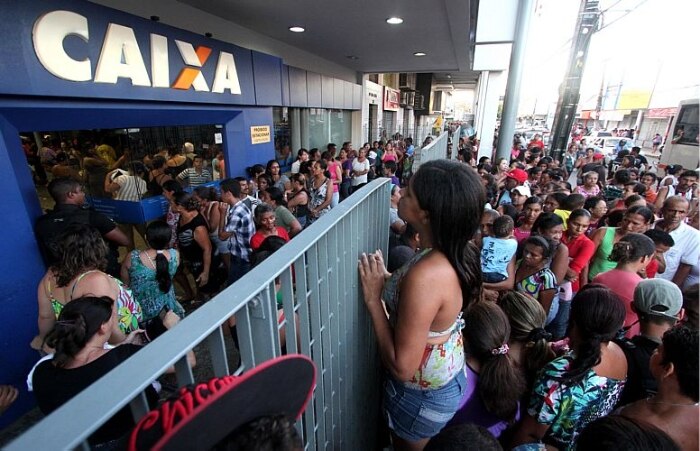 9 replies, 2405 views
Replies to this discussion thread
| | | | |
| --- | --- | --- | --- |
| 9 replies | Author | Time | Post |
| Rumors about the end of family allowance are 'criminal', says Dilma (Original post) | ocpagu | May 2013 | OP |
| | Peace Patriot | May 2013 | #1 |
| | ocpagu | May 2013 | #5 |
| | Catherina | May 2013 | #2 |
| | ocpagu | May 2013 | #4 |
| | Judi Lynn | May 2013 | #6 |
| | Judi Lynn | May 2013 | #3 |
| | Catherina | May 2013 | #7 |
| | Catherina | May 2013 | #8 |
| | Judi Lynn | May 2013 | #9 |
---
Response to ocpagu (Original post)
Tue May 21, 2013, 11:57 AM
Peace Patriot (24,010 posts)
1. Somebody running disinformation games on a leftist government. The usual suspect?
Can't help but notice that U.S. "divide and conquer" tactics of both the Bush Junta and the Obama administration have utterly failed to sabotage the Brazil-Venezuela alliance, and other such alliances, including the overall South American alliance of the many leftist governments elected over the last decade, as well as failing to destroy their social justice programs and goals.
This genuine and highly successful Latin American independence movement, based on new close cooperation among Latin American countries and including all of them but led by the leftist countries, must be infuriating to U.S.-based transglobal corporations, banksters and war profiteers. They don't want these countries to have any choices. They don't want a "level playing field" for instance on resource contracts or market share. They oppose all regulation. They oppose worker protection. They oppose social programs such as education and health care. They oppose development of "the commons"--they want to privatize and loot everything in sight. They oppose Latin American country sovereignty. They are monopolists and bullies and are out to loot, pillage and dominate. And U.S. policy and U.S. agencies serve these scofflaw corporate powers exclusively. They don't serve us, the majority in the U.S.; and they certainly don't serve the Latin American majority.
Brazil's participation in this new Latin American alliance, and its election and re-election of leftist leaders who strongly support it, I am quite sure has been a priority target of U.S. agencies ever since Lula da Silva's election. When the Bush Junta sent down its dictate to South American leaders that they "must isolate" Hugo Chavez, Argentina's president at that time replied, "But he's my brother!"--and Lula da Silva undertook a high profile visit to Venezuela just before the 2006 election in Venezuela for the opening of the Orinoco Bridge between Venezuela and Brazil. He could have timed it differently. He did not. 2006 was the first serious effort by U.S.-backed rightwing forces in Venezuela to destabilize the country by crying "election fraud!" (in that case using a false poll devised by a prominent Washington DC polling firm; the plot was exposed and failed). (We are now seeing a repeat effort, this time with Obama as U.S. president--who refuses to recognize the election of Chavez's successor, Nicolas Maduro, in an election system that former U.S. president Jimmy Carter has called "the best in the world.&quot
Lula da Silva furthermore stated publicly that, "They can invent all kinds of things to criticize Chavez
but not on democracy!
" And he actively opposed U.S. policy on Honduras in 2009 (on Obama's watch) and tried to save that democracy from U.S.-backed destruction, among many other efforts to bolster Latin American democracy and independence, including swift and successful action on the U.S.(Bush Junta)-organized white separatist insurrection to topple Evo Morales in Bolivia in 2008.
Now they have Dilma Rousseff to contend with, Lula da Silva's chief of staff, who was horribly tortured by U.S.-backed fascists when she was young. She has even more reason to promote Latin American independence than Lula did (who was 'merely' jailed by the U.S.-backed fascists for union organizing). Obama was apparently so upset with her that he chose to announce the bombing of Libya while on his trip to Brazil--a crude violation of diplomatic etiquette worthy of Bush Jr. or Dick Cheney.
Motive? The CIA and other covert U.S. government and private agencies have lots and lots of motive to begin the destabilization of Brazil. Means? U.S. agencies spend billions of our taxpayer dollars to create the means to sabotage other peoples' democracies, including infiltration of militaries and police forces, news media, government agencies, legislative bodies, drug mafias and rightwing death squads and any and all power centers, and including funding of rightwing groups including rightwing thugs. Opportunity? Such agencies also create opportunities to cause panic, to instigate riots and disorder, to crash markets, to instigate product shortages (such as the food and other shortages that Venezuela is suffering), to set one leftist group against another and one country against another. These are classic CIA tactics in Latin America, and we have seen many instances of them recently, though mostly failures. So it is no stretch of the imagination, nor "conspiracy theory," to make the educated guess that this "rumor" that caused panic among Brazil's poor--and possible resentment against Brazil's leftist government--had a U.S. origin.
Latin America has plenty of rich, badass elites quite capable of "dirty tricks" and worse, in efforts to regain power. But they are generally
allied
with the U.S. government, often funded by U.S. taxpayers, and invariably act in the interest of U.S. corporate/war profiteer domination of the region, rather than in the interest of their countries and the majority of their people. This "rumor" could be happenstance. "Shit" does "happen" sometimes. It could be Brazilian in origin (local fascist plotters who hate Rousseff). It could be regional in origin (say, fascist operatives out of Colombia--I'm thinking of Alvaro Uribe, head of the fascist mafia in Colombia, and its former president under the Bush Junta, who has reason to hate Brazil's leftist leaders). And it could be the CIA, the DEA, the FBI, the DIA or any number of secretive U.S.-taxpayer funded dirty players, or private corporate dirty players.
Having tried to follow the highly secretive and devious activities of the CIA recently and over the last decade, in Latin America, just as an ordinary citizen following the news (and reading between its lines), that's my guess: a revived CIA--revived under Leon Panetta (close ties to Bush Sr.)--restored to its function of covert sabotage rather than outright war against target countries and subtler and harder to see than Bush Junta thuggery (for instance, the Uribe/Bush Junta effort to start a war between the U.S./Colombia and Venezuela/Ecuador in early 2008). I predicted a resurgence of subtler methods in LatAm when Panetta was appointed CIA Director. (His first priority, I think, was to end the war between the Pentagon and the CIA that Rumsfeld and Cheney had started. But one of his first actions was to visit Bogota amidst rumors of a Uribe coup to stay in power, and to yank Uribe from the stage, albeit landing him on a "silk cushion." Uribe was too crude for the renovated CIA.)
I expected just this: evil, deadly, destabilizing rumors.
---
Response to Peace Patriot (Reply #1)
Wed May 22, 2013, 04:02 AM
ocpagu (1,954 posts)
5. It's weird how consistent these rumors were across the country...
... and how fast they've spread. The Minister of Justice said that this suggests an orchestrated operation. I tend to agree with him. It seems largely domestic - but there's no reason do discharge the possibility of foreign cooperation. It's the classical way, THE modus operandi, after all, creation of artificial crisis. They do not sleep, as Judi Lynn said.

Thanks a lot for your insights. It's always good to read them.
---
Response to ocpagu (Original post)
Tue May 21, 2013, 12:07 PM
Catherina (35,568 posts)
2. Any more about this yet?
I was just taking a wild guess that the exploiters don't like this and sure enough,
Certain sectors of the Brazilian society, both among the conservatives and the progressives, as well as the Catholic Church, oppose the concept of money transfers to the poor:
...
The Bolsa Família Program is far from being universally accepted by the Brazilian society. Among the various criticisms it receives, one of the most recurrent is the assertion that it could discourage the search for employment, encouraging laziness of people. Under this premise, many people would give up trying to find a job, content, instead, to live on the Bolsa Família program.[citation needed][17] The Catholic Church, through its powerful National Conference of Bishops of Brazil (CNBB), maintains[18][19] that "the program is addictive" and leads its beneficiaries to an "accommodation". This, however, is not what the World Bank finds. Having conducted several surveys on the subject, the World Bank came to the conclusion that the program does not discourage work, nor social ascension. On the contrary, says Bénédicte de la Brière, responsible for the program monitoring at the institution:
"Adult work is not impacted by income transfers. In some cases adults will even work harder because having this safety net encourages them to assume greater risks in their activities"'
[20]
http://en.wikipedia.org/wiki/Bolsa_Fam%C3%ADlia
Imagine my shock lol.
I hope they find that rats behind this and prosecute them to the fullest extent.
---
Response to Catherina (Reply #2)
Wed May 22, 2013, 03:41 AM
ocpagu (1,954 posts)
4. Me too.
It's insane to do such a thing.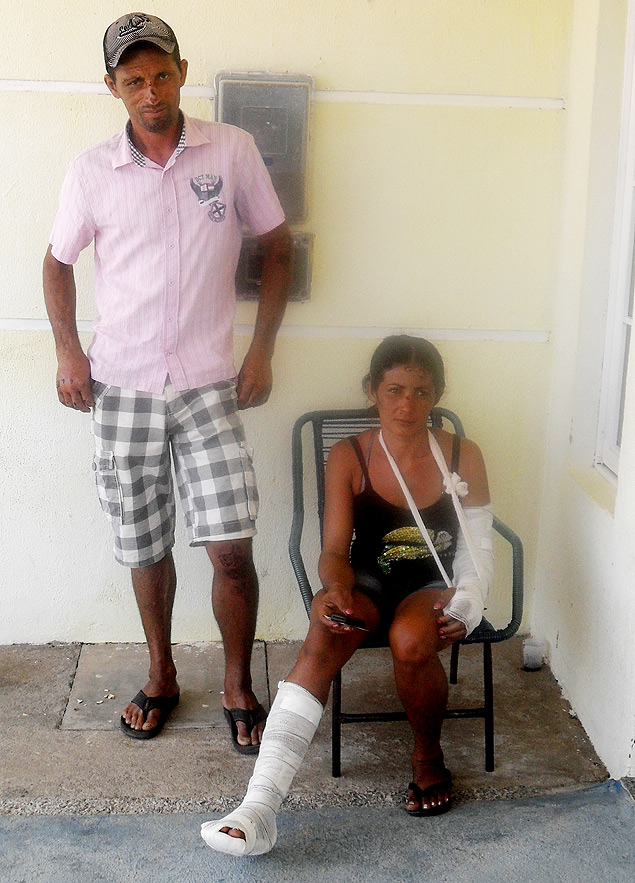 This couple of peasants, Ademir and Júlia de Sousa had an accident while driving in a road during the night to go to bank agency and withdraw their allowances in a city 38 kilometers far. As Julia puts it: "A person who invents a lie such as this has no heart."
http://www1.folha.uol.com.br/poder/2013/05/1282696-casal-se-acidenta-ao-tentar-sacar-bolsa-familia-no-piaui.shtml
The president of the Worker's Party, Rui Falcão, said that "electoral terrorism has started", and that rumors are being transmitted in personal chats, internet, and even in the buses. Local radio stations also broadcast the rumor.
The Minister of Justice, José Eduardo Cardozo said that the speed with which the rumors were spread across the national territory suggests that this was an orchestrated operation.
"Evidently, there was a set of hand-in-hand action across several parts of the national territory, what suggests the evaluation that someone made this deliberately, in a planned and articulate manner. We still can not affirm that, but the situation sure makes us consider that hypothesis."
According to Caixa Econômica Federal, the state-owned bank that distributes the allowances, there were problems in 13 states. There were 900,000 withdraws totaling R$ 152 million during the weekend.
http://www1.folha.uol.com.br/poder/2013/05/1282662-presidente-do-pt-chama-boatos-sobre-bolsa-familia-de-terrorismo-eleitoral.shtml
A woman said she was told that those who did not withdraw the money during the weekend would have their registers canceled. Looks like they intended to kill two birds with one stone, by causing structural problems to the government bank and create confusion in the streets at the same time.
---
Response to ocpagu (Reply #4)
Wed May 22, 2013, 01:01 PM
Judi Lynn (126,030 posts)
6. Someone is making an all-out effort.
"Electoral terrorism" is an excellent description. Who ever has done this has figured out all the angles to get the maximum impact for the well-designed rumor bombs.

And look at the reaction, the evidence of the success of this underhanded, devious, sinister scheming. It's impossible to anticipate, to block, and once it's started, hard as hell to stop until the panic lessens and people have time to listen to reason, to facts, to catch their breath.

Fiendish. Nasty. Evil. Right-wing.

You make it so much clearer, too, with these excellent images. They do the work of so many words. Thanks.
---
Response to ocpagu (Original post)
Tue May 21, 2013, 04:21 PM
Judi Lynn (126,030 posts)
3. These criminals never fail to amaze, horrify. They never sleep, apparently.
Every morning is the start of a new battle against the people. We are exposed day by day to new filthy acts to breed confusion, fear, hatred, a sense of alienation, desperation, panic, suspicion, etc.

Only those who have been able to see the pattern will be immune from the effects of these colossal lies spread to destroy a sense of unity and brotherhood among the actual people who matter in the world.

Hope the real news catches up with and overtakes this new great lie. Bless Dilma Rousseff for not giving up, for not assuming it will take care of itself, and making sure the people get a chance in finding out what the #### is going on here.

Cruel? Of course it is. These fascists WANT people to be miserable and frightened. It should remind the working class how much measures like the Bolsa Familia really do to provide a margin of reassurance against real desperation, and constant, chronic anxiety and panic.

It should deepen their commitment to keeping the guys who work against the people as far away from more power as humanly possible, to prevent the return of the living hell they experienced under them already.

They make life hellacious when they are OUT of power. Allowing them back would be a nightmare again.

It's true someone needs to be hauled off to the slammer for this latest crime.
---
Response to Judi Lynn (Reply #3)
Fri May 24, 2013, 12:16 PM
Catherina (35,568 posts)
7. If you were sucking off the teat of the MIC
would you ever be able to sleep without one eye open?

Hellacious assholes always trying to throw the shit on others because they can't stand to look at their own dung-covered selves
---
Response to ocpagu (Original post)
Fri May 24, 2013, 12:20 PM
Catherina (35,568 posts)
8. Social Program Contributes to Reduced Infant Mortality in Brazil
Social Program Contributes to Reduced Infant Mortality in Brazil
Brasilia, May 24 (Prensa Latina) Research to review the impact of the Bolsa Familia program in Brazil reveals that this helped reduce the mortality rate among children under the age of five by 17 percent between 2004 and 2009. Data provided by the Minister of Social Development and the Fight aganinst Hunger, Tereza Campello, confirms that Bolsa Familia, which delivers 70 reales (33 dollars) to people in extreme poverty, has helped to decrease malnutrition-related deaths.
With the registration of people in this program, child vaccinations were also included, an important step in the fight against diseases such as measles and polio, she said.
...
"Bolsa Familia improved the diet of mothers. Studies show that the family is engaged in the purchase of food and this is an element of change in a child's lifestyle," particularly in terms of pre-natal care, she added.
Campello also pointed out that people in Bolsa Familia have access to the Salud Familia program, which provides basic medical care, a decisive factor in the reduction of the mortality rate for diseases such as diarrhea and respiratory infections.
...
President Dilma Rousseff's government intends to extend this program and eliminate extreme poverty in Brazil by 2014.
sc/sa/cgm/tgj/lgo
Modificado el ( viernes, 24 de mayo de 2013 )
http://www.plenglish.com/index.php?option=com_content&task=view&id=1444671&Itemid=1
---
Response to Catherina (Reply #8)
Fri May 24, 2013, 03:30 PM
Judi Lynn (126,030 posts)
9. It would be so right, not right-wing, to see this precious drop in infant mortality
gather strength as it has in Cuba, bringing a whole new experience to life itself.

Longer, healthier, better lives NOT starting out amid starvation, illness, fear, alienation would transform a nation.

Hope enough Brazilians will care so much about this they will help the President bring this program to greater power, sustain it, and pull the country out of the wilderness it has been for everyone other than the oligarchs.