Fri May 10, 2013, 04:46 AM
ocpagu (1,954 posts)
Together with Maduro, Dilma condemns foreign interference
At the side of the president of Venezuela, Nicolás Maduro, president Dilma Rousseff said this Thursday (9) that South America must reaffirm its "capacity of solving its own problems". And, without naming countries, condemned "hegemonic pretensions" and "foreign interference".
Maduro made this Thursday his first official visit to Brazil as president, elected after his political godfather, Hugo Chávez (1954-2013), historically noted for his criticism of the United States. (sic)
"Our countries are showing this vocation to create a common future that unites our entire region, that contributes to a multipolar and multilateral world without the spirit of confrontation, without hememonic pretensions and without foreign interference", she said.
(...)
In her speech, Dilma said that the regional union of South America is a "dream" that has been conducted by both countries. "This has a huge political meaning", she affirmed to the press, after meeting with Maduro and ministers from both countries.
(...)
Before talking to the press, Dilma and Maduro met for about two hours and said that they talked about the countries' relations, mainly regarding trade, energy, culture and agriculture. Dilma said that in 2012, the exchange of products and services between the countries reached US$ 6 billion. During his speech, Maduro highlighted the importance of technical cooperation with Brazil to increment food production in his country.
Read more (in Portuguese - but be careful, it's Globo):
http://g1.globo.com/mundo/noticia/2013/05/ao-lado-de-maduro-dilma-condena-ingerencia-externa.html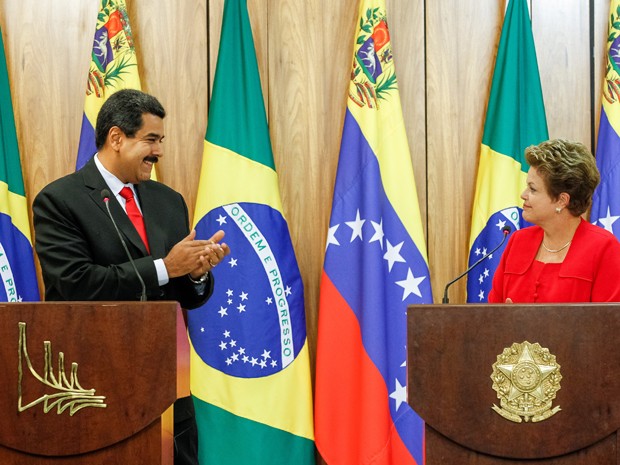 6 replies, 1229 views
Replies to this discussion thread
| | | | |
| --- | --- | --- | --- |
| 6 replies | Author | Time | Post |
| Together with Maduro, Dilma condemns foreign interference (Original post) | ocpagu | May 2013 | OP |
| | Judi Lynn | May 2013 | #1 |
| | Peace Patriot | May 2013 | #2 |
| | Judi Lynn | May 2013 | #3 |
| | Peace Patriot | May 2013 | #4 |
| | Catherina | May 2013 | #5 |
| | ocpagu | May 2013 | #6 |
---
Response to ocpagu (Original post)
Fri May 10, 2013, 05:23 AM
Judi Lynn (114,296 posts)
1. Love this photo. They look wonderful. So good to hear their remarks.
It's tremendous they have made a real connection in their goals for their respective countries, in their progressive ideals and goals.

If only they will be allowed the time to continue the work together which Chavez and Lula initiated.


---
Response to ocpagu (Original post)
Sat May 11, 2013, 02:20 AM
Peace Patriot (24,010 posts)
2. This really shows the solidity of the leftist movement in Latin America,
with the next generation of leaders affirming it. It is a movement above all about cooperation among Latin American countries on common goals of social justice, local sovereignty and mutual prosperity.

I'm SO GLAD to see this--Nicolas Maduro following up for Hugo Chavez and Dilma Rousseff following up for Lula da Silva on the Venezuela-Brazil alliance. This was the key alliance--Venezuela and Brazil--that bolstered the leftist movement and repelled U.S. attempts to overthrow Venezuela's and Bolivia's democracies, and to "divide and conquer" South America. Venezuela's alliance with Argentina preceded this one, and was of prime importance in the early years of the Chavez government. It was Argentina's president at that time, Nestor Kirchner, who, when the Bushwhacks sent down their dictate that LatAm leaders "must isolate Chavez," famously replied, "But he's my brother!" But it was Lula da Silva's support, a bit later, that really stymied U.S. interference. Or, rather, I should say, it was Lula da Silva/Brazil JOINING the Venezuela-Argentina alliance, with additional allies getting elected in Bolivia, Ecuador and Uruguay, forming a solid--and, very important, CONSCIOUS--block of countries opposed to U.S. interference and committed to social justice and other progressive policies.

It is quite wonderful to see this new generation of leaders as determined as their predecessors to create a new and independent South America--and, it is to be hoped--Latin America. And it is difficult to find words for the brilliance of their insight--starting with Chavez, Kirchner and da Silva--that they must stick together!
---
Response to Peace Patriot (Reply #2)
Sat May 11, 2013, 03:51 AM
Judi Lynn (114,296 posts)
3. Chavez, Kirchner, and da Silva: Unforgettable step in history!
---
Response to Judi Lynn (Reply #3)
Sun May 12, 2013, 01:45 PM
Peace Patriot (24,010 posts)
4. Wonderful, wonderful pix! They say it all! Thanks!
---
Response to Judi Lynn (Reply #3)
Sun May 12, 2013, 02:10 PM
Catherina (35,568 posts)
5. Beautiful! Thank you :) n/t
---