Thu Jan 24, 2013, 04:44 PM
Dr. Strange (24,180 posts)
7 replies, 3143 views
Replies to this discussion thread
| | | | |
| --- | --- | --- | --- |
| 7 replies | Author | Time | Post |
| Carlos Romero, Man Who Had Sex With Donkey, Arrested Again (Original post) | Dr. Strange | Jan 2013 | OP |
| | Warren DeMontague | Jan 2013 | #1 |
| | Curmudgeoness | Jan 2013 | #2 |
| | krispos42 | Jan 2013 | #3 |
| | jberryhill | Jan 2013 | #4 |
| | HMark80 | Jan 2013 | #5 |
| | kimtjj195_tx | Jan 2013 | #6 |
| | MADem | Jan 2013 | #7 |
---
Response to Dr. Strange (Original post)
Thu Jan 24, 2013, 05:17 PM
Warren DeMontague (80,708 posts)
1. What the hell is going on down there?
Between this and the masturbating poop bandit, bad week for Florida.
---
Response to Dr. Strange (Original post)
Thu Jan 24, 2013, 06:51 PM
Curmudgeoness (18,210 posts)
2. Too bad it wasn't a full sized donkey.
I understand that they have a wicked kick....which is what this freak needs.

So the next time someone says "screw Democrats", you can wonder if he is that guy having sex with donkeys.

---
Response to Dr. Strange (Original post)
Sat Jan 26, 2013, 12:46 AM
krispos42 (47,877 posts)
3. There was a guy, about 5 years ago, who got busted for...
...having sex with a deer.


A dead deer.


You see, a couple of years prior he had gotten busted for having sex with a live horse, and sent away for animal abuse. So his solution was to find a freshly killed deer, THEN have sex with it.

He argued in front of the judge that because the deer was dead, it's wasn't animal abuse.

He was sentenced to some time in a mental hospital.


This was in Superior, Wisconsin, I think.
---
Response to krispos42 (Reply #3)
Sat Jan 26, 2013, 03:49 AM
jberryhill (49,136 posts)
4. He should go to law school

That guy has potential in the legal profession.

In more ways than one.
---
Response to Dr. Strange (Original post)
Mon Jan 28, 2013, 11:32 AM
HMark80 (3 posts)
5. :)
Where do you find this news?? Oh my god!
---
---
Response to Dr. Strange (Original post)
Tue Jan 29, 2013, 02:25 AM
MADem (135,425 posts)
7. At least he wasn't caught molesting animals this time, the jerk.
And what does he have to smile about? I find this donkey rapist dispicable!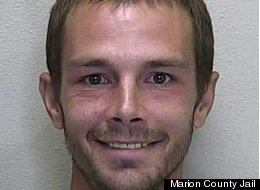 ?13
Carlos Romero, 32, was out on probation Thursday when he was arrested for allegedly stealing 16 train batteries valued at $10,880 from the Florida Northern Railroad, according to Ocala.com.

Police said that Romero admitted to taking four batteries and bringing them into a recycling company to sell for scrap. Recycling company officials told authorities Romero was paid $161.46 for the batteries.

Romero, who had been arrested on bestiality charges in September, pleaded guilty in December as part of a plea deal, and was sentenced to one year of probation and a $200 fine. Ocala.com reported that, since his release, he had been living in his pickup truck or in the woods and eating food from dumpsters, and that he stole and sold the batteries because he needed cash to pay for his truck's insurance.

His plea deal also required him to give up his donkey, undergo psychosexual evaluation, avoid any contact with children at a school or playground, and avoid unsupervised contact with animals.
http://www.huffingtonpost.com/2013/01/22/carlos-romero-donkey-sex-arrested-again_n_2527596.html