Sat Mar 3, 2012, 06:10 AM
oldironside (1,248 posts)
Revealed: government plans for police privatisation
Private companies could take responsibility for investigating crimes, patrolling neighbourhoods and even detaining suspects under a radical privatisation plan being put forward by two of the largest police forces in the country.

West Midlands and Surrey have invited bids from G4S and other major security companies on behalf of all forces across England and Wales to take over the delivery of a wide range of services previously carried out by the police.

The contract is the largest on police privatisation so far, with a potential value of £1.5bn over seven years, rising to a possible £3.5bn depending on how many other forces get involved.
http://www.guardian.co.uk/uk/2012/mar/02/police-privatisation-security-firms-crime#start-of-comments
I'll let Her Majesty express my feelings on this.
7 replies, 1967 views
Replies to this discussion thread
| | | | |
| --- | --- | --- | --- |
| 7 replies | Author | Time | Post |
| Revealed: government plans for police privatisation (Original post) | oldironside | Mar 2012 | OP |
| | dipsydoodle | Mar 2012 | #1 |
| | T_i_B | Mar 2012 | #2 |
| | dipsydoodle | Mar 2012 | #3 |
| | tjwmason | Mar 2012 | #4 |
| | oldironside | Mar 2012 | #5 |
| | SwissTony | Mar 2012 | #6 |
| | LeftishBrit | Mar 2012 | #7 |
---
Response to oldironside (Original post)
Sat Mar 3, 2012, 06:41 AM
dipsydoodle (42,239 posts)
1. At issue will be the quality of staff they employ.
I think they will be less forgiving than what we're used to in everyday matters especially if their pay is based on results like f*cking traffic wardens. Whilst some might think twice about thumping a copper same might not apply to this lot who I'd expect to wear different uniforms for recognition.
Be interesting to see what the demarcation lines are and how they get on with our "proper" police.
off topic : even when she's not smiling I think she's lovely.
---
Response to dipsydoodle (Reply #1)
Sat Mar 3, 2012, 06:57 AM
T_i_B (13,570 posts)
2. Another issue is the integrity of private security
A security firm motivated by money could easily be swayed by somebody with a bit of cash to flash. I'm not convinced that private security won't be considerably more corrupt then state coppers.

Also, what are the chances that private security will cherrypick the nice jobs and leave the police with the really bad areas with sky high crime rates?
---
Response to T_i_B (Reply #2)
Sat Mar 3, 2012, 07:01 AM
dipsydoodle (42,239 posts)
3. Oh yes
I'm equally convinced that "bung money" will become an issue.

I don't think they'll be able to pick and chose the jobs and god forbid that any will be armed.
---
Response to oldironside (Original post)
Sat Mar 3, 2012, 07:42 AM
tjwmason (14,819 posts)
4. Is there nothing they won't privatise?
This is no longer a reasoned discussion about the rightful role of the state, it's clearly become a rampant fetish that anything which can conceivably be palmed off on the private sector is.

Seeing the picture of the Queen (love the expression, so apt) makes me wonder whether she'll be turning up for the State Opening of Parliament in a carriage with corporate sponsorship emblazoned on the side sometime soon...
---
Response to tjwmason (Reply #4)
Sat Mar 3, 2012, 07:50 AM
oldironside (1,248 posts)
5. Yes...
... I can see them installing a Stannah stair lift to help her up to the throne.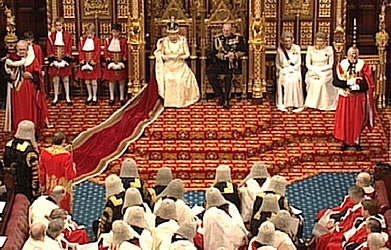 And what could Philip be made to endorse in order to pay his way?
---
Response to oldironside (Original post)
Sat Mar 3, 2012, 04:07 PM
SwissTony (2,341 posts)
6. Just out of curiosity, what percentage of the voter did the Tories get last election?
And what percentage will the LibDems get next election?
---
Response to SwissTony (Reply #6)
Sat Mar 3, 2012, 07:07 PM
LeftishBrit (38,569 posts)
7. (1) 36%. (2) Less than 10%
The LibDems have followed their leader over a cliff.

Interestingly, the Tories got EXACTLY the same share of the vote in 2010 as in their 1945 debacle. The difference is that the anti-Tory vote was shared between Labour, LDs and outside England, the Scottish and Welsh Nationalists.

But of course once Tories get in, they act as though they've got an overwhelming mandate. (Labour too; but I think it's even truer of Tories.) Even Thatcher never got more than 43% of the vote, but you wouldn't have known it, the way she acted.