Fri Apr 5, 2019, 05:09 AM
Denzil_DC (5,432 posts)
Twitter reveals that's not a plum in Rees-Mogg's mouth, it's his little stamping foot
Link to tweet
Jacob Rees-Mogg ✔
@Jacob_Rees_Mogg

If a long extension leaves us stuck in the EU we should be as difficult as possible. We could veto any increase in the budget, obstruct the putative EU army and block Mr Macron's integrationist schemes.
At time of writing, the replies were a mix of a few grunts of agreement, overshadowed by the number of people thanking the Mogg for acknowledging and illustrating how much power the UK has within the EU as a democratic body - even in its current diplomatically weakened state - if it chooses to wield it, contrasting with how little it would have if it left. This is aside from the wisdom of antagonizing a body the UK has to hope will be a generous negotiating partner in the aftermath.
A few minor skirmishes broke out in the replies, with some saying that moves within the EU to do away with the veto in favour of qualified majority voting would limit its power. A shame, then, that the UK long lobbied for such a change, and as things stand, it could presumably be blocked with ... a veto.
Maybe Led By Donkeys could sponsor a few billboards to spread the Mogg's words. I think they already did this one: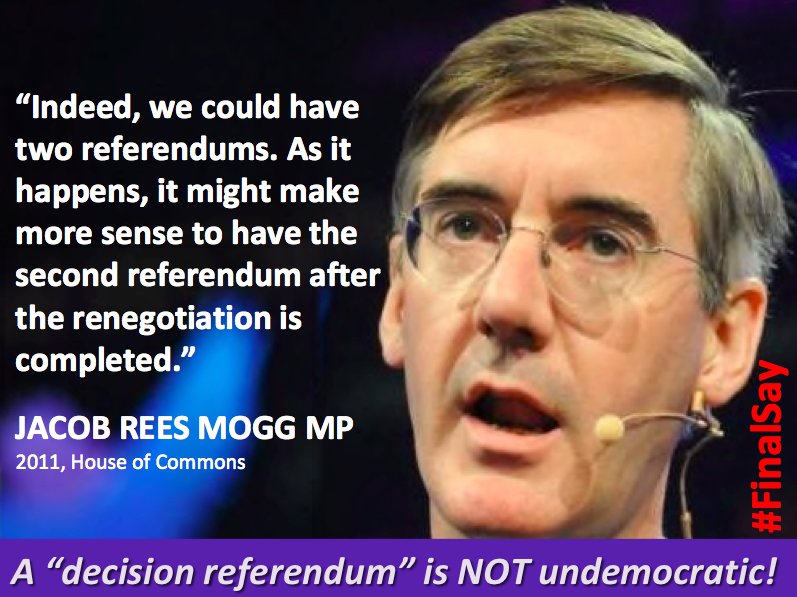 2 replies, 1225 views
Replies to this discussion thread
| | | | |
| --- | --- | --- | --- |
| 2 replies | Author | Time | Post |
| Twitter reveals that's not a plum in Rees-Mogg's mouth, it's his little stamping foot (Original post) | Denzil_DC | Apr 2019 | OP |
| | empedocles | Apr 2019 | #1 |
| | Denzil_DC | Apr 2019 | #2 |
---
Response to Denzil_DC (Original post)
Fri Apr 5, 2019, 05:37 AM
empedocles (11,539 posts)
1. The name'Rees-Mogg' goes back many decades. A certain 'revel' in the phrase 'blood in the streets'.
---
Response to empedocles (Reply #1)
Fri Apr 5, 2019, 07:13 AM
Denzil_DC (5,432 posts)
2. Allied with 'investment profits'
Link to tweet
A C Grayling #FBPE #PeoplesVote &/or #Revoke50
✔
@acgrayling

The front cover of the book by Jacob Reed Mogg's father William Rees Mogg, 'Blood in the Streets: Investment Profits in a World Gone Mad' has splashed across it 'The time to buy is when blood is running in the streets.' - Need to know any more about Brexit?