Wed Aug 30, 2017, 06:43 AM
Denzil_DC (5,448 posts)
Scotland: Queensferry Crossing across the Firth of Forth opens to traffic
Britain's newest road bridge, suspended by 23,000 miles of cables over the Firth of Forth, has opened with motorists facing long delays.
At 1.6 miles (2.7km), the Queensferry Crossing is the longest bridge of its type in the world and, at 210m (689ft) high, Britain's tallest, say its designers. For motorists, only one thing will matter: the new crossing promises a queue-free drive home at motorway speeds.
The first cars drove over the bridge shortly before 2am on Wednesday after traffic was diverted from the Forth Road Bridge. A long procession followed police vehicles, with many honking their horns and blowing whistles as they crossed the bridge.
However, by rush-hour drivers were facing long delays in both directions. It is thought people simply wanting to experience the crossing for the first time were exacerbating the problem, with Traffic Scotland tweeting: "This is not just commuters heading for work" and "LOTS of you eager to cross & 40mph speed limit in place."
https://www.theguardian.com/uk-news/2017/aug/30/queensferry-crossing-firth-of-forth-to-open-to-traffic-edinburgh
This story's pretty typical of today's coverage of the opening to traffic of the Scottish Government's new, long-awaited Queensferry Crossing, near Edinburgh, built to relieve traffic stress on the old Forth Road Bridge which has been beset by age- and corosion-related problems for years.
The initial delays were predictable, with many sightseers joining the morning rush hour. Read down any of the media reports, and they may mention the scale of the bridge, its status as the longest bridge of its type - three-tower, cable-stayed - in the world, the UK's highest bridge, and the 23,000 miles of cable that make up its structure. It's a year late in opening and came in £245 million under budget.
Few of the articles will delve into the history of the project, which saw a Labour government refuse to fund it, and its initial cancellation amid cross-party opposition to it before the SNP took power at Holyrood and finally agreed that the Scottish Government would fund it itself and gave the go-ahead for construction to start six years ago.
It was dismissed at the time and in recent years by the usual suspects as an SNP "vanity project" - and much the same voices then pilloried the Scottish Government for not opening it sooner last year, when a serious structural problem closed the Forth Road Bridge for repairs over a prolonged period, leading to lengthy detours and chaos.
Now the likes of Gordon Brown are queuing up to laud it and take credit for it.
Whatever, it's a stunning example of modern architecture and engineering, already has iconic status, and is probably destined to be the most-photographed bridge in the UK, if not the world. Its opening means the Firth of Forth is spanned by three bridges built in successive centuries: the Forth Rail Bridge, the Forth Road Bridge and now the Queensferry Crossing.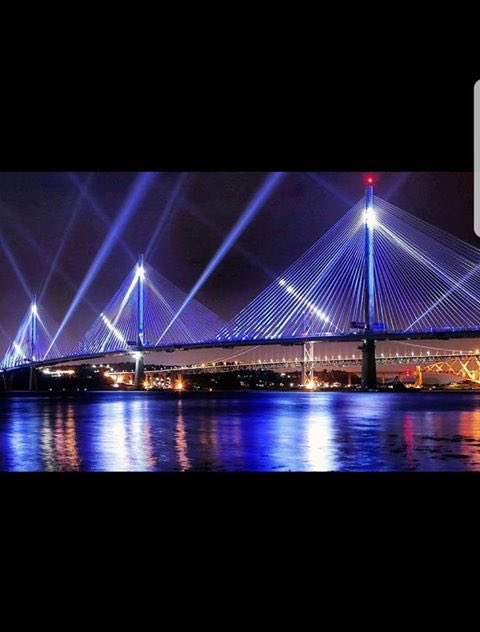 2 replies, 4182 views
Replies to this discussion thread
| | | | |
| --- | --- | --- | --- |
| 2 replies | Author | Time | Post |
| Scotland: Queensferry Crossing across the Firth of Forth opens to traffic (Original post) | Denzil_DC | Aug 2017 | OP |
| | TubbersUK | Aug 2017 | #1 |
| | planetc | Aug 2017 | #2 |
---
Response to Denzil_DC (Original post)
Wed Aug 30, 2017, 06:55 AM
TubbersUK (1,425 posts)
1. Thanks
I remember (as a child) making that crossing from Fife to Edinburgh by ferry, the only alternative to rail at the time.


---
Response to Denzil_DC (Original post)
Wed Aug 30, 2017, 09:04 AM
planetc (4,859 posts)
2. It's a beautiful thing, and
it appears to be very functional too. There are screens to prevent cars from being blown around in high winds. And they expect it to last for 120 - 150 years. I look at new commercial buildings going up in my neighborhood, and they look as though they'll last maybe twenty years.