Thu Mar 9, 2017, 06:32 PM
Denzil_DC (5,100 posts)
Tory whistleblowers accuse Conservatives of 'huge betrayal' of electorate over expenses
Last edited Fri Mar 10, 2017, 12:39 AM - Edit history (1)
Two members of a Conservative campaigning "hit squad" in the 2015 election tell Channel 4 News the party "cheated" by not properly declaring its election spending.
Over the past year, a Channel 4 News investigations team has unearthed compelling evidence that the Conservative Party may have broken election laws to fight three by-elections in 2014 and win power in the 2015 General Election.
The Battlebus 2015 campaign sent a fleet of coaches filled with Conservative activists into 29 marginal seats in the final weeks of the 2015 General Election – to persuade voters on the doorstep.
The whole Battlebus campaign is now under investigation – after allegations that Conservative candidates may have broken election law by failing to declare the costs on their local spending returns.
https://www.channel4.com/news/tory-whistleblowers-election-expenses-conservative-party-battlebus
Channel 4 News have been dogged on this, which follows on from
earlier investigations
of theirs. They even have a web page all about it, including a countdown clock to when the two-year statute of limitations expires, here:
http://www.electionexpenses.co.uk/
And we could finally see some proper action quite soon:
Tory election fraud: Prosecutions could be started 'within weeks'
It seems any prosecutions may begin well before the May 9 deadline. And before anybody suggests Theresa May couldn't have been in on any Tory election fraud, her government will suffer – and could end – if enough MPs lose their seats as a result of this.
According to
The Times
, Conservative MPs and campaigners involved in the Tory election fraud allegations may face prosecution within weeks.
http://voxpoliticalonline.com/2017/03/05/tory-election-fraud-prosecutions-could-be-started-within-weeks/
ETA: Through the wonders of Twitter, I can now add a key snippet from the Channel 4 whistleblower interview.
Link to tweet
The whole 10-minute segment is at
https://www.channel4.com/news/tory-whistleblowers-election-expenses-conservative-party-battlebus
10 replies, 2000 views
Replies to this discussion thread
| | | | |
| --- | --- | --- | --- |
| 10 replies | Author | Time | Post |
| Tory whistleblowers accuse Conservatives of 'huge betrayal' of electorate over expenses (Original post) | Denzil_DC | Mar 2017 | OP |
| | TubbersUK | Mar 2017 | #1 |
| | Denzil_DC | Mar 2017 | #2 |
| | Denzil_DC | May 2017 | #3 |
| | muriel_volestrangler | May 2017 | #4 |
| | Denzil_DC | May 2017 | #5 |
| | LeftishBrit | May 2017 | #7 |
| | Denzil_DC | May 2017 | #6 |
| | Denzil_DC | Jun 2017 | #8 |
| | muriel_volestrangler | Jun 2017 | #9 |
| | Denzil_DC | Jun 2017 | #10 |
---
Response to Denzil_DC (Original post)
Thu Mar 9, 2017, 06:36 PM
TubbersUK (1,409 posts)
1. K &R n/t
---
Response to Denzil_DC (Original post)
Wed Mar 15, 2017, 06:15 PM
Denzil_DC (5,100 posts)
2. Election Expenses: New emails show more members of PM's top team involved
More from Channel 4 News tonight:
At least 12 Conservative MPs are facing the possibility of criminal charges tonight – after they were referred to the CPS by police over their election expenses following a year long investigation by this programme. And there are more allegations that this scandal leads to the heart of Downing Street.
From Devon and Cornwall to Cumbria – prosecutors will now decide whether to lay charges for failing to properly declare spending in their election campaigns.
The Channel 4 News investigation prompted an unprecedented national inquiry by the Electoral Commission and then by more than a dozen police forces.
Channel 4 News has obtained new secret emails – which reveal how two more of Theresa May's closest advisors were involved in the most controversial campaign of all – the party's battle against Ukip leader Nigel Farage in South Thanet.
https://www.channel4.com/news/election-expenses-new-emails-show-more-members-of-pms-top-team-involved
A LOT more at the link!
---
Response to Denzil_DC (Original post)
Wed May 10, 2017, 06:53 AM
Denzil_DC (5,100 posts)
3. Despite evidence like this, the CPS has just announced that no charges will be pressed
against individual MPs in this matter
Link to tweet
Press Association ✔ @PA
#Breaking No criminal charges over 14 police enquiries in to Conservative election spending, CPS says; one file remains under consideration pic.twitter.com/ssl3jlBFkg
Press Association ✔ @PA
Full statement from @cpsuk as it announces no charges over Conservative Party election expenses pic.twitter.com/WB36Q7cfvC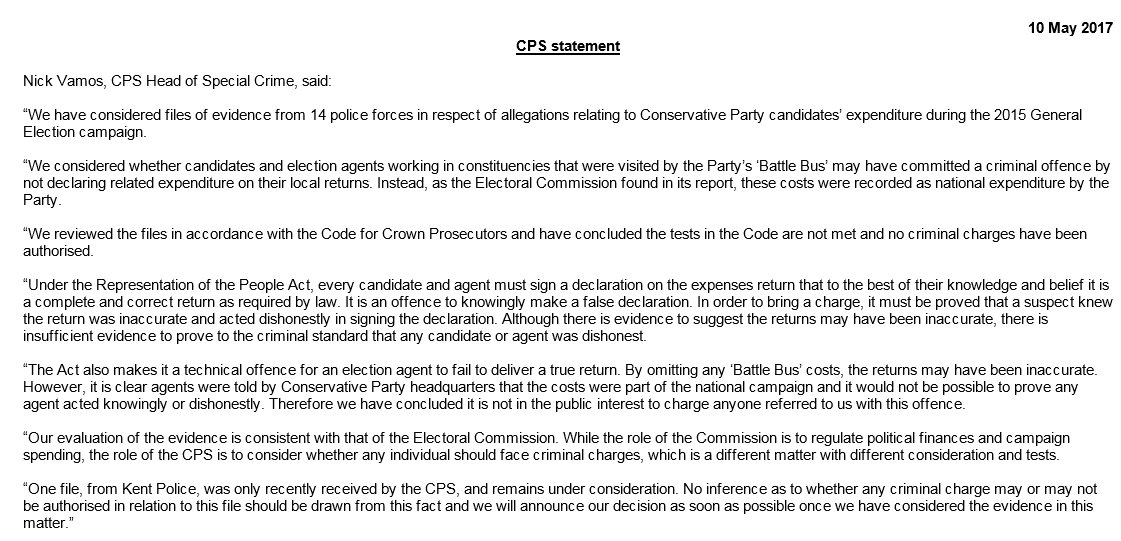 So basically, because Conservative Party Central Office told the MPs and their agents everything was OK, they're off the hook. Ignorance of the law isn't usually a defence.
However, the conduct of the South Thanet election (the Kent Police file) is still under investigation.
The Conservative Party as a whole has already been fined £70,000 for the misreporting of battlebus expenses:
http://www.telegraph.co.uk/news/2017/03/16/conservatives-fined-70000-mp-reported-police-following-investigation/
Some Tories are now out for blood:
Tory says Electoral Commission should be abolished if its top managers don't resign
The Conservative Karl McCartney, who is seeking re-election as MP for Lincoln and who was one of the MPs under investigation, said the Electoral Commission's chief executive, Claire Bassett, and her senior management team should resign.
If they don't, Tory MPs after the election will urge the government "to abolish this incompetent organisation", he said in a statement.

https://www.theguardian.com/politics/live/2017/may/10/general-election-2017-tory-mps-expenses-one-show-politics-live?page=with:block-5912ec9ee4b0762dda0b9acc#block-5912ec9ee4b0762dda0b9acc
Sacking somebody for doing their job - albeit slowly - and eventually letting miscreants off the hook on a strict interpretation of the law despite evidence of wrongdoing (a.k.a. a technicality). Ladies and gentlemen - your Conservative Party.
---
Response to Denzil_DC (Reply #3)
Wed May 10, 2017, 07:14 AM
muriel_volestrangler (94,212 posts)
4. Sounds like it's the people in Conservative Party HQ who should be charged
They did know they were breaking the law.
---
Response to muriel_volestrangler (Reply #4)
Wed May 10, 2017, 08:37 AM
Denzil_DC (5,100 posts)
5. Indeed.
There's already been that £70,000 fine (it should also be noted that Labour was fined £20,000 after the last Westminster election for irregularities to do with the Miliband Stone), but without any legal comeback for those responsible, that effectively ranks as just another electoral expense, and means any extra seats won are cheap at the price!
Link to tweet
Derek Bateman
@DerekBateman2
It may not reach a legal threshold but the latitude contrasts with the unyielding approach shown to claimants missing a DWP appointment
Link to tweet
…
Wings Over Scotland
@WingsScotland
It's weird, because ignorance of the law isn't normally a valid excuse for committing a crime.
I haven't heard anything about the extensive bullying etc. allegations to do with the Tory battlebus tour, which led to one suicide and a lot of revelations about the conduct of Tories both young and old, senior and not so senior, for quite a while, so that may pop up again in due course.
---
Response to muriel_volestrangler (Reply #4)
Wed May 10, 2017, 05:02 PM
LeftishBrit (39,524 posts)
7. Agree.
---
Response to Denzil_DC (Original post)
Wed May 10, 2017, 04:25 PM
Denzil_DC (5,100 posts)
6. Oops.
Looks like May's attempt at deflection on the basis of "We're all at it" has backfired:
Link to tweet
Chris Musson
✔ @camusson
Conservative HQ have been unable to provide evidence of claim by PM today that the SNP were also fined for "mistakes" on "national expenses"
Link to tweet
Chris Musson ✔ @camusson

.@NicolaSturgeon Electoral Commission confirms it has "never fined the Scottish National Party for any breaches of the party campaign rules at any election"
Link to tweet
Nicola Sturgeon
✔ @NicolaSturgeon
PM should apologise for this attempt to smear @theSNP - unlike Tories, we abide by rules and have never been fined by Electoral Commission
Link to tweet
…
(Local sidelight: Musson works for the Scottish edition of
The Sun
. It's often fairer on the SNP than most of the other media up here.)
---
Response to Denzil_DC (Original post)
Fri Jun 2, 2017, 07:23 AM
Denzil_DC (5,100 posts)
8. They thought it was all over ...
An unexpected development:
CPS statement on election expenses
02/06/2017
Nick Vamos, CPS Head of Special Crime, said: "On 18 April we received a file of evidence from Kent Police concerning allegations relating to Conservative Party expenditure during the 2015 General Election campaign. We then asked for additional enquiries to be made in advance of the 11 June statutory time limit by when any charges needed to be authorised.
"Those enquiries have now been completed and we have considered the evidence in accordance with the Code for Crown Prosecutors.
"We have concluded there is sufficient evidence and it is in the public interest to authorise charges against three people.
"Craig Mackinlay, 50, Nathan Gray, 28, and Marion Little, 62, have each been charged with offences under the Representation of the People Act 1983 and are due to appear at Westminster Magistrates' Court on 4 July 2017.
"Criminal proceedings have now commenced and it is extremely important that there should be no reporting, commentary or sharing of information online which could in any way prejudice these proceedings."
...
http://www.cps.gov.uk/news/latest_news/cps-statement-election-expenses/
---
Response to Denzil_DC (Reply #8)
Fri Jun 2, 2017, 08:08 AM
muriel_volestrangler (94,212 posts)
9. What happens now that Craig Mackinlay is charged?
"What are the Conservatives saying?
The party has released a statement standing by Mackinlay, saying it believes the charges are unfounded and criticising the law under which he is charged as "fragmented, confused and unclear"."
...
"What happens now?
Mackinlay, Gray and Little are scheduled to appear for a preliminary hearing at Westminster magistrates court in central London on 4 July."
...
"Is he likely to win the seat?
With Ukip, the main challengers in 2015, a seemingly faded force, Mackinlay had been the clear favourite for South Thanet. Bookmakers still have him as 1-3 or 1-4 to take the seat, with Labour seen as the next challengers.
Farage opted to not re-fight South Thanet, and the party has instead put forward a local councillor, Rev Stuart Piper, a former NHS chaplain."
https://www.theguardian.com/uk-news/2017/jun/02/what-happens-now-that-craig-mackinlay-is-charged
Ooh, how I'd like to see UKIP split the right wing vote, and Labour get in ...
---
Response to muriel_volestrangler (Reply #9)
Fri Jun 2, 2017, 09:02 AM
Denzil_DC (5,100 posts)
10. Yup. Cat, meet pigeons ...
General election: Conservative candidate Craig Mackinlay to stand in South Thanet despite expenses charge
Craig Mackinlay will remain a Conservative candidate in the general election despite being charged as part of an electoral fraud investigation.
The Conservative politician argued his push to become the MP in South Thanet would be "unaffected" after the Crown Prosecution Service said there was enough evidence to bring charges relating to his 2015 election expenses.
The Independent understands Theresa May is backing Mr Mackinlay's position. In a statement however, the Tory candidate went further, attacking the CPS and Kent Police for their handling of the case and questioning why the decision had come just days before the June 8 election.
...
In Mr Mackinlay's case, the focus of the investigation is believed to have centred on whether stays for party workers at the Royal Harbour Hotel in Ramsgate and the Premier Inn in Margate were wrongly attributed to national party expenditure, rather than a local expense.
http://www.independent.co.uk/news/uk/politics/general-election-latest-craig-mackinlay-conservative-candidate-south-thanet-stand-despite-expenses-a7768961.html
Tory Treasurer in 2015 Simon Day is also still under investigation by the Metropolitan Police.
At the very least, this will stir up unhappy memories and resentment among the remaining UKIP faithful.
The UK's punitive contempt of court laws mean that pundits and others (in theory, including us ...) will be constrained in what they can say about the Mackinlay case before it gets to court - presumed innocent etc. etc.