Fri May 17, 2013, 12:36 AM
Joe Shlabotnik (5,604 posts)
Toronto Mayor Rob Ford in crack cocaine video scandal
A cellphone video that appears to show Mayor Rob Ford smoking crack cocaine is being shopped around Toronto by a group of Somali men involved in the drug trade.

Two Toronto Star reporters have viewed the video three times. It appears to show Ford in a room, sitting in a chair, wearing a white shirt, top buttons open, inhaling from what appears to be a glass crack pipe. Ford is incoherent, trading jibes with an off-camera speaker who goads the clearly impaired Mayor by raising topics including Liberal l-leader Justin Trudeau and the Don Bosco high school football team Ford coaches.
The Star had no way to verify the video, which appears to clearly show Ford in a well lit room. What follows is an account based on what both reporters viewed on the video screen. Attempts to reach the Mayor, members of his staff to get comment on this story were unsuccessful.

A lawyer retained by Ford, Dennis Morris, said that Thursday's publication by the Gawker website of some details related to the video was "false and defamatory." Morris told the Star that by viewing a video it is impossible to tell what a person is doing. "How can you indicate what the person is actually doing or smoking,"Morris said.
http://www.thestar.com/news/city_hall/2013/05/16/toronto_mayor_rob_ford_in_crack_cocaine_video_scandal.html
For Sale: A Video of Toronto Mayor Rob Ford Smoking Crack Cocaine
[URL=
.html][IMG]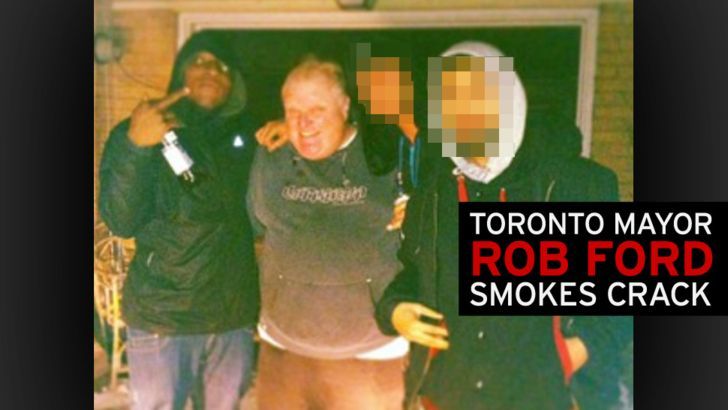 [/IMG][/URL]
Rob Ford, Toronto's conservative mayor, is a wild lunatic given to making bizarre racist pronouncements and randomly slapping refrigerator magnets on cars. One reason for this is that he smokes crack cocaine. I know this because I watched him do it, on a videotape. He was fucking hiiiiigh. It's for sale if you've got six figures.

It began like this: We've made fun of Ford before for his lunatic pronouncements and nude pictures. Last week, we got a tip from someone claiming to have a videotape of Ford smoking crack. Would we like to buy it? .....
http://gawker.com/for-sale-a-video-of-toronto-mayor-rob-ford-smoking-cra-507736569
3 replies, 2671 views
Replies to this discussion thread
| | | | |
| --- | --- | --- | --- |
| 3 replies | Author | Time | Post |
| Toronto Mayor Rob Ford in crack cocaine video scandal (Original post) | Joe Shlabotnik | May 2013 | OP |
| | nenagh | May 2013 | #1 |
| | blkmusclmachine | May 2013 | #2 |
| | shockedcanadian | May 2013 | #3 |
---
Response to Joe Shlabotnik (Original post)
Fri May 17, 2013, 01:34 AM
nenagh (1,925 posts)
1. Hmmm...
---
---
Response to Joe Shlabotnik (Original post)
Fri May 17, 2013, 11:08 AM
shockedcanadian (751 posts)
3. This story is disurbing on a number of levels...
I never count anything out as anything is possible in this country. However here is my take on this.

First, of course is the allegations themselves. If true it would show that he has a serious drug problem and also has poor judgement with who he hangs out with and what he says (while potentially impaired)

Second, I believe that the Witchhunt on Ford, in particular by The Star has been excessive bordering on that of a sociopath, in my opinion until there is absolute verifiable evidence it is impossible to accept any second hand accounts of any supposed video.

Third. We have become a nation without courts, without laws (unless you work directly in the system), in this case even without evidence. This doesn't mean what he did isn't true, but without evidence and investigation of this evidence, this is all just very damaging hearsay. No human being should be tried, convicted and sentenced in secrecy nor through the media. The media should be asking the questions, trying to and help the city and country, not their own agenda. This goes for all media outlets across the all political spectrums, many have lost faith in their objectivity.

Fourth. Regardless of the results of this video, we have a large number of politicians and organizations in positions of authority who are rarely if ever held to account. From the municipal level to the federal level. This needs to change if we ever want to grow up and become a member of the Free World.