Wed Jan 23, 2013, 07:23 PM
Scuba (53,475 posts)
Early Sundance reviews mixed for movie about anti-Walker protests
http://m.host.madison.com/ct/news/local/early-sundance-reviews-mixed-for-movie-about-anti-walker-protests/article_e06250fa-64ab-11e2-8a77-0019bb2963f4.html

Wisconsinites who waved a sign or chanted "This is what democracy looks like!" got their big-screen debut at the Sundance Film Festival on Monday. The documentary "Citizen Koch" which deals heavily with the public backlash against Gov. Scott Walker's 2011 plan to strip most public sector workers of most of their collective bargaining rights, premiered at the Temple Theatre in Park City, Utah.

Early reviews of the film out of Sundance appear to be mixed so far. The Salt Lake Tribune said the film is certainly full of fire, as it traces a thick green line of shadowy corporate donations from the Citizens United decision to the battle in Wisconsin. The film apparently makes prominent use of three Wisconsin Republicans – a prison guard, a librarian, and a nurse – who switched to the Democratic ticket because of Walker's actions.

"Directors Tia Lessin and Carl Deal, the team behind the Oscar-nominated doc "Trouble the Water," fill their enterprise to bursting with policy experts, rally footage from both sides of the battle and, best of all, moderate Wisconsin Republicans shocked at who has seized control of their party by sheer force of wallet," the Tribune's Ben Fulton wrote.

But Fulton said he wished the film had done less hand-wringing over the current state of affairs, and pointed a way towards a solution. "As vital as the film is for anyone who cares about a level playing field in U.S. democracy, its relentless tone of warning becomes more fatiguing than energizing. It's no secret that those who have the gold make the rules."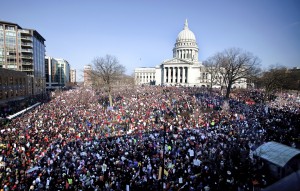 4 replies, 1094 views
Replies to this discussion thread
| | | | |
| --- | --- | --- | --- |
| 4 replies | Author | Time | Post |
| Early Sundance reviews mixed for movie about anti-Walker protests (Original post) | Scuba | Jan 2013 | OP |
| | reteachinwi | Jan 2013 | #1 |
| | Scuba | Jan 2013 | #2 |
| | reteachinwi | Jan 2013 | #3 |
| | Viking12 | Jan 2013 | #4 |
---
Response to Scuba (Original post)
Wed Jan 23, 2013, 07:35 PM
reteachinwi (579 posts)
1. more fatiguing than energizing
That is how it was in June of 2011, and 2012 for that matter.
---
Response to reteachinwi (Reply #1)
Wed Jan 23, 2013, 07:53 PM
Scuba (53,475 posts)
2. Yes, my 20/20 hindsight sure is better than my predictions were after we turned in > 1M signatures.
But then I'm not a political pro. Really makes me question whether our State party leadership has enough pros.

Walker won the election before Tom Barrett won the primary. Shame Tom wasn't riding Barack's coattails in November 2012. That said, I was one of those who said "we can't wait".
---
Response to Scuba (Reply #2)
Wed Jan 23, 2013, 08:35 PM
reteachinwi (579 posts)
3. I was surprised in November of 2011
when the Dems went for the recall. I figured they had the numbers. The polls at the time agreed with that. Results of 2012 Senate and Presidential races would agree with that. Didn't happen. Sad.
---
Response to reteachinwi (Reply #3)
Wed Jan 23, 2013, 10:02 PM
Viking12 (6,012 posts)
4. It wasn't the Dems that went for the recall, the were reluctantly dragged along
I said at the time (feel free to look it up on this site) a mid-winter petition drive followed by an off cycle election was political suicide.