Sat Jul 6, 2019, 08:08 AM
TexasTowelie (70,409 posts)
A new group arises to fly the Confederate flag at the SC State House this summer
COLUMBIA, SC -- An event to raise the Confederate flag on the grounds of the S.C. State House will go forward this month after all.
The group Flags Across the South will raise the rebel banner beside the Confederate soldiers' monument on Saturday, July 13, the group's chairman says.
Flags Across the South has reserved the north side of the State House grounds throughout the day. Chairman Braxton Spivey of Charleston says the group plans to raise the flag on a temporary flagpole around 9 a.m. and leave the banner flying near the intersection of Gervais and Main streets until the permit expires at 5 p.m.
Spivey said he wanted to raise the flag on July 10, the four-year anniversary of when the Confederate flag was removed from the State House grounds in the aftermath of a racially-motivated shooting in a Charleston church that killed nine people.
Read more:
https://www.thestate.com/news/politics-government/article232142732.html
2 replies, 431 views
Replies to this discussion thread
| | | | |
| --- | --- | --- | --- |
| 2 replies | Author | Time | Post |
| A new group arises to fly the Confederate flag at the SC State House this summer (Original post) | TexasTowelie | Jul 2019 | OP |
| | CurtEastPoint | Jul 2019 | #1 |
| | Karadeniz | Jul 2019 | #2 |
---
Response to TexasTowelie (Original post)
Sat Jul 6, 2019, 08:34 AM
CurtEastPoint (10,597 posts)
1. Not this shit again...
Here's Braxie. Cool, dude. Asshole.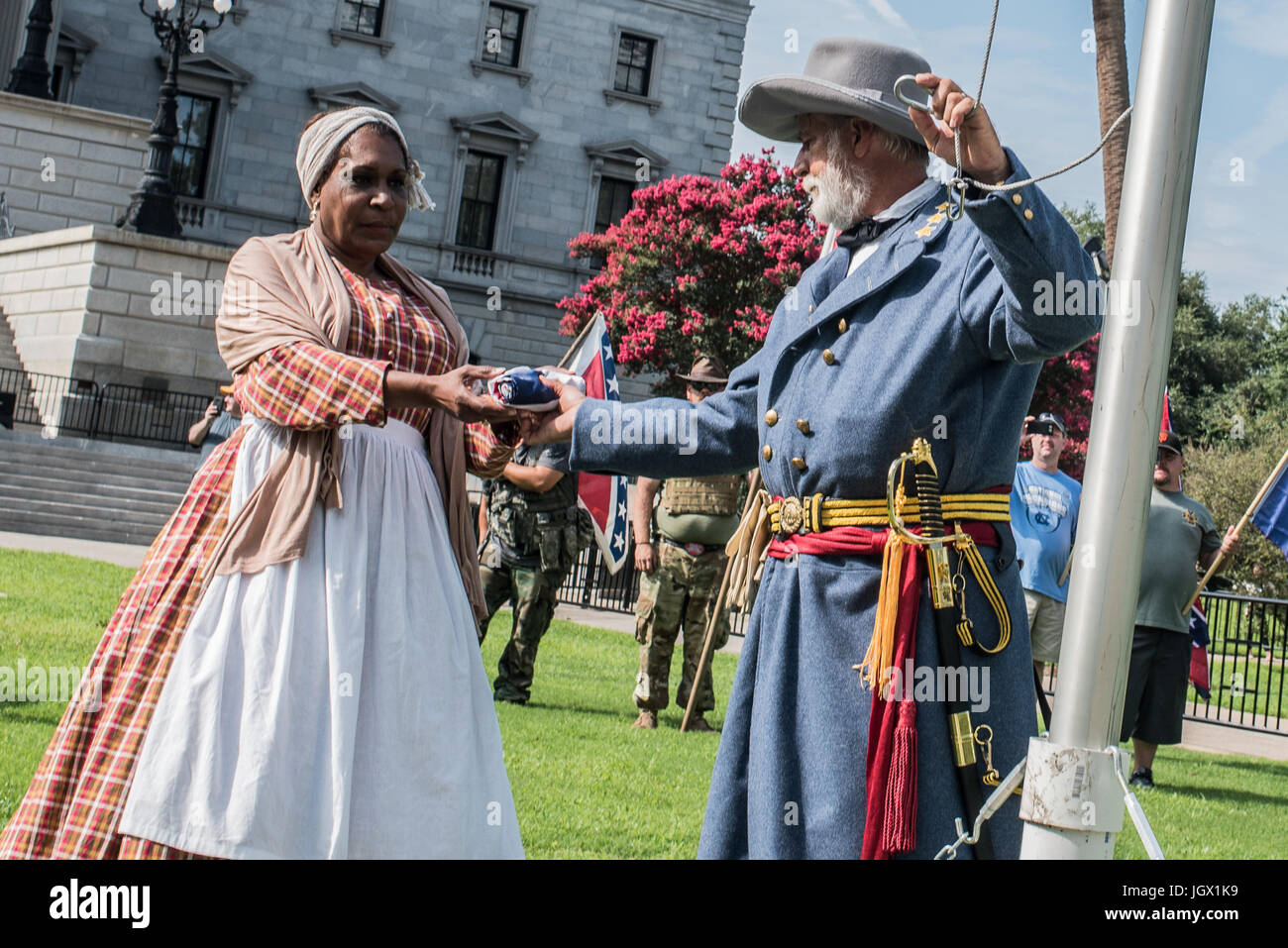 Colombia, South Carolina, USA. 10th Jul, 2017. Celebrity Black Confederacy supporter Arlene Barnum of Stuart, Oklahoma hands
Confederate reenactor Braxton Spivey of Charleston
, South Carolina a Confederate flag to be hoisted on a portable flag pole during the Confederate flag raising event held by the South Carolina Secessionist Party in protest of the two year anniversary of the Confederate Battle Flag's removal from the South Carolina State House Grounds in 2015. Credit: Crush Rush/Alamy Live News - Image ID: JGX1K9
---
Response to TexasTowelie (Original post)
Sat Jul 6, 2019, 06:34 PM
Karadeniz (3,751 posts)
2. Would we be fine with Germany hauling out Nazi flags for special occasions?