Wed Jan 30, 2013, 08:23 PM
Ptah (28,557 posts)
Mountain lion caught on video in Sabino Canyon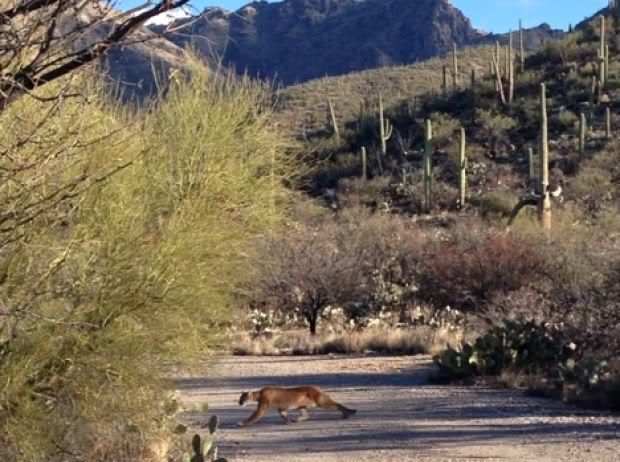 Tucson residents Jay and Nancy Carey had a thrilling experience while walking in Sabino Canyon
Tuesday morning: the sight of a mountain lion crossing a road right in front of them.
What's more, Jay caught the big cat on video with his cell-phone camera.
"We were walking up the tram road and saw the lion cross the road," he said. "We realized it was
heading toward the Cactus Picnic Area" where a student group was to hold an event that morning.
The Careys left the main road and followed a side road toward the picnic area to alert people there —
and Jay had his camera at the ready.
http://azstarnet.com/news/local/mountain-lion-caught-on-video-in-sabino-canyon/article_76ce3130-6b23-11e2-872c-0019bb2963f4.html
4 replies, 2227 views
Replies to this discussion thread
| | | | |
| --- | --- | --- | --- |
| 4 replies | Author | Time | Post |
| Mountain lion caught on video in Sabino Canyon (Original post) | Ptah | Jan 2013 | OP |
| | OffWithTheirHeads | Jan 2013 | #1 |
| | Esse Quam Videri | Jan 2013 | #2 |
| | MiddleFingerMom | Feb 2013 | #3 |
| | drmeow | Feb 2013 | #4 |
---
---
Response to Ptah (Original post)
Wed Jan 30, 2013, 09:10 PM
Esse Quam Videri (685 posts)
2. Very cool. Check this out
---
Response to Ptah (Original post)
Fri Feb 1, 2013, 10:26 AM
MiddleFingerMom (25,163 posts)
3. I was hiking up Bear Canyon once (off Sabino Canyon) and had waited until everyone else...
.
.
.
... had about a 15-20 minute head start on me. I was heavy into daydreaming and fantasizing
that day and was imagining myself to be an Army scout, far ahead of the Cavalry soldiers,
looking around at my surroundings for signs of things like water, or Indians, or rattlesnakes
and the like -- keeping an eagle eye out for anything out of the ordinary -- when I tripped
over the bright neon purple backpack the person ahead of me had removed and left lying in
the middle of the trail.
.
Feeling pretty foolish, I didn't tell her where my head had been at when I feel over her pack.
We got to talking and continued up the remainder of the hike together -- she was only in her
early-20's, yet had more than 500 jumps under her skydiving belt and had traveled all over
the world.
.
I often liked to hike alone, but that was one time that I was more than glad to have a trail
partner.
.
.
I missed that bright neon purple backpack, but I woulda seen an ol' mountain lion, I betcha!!!
.
.
.
How cool!!! It was a disaster what happened the LAST time they spotted one there (they
ended up shooting it, I believe), but I think they learned some lessons about what NOT to
do in the future with these sightings.
.
.
.
---
Response to Ptah (Original post)
Thu Feb 7, 2013, 08:09 PM
drmeow (3,082 posts)
4. That is SO cool
I so want to see more big/wild felines and canines come back. Spectacular creatures.