Fri Aug 17, 2018, 03:04 AM
regnaD kciN (25,204 posts)
A Northwest Weekend (including a bit of Water Falling Over Things 2018: The First Installment)
Last edited Fri Aug 17, 2018, 02:20 PM - Edit history (1)
As I have written before, August is peak photography season in the Pacific Northwest, with potential locations everywhere from the mountains to the ocean. If you're really intent (and don't mind driving around 16 hours in a 48-hour period), you can try to hit them all!
On Saturday, I followed the promise of potentially interesting sunset light to Rialto Beach in Olympic National Park.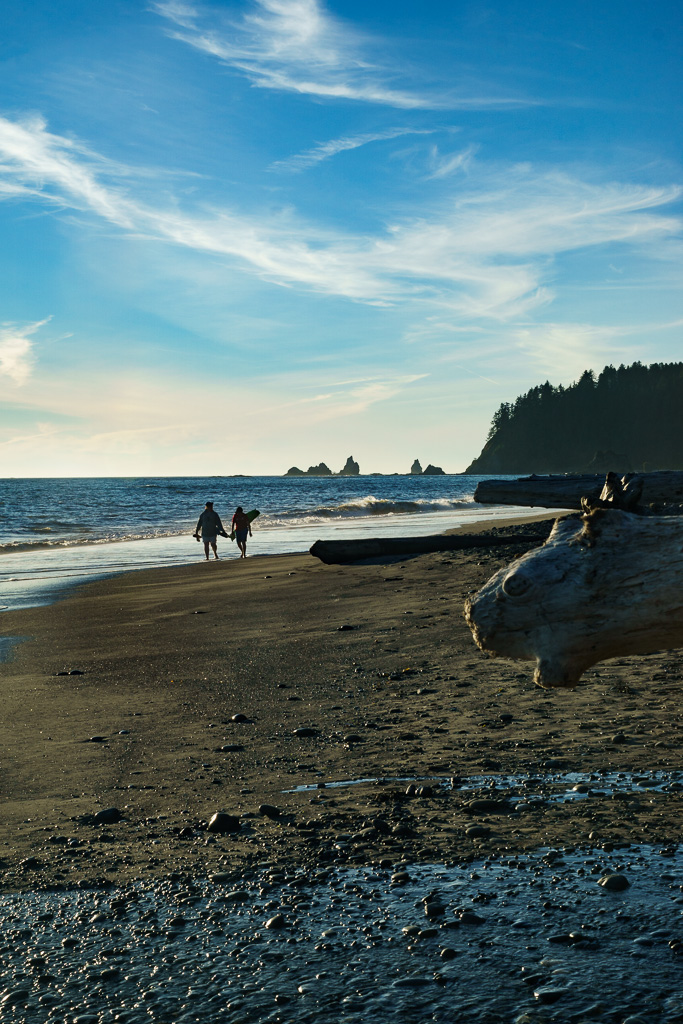 Despite some near-disasters, which included dropping both my vlogging camera and an expensive glass filter in the wet sand (amazingly, both emerged unscathed) and a few encounters with rogue waves on the way back to the parking lot, I was indeed able to get some good sunset shots.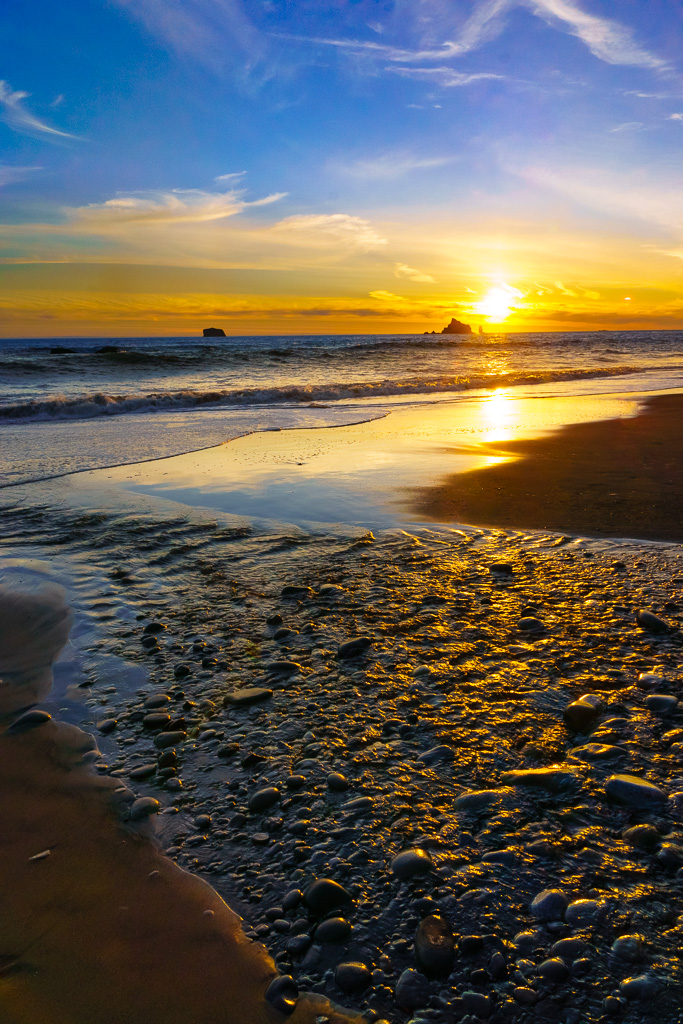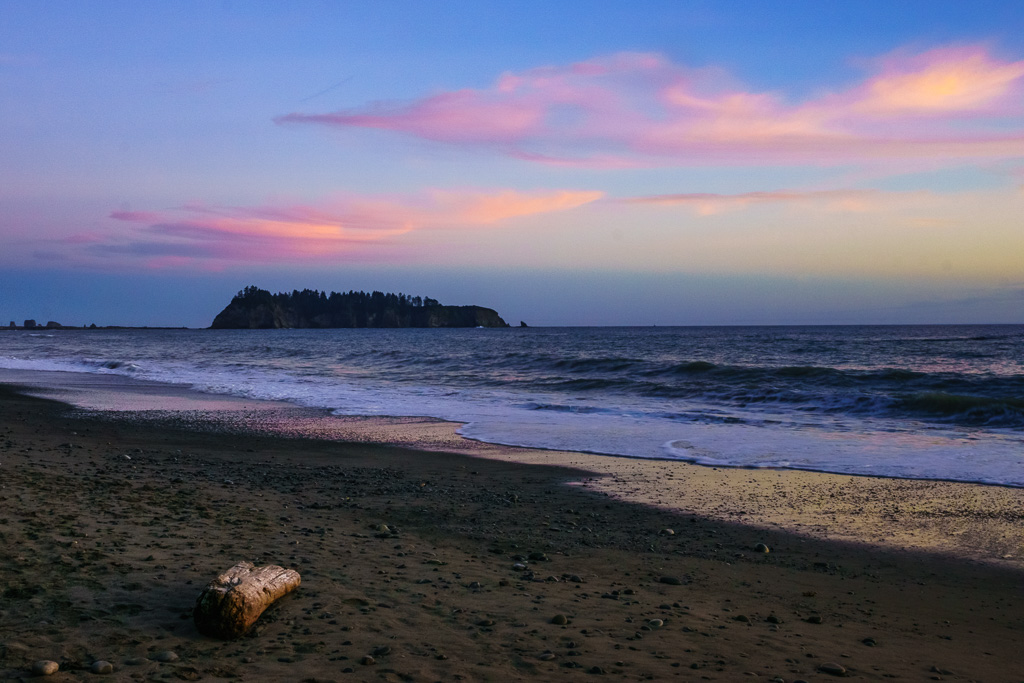 After way too little sleep Saturday night, I set out on Sunday for the Lavender Valley farm near Mount Hood, where I hoped to capture a shot of the mountain and rows of lavender in golden-hour light. Unfortunately, by the time I found my way to the farm, it was closed for the day. (I later found out that they offer sunrise and sunset photography sessions there by special appointment...and for $100/hour.) Anyway, with lavender out of the question, I opted for the Rumsfeld Doctrine ("Shoot the farm you have, not the farm you wish you had" ) and found this composition of the mountain and wildflowers across the road.
Finally, with that location out of the question, I raced back to the Columbia Gorge in hopes of finding a parking space at newly-reopened Multnomah Falls. Sunday was the first time I'd driven through the Gorge since last year's devastating fire. To say it was shocking was an understatement; while much of the Gorge had sustained an environmentally-favorable "mosaic burn," with blocks of scorched trunks adjoining areas with no damage whatsoever, the most hard-hit area, a two-mile stretch between Ainsworth State Park and McCord Creek, was practically all black and barren along and above the Gorge hills. Most of the area, including the iconic Historic Columbia Gorge Highway with its myriad of waterfall viewpoints, remains closed and is, in my opinion, unlikely to reopen for at least another year. Only Multnomah can still be viewed, accessed from a rest area off the freeway.
I found Multnomah a fascinating example of the capricious ways in which fire can devastate or spare a forest. The falls sit in a recessed cliff "amphitheater"; along the main cliff, the fire burned down the left side of the entrance all the way to the Historic Highway. However, the amphitheater itself emerged practically unscathed. At the main viewpoint, only a couple of burned trees to the right of the pool testify to how close the entire area came to going up in flames. But, in most respects. it's just another summer at Multnomah, with the falls looking much as they did for decades before.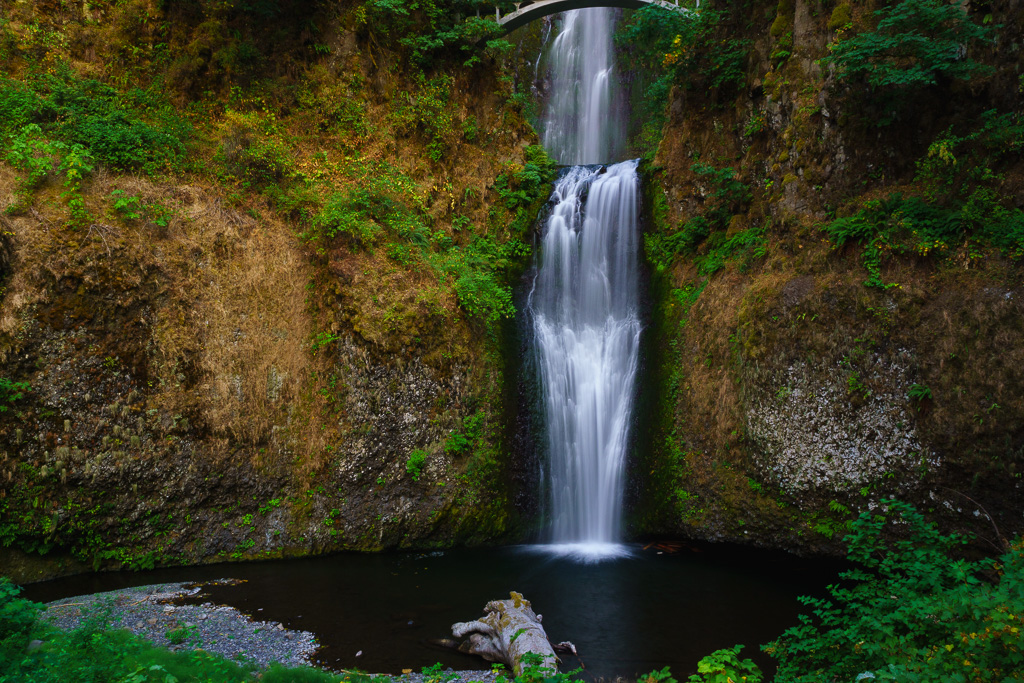 As usual, I vlogged my trips this weekend. Check it out.
6 replies, 1916 views
Replies to this discussion thread
| | | | |
| --- | --- | --- | --- |
| 6 replies | Author | Time | Post |
| A Northwest Weekend (including a bit of Water Falling Over Things 2018: The First Installment) (Original post) | regnaD kciN | Aug 2018 | OP |
| | mnhtnbb | Aug 2018 | #1 |
| | steventh | Aug 2018 | #2 |
| | CaliforniaPeggy | Aug 2018 | #3 |
| | Dyedinthewoolliberal | Aug 2018 | #4 |
| | hermetic | Aug 2018 | #5 |
| | alfredo | Aug 2018 | #6 |
---
Response to regnaD kciN (Original post)
Fri Aug 17, 2018, 05:01 AM
mnhtnbb (29,695 posts)
1. Love the wild flower farm mountain shot.
Great attitude, too, about shooting the farm you have.
How many miles did you put on your vehicle getting these shots?
---
Response to regnaD kciN (Original post)
Fri Aug 17, 2018, 10:03 AM
steventh (1,999 posts)
2. Thank you for posting these gorgeous photos.
I enjoyed your video too, including the way you used the music.
---
Response to regnaD kciN (Original post)
Fri Aug 17, 2018, 10:42 AM
CaliforniaPeggy (142,703 posts)
3. Wonderful, amazing photos, as usual!
I'm so glad you're posting these!
Thank you.
---
Response to regnaD kciN (Original post)
Fri Aug 17, 2018, 11:04 AM
Dyedinthewoolliberal (13,954 posts)
4. Very Nice!
An inspiration to the rest of us.............
---
Response to regnaD kciN (Original post)
Sun Aug 19, 2018, 02:48 PM
hermetic (7,193 posts)
5. Most enjoyable
Beautiful shots. Sorry about your friend.
---
Response to regnaD kciN (Original post)
Sun Aug 19, 2018, 06:06 PM
alfredo (59,626 posts)
6. Thanks for the awesome images.