Fri Dec 29, 2017, 11:54 PM
regnaD kciN (25,310 posts)
2017: A Look Back
Time for my (almost) annual photo retrospective. For those of you who haven't seen one of these before, I always have two rules in building this collection:
1) One photo per month.
2) None of which has been shown on DU before.
The last point used to be difficult; this year, it's been simple, since I see I only posted to this group five times this past year (one of which was last year's belated retrospective).
It's safe to say that 2017 has been an odd and disquieting year. As the 2016 holiday season came to an end, with Inauguration Day looming on the horizon, I think it's obvious that I fell into a pretty deep depression, one which only intensified as news got worse and worse throughout the year. It clearly effected my photography was well. Ironically, it took yet another tragedy to snap me out of this pit.
January
, as usual, is a pretty mediocre month for photography in the Pacific Northwest. In my case, the best I could find was this shot of high clouds on the edge of a storm.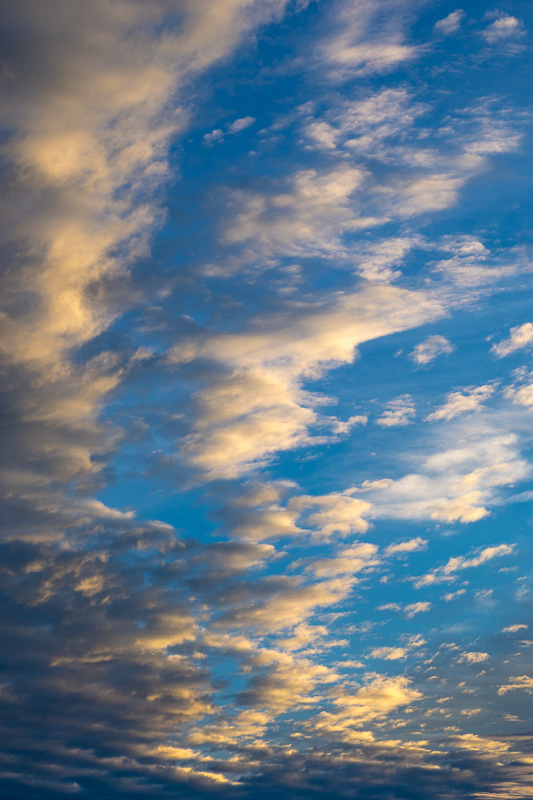 February
had me looking up again; this time, at a rare contrail from a rare A380 "superjumbo" as it passed over our house on the way from California to the Far East.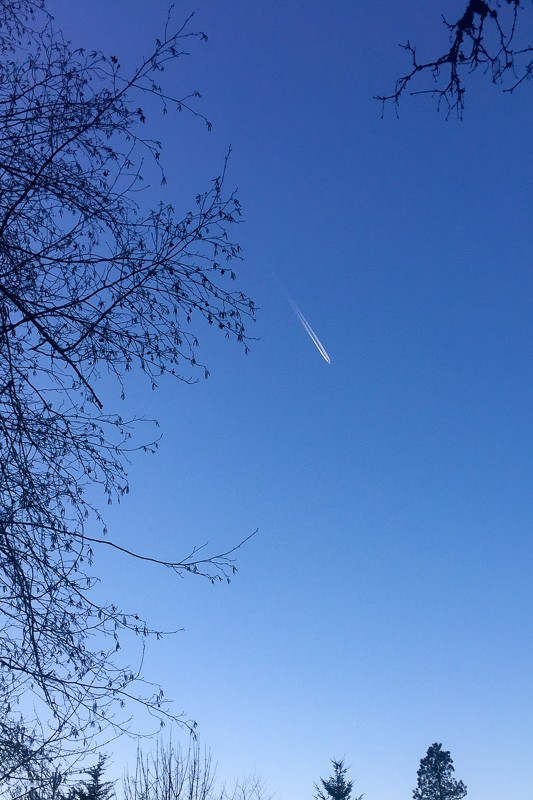 In
March
, I was at Pioneer Square when I took this shot of the bust of Chief Sealth.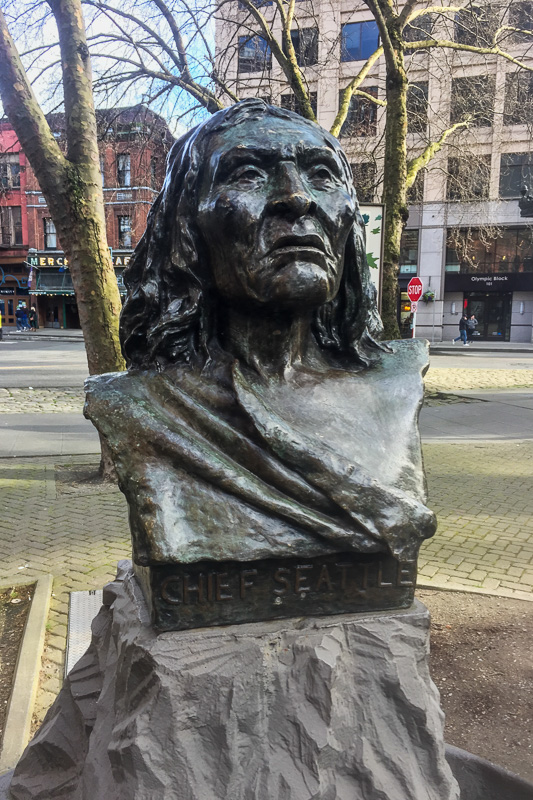 April
, as always, is the month for tulips in the Pacific Northwest...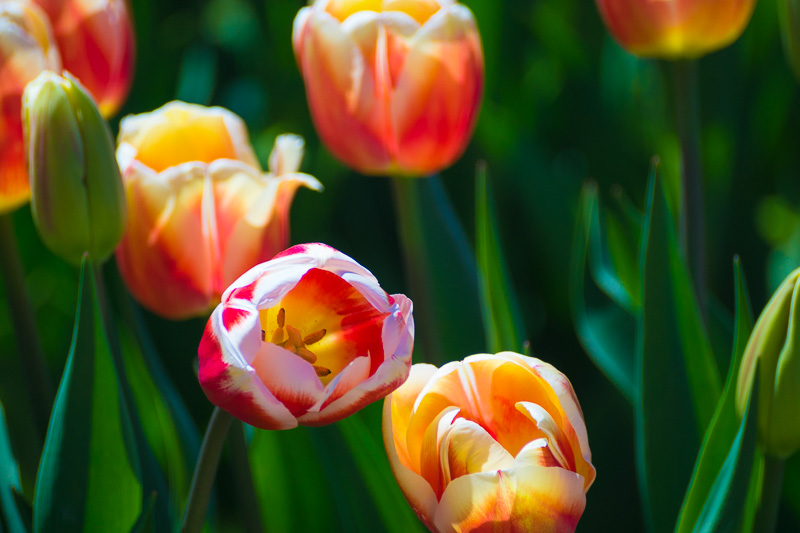 ...as is
May
for rhododendrons.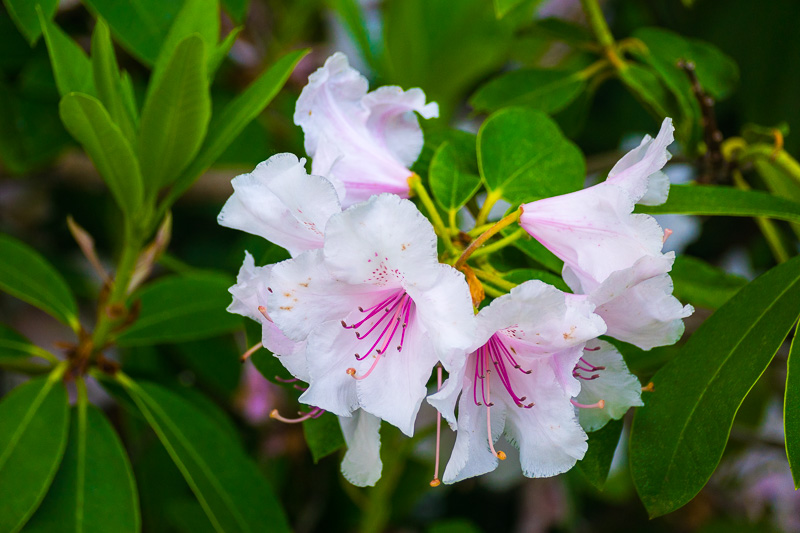 My image for
June
was a close-up "texture" study of ferns.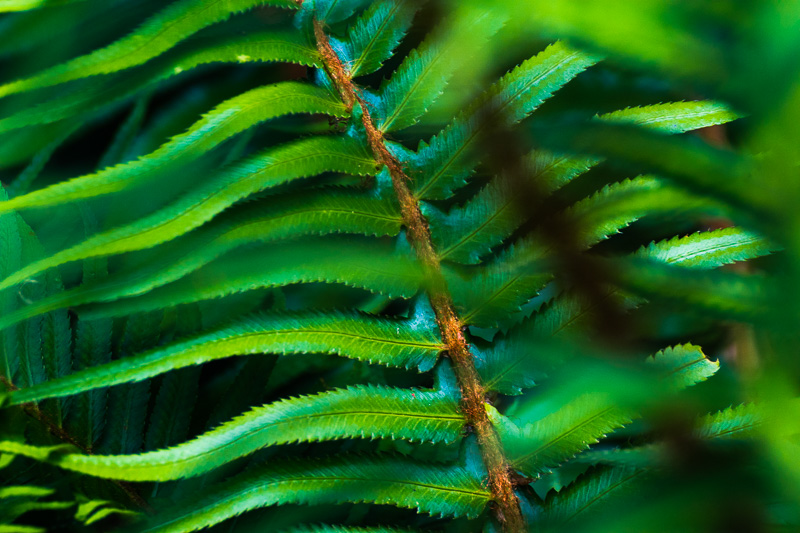 July
, as always, found me at Lake Wilderness for the fireworks.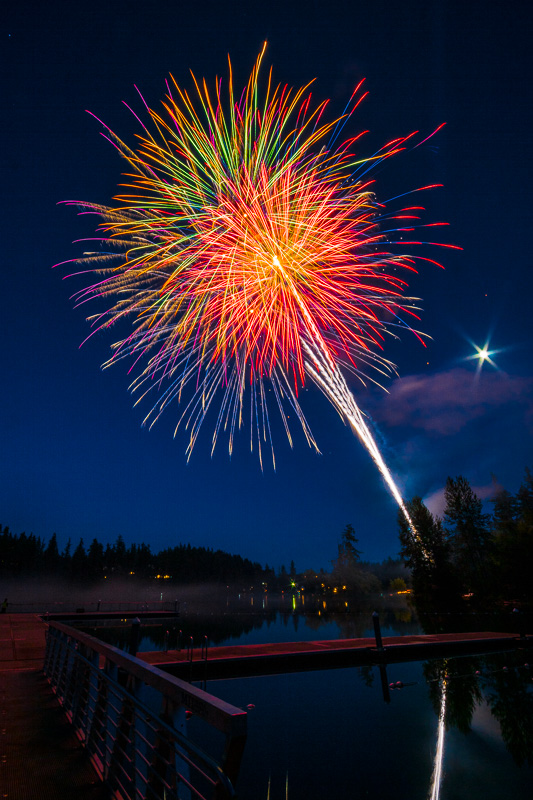 Now, I think anyone familiar with my work in previous years, looking at the choices up to this point, would conclude that something was awry. Virtually everything here was either a plant or flower close-up (at least one of which came from my own yard), or a snapshot that could have come from a camera phone. Indeed, between the horrors that were afflicting this country, plus my own advancing age, increasing sense of mortality, and decrease in activity level and capacity for physical exertion, I began to wonder if it was about time to hang it up. As it happens, the event which was to turn this around was fast approaching, but not for another month or so.
August
was the month of the only total solar eclipse in my lifetime to cross the west coast. My son and I left home shortly after midnight, in a mad dash to beat the expected crowds on the freeway, and made it to Salem, Oregon, directly under the path of totality, just before dawn. (We then wound up surviving the very real crowds on the freeway
leaving
the site, in a trip back to Seattle that took over eight hours.) I very consciously chose to NOT bring my camera equipment, as I didn't want the pressure associated with manipulating gear and trying to capture the "perfect shot" to detract from the actual experience that might well be once-in-a-lifetime. Accordingly, when the moment of totality struck, I had only my smartphone, and it is a very-heavily-postprocessed iPhone shot which is my image for this month.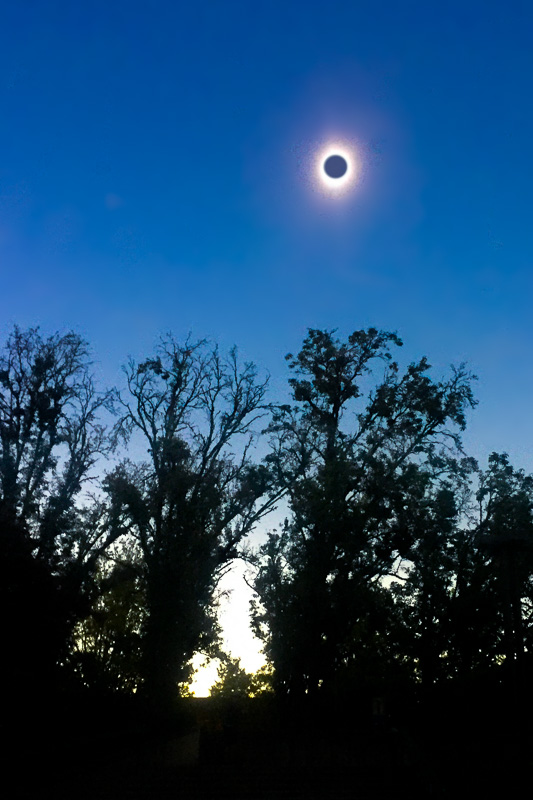 Less than two weeks after that trip, the incident that was to become a turning-point for me occurred: an arson-caused fire that destroyed much of the Columbia Gorge, one of my favorite places on earth. To say that I was devastated would be an understatement; for the first few days, I spent almost all my waking hours on social media, checking news stories and reports from friends in the area, trying to determine which, if any, well-loved locations might have survived, and fearing that the relentless advance of the flames might wipe those places away as well. I was in mourning for most of the month; however, as September drew to a close, I found that my depression was replaced by determination: if a place that I so treasured could be wiped out due to a teenager's recklessness and stupidity, I owed it to myself to not put off visiting other beautiful locales, either familiar or yet-unvisited, lest I find it too late for them as well. Plus, as I noted at the time, the best cure for the loss of a favorite beautiful place was to spend time at another, still-existing one.
The first fruits of this new resolve was my late
September
day-trip to Mount Rainier's Carbon River rainforest.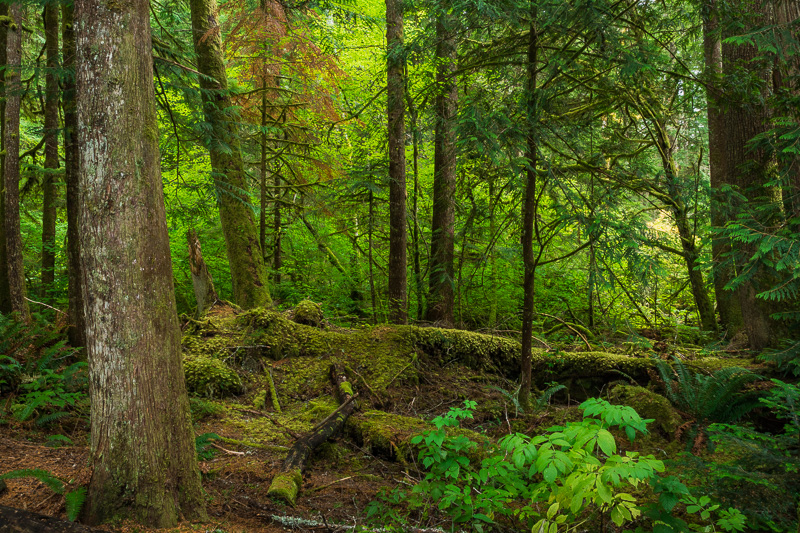 In
October
, the floodgates opened, as I spent every opportunity I could "on the road" to favorite autumn locales (and even discovering a new one close to home). If I wasn't keeping to the one-photo-per-month rule, I could probably include ten or more images here. However, I'll stick to this shot of Mount Shuksan and Picture Lake, taken a few hundred feet to the right of the viewpoint familiar from dozens of postcards and calendars, where an inlet provided a nice leading line to the mountain.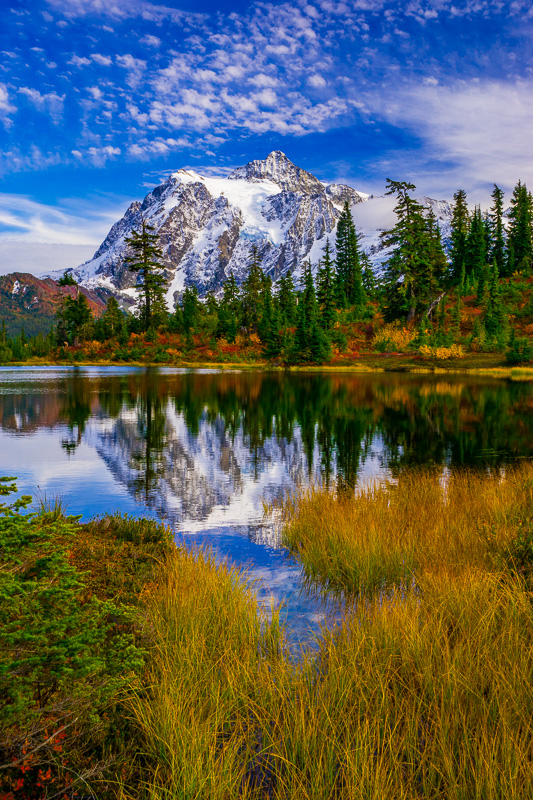 Of course, almost as soon as my enthusiasm was rekindled,
November
arrived, and with it the beginning of the long, gray, rainy northwest winter. Still, I was able to catch the last traces of autumn, most notably with this image of fallen leaves from ornamental maples in a rainstorm (titled
Autumn's End
).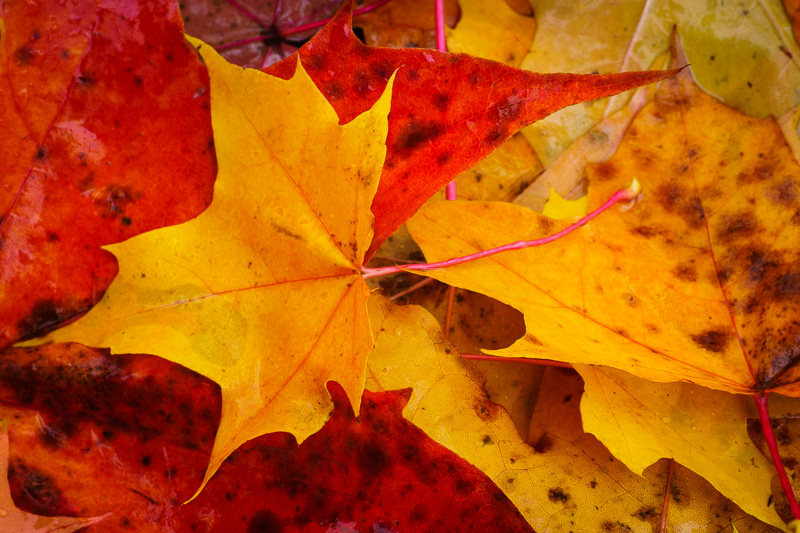 December
is usually the time for little more than shots of Christmas lights. However, mid-month, the Skyfire app I use predicted impressive sunset light on Mount Rainier. As seen in my first, admittedly-primitive attempt at photo-vlogging*, I wound up, not with sunset light, but with something even more unusual: a series of stacked lenticular clouds.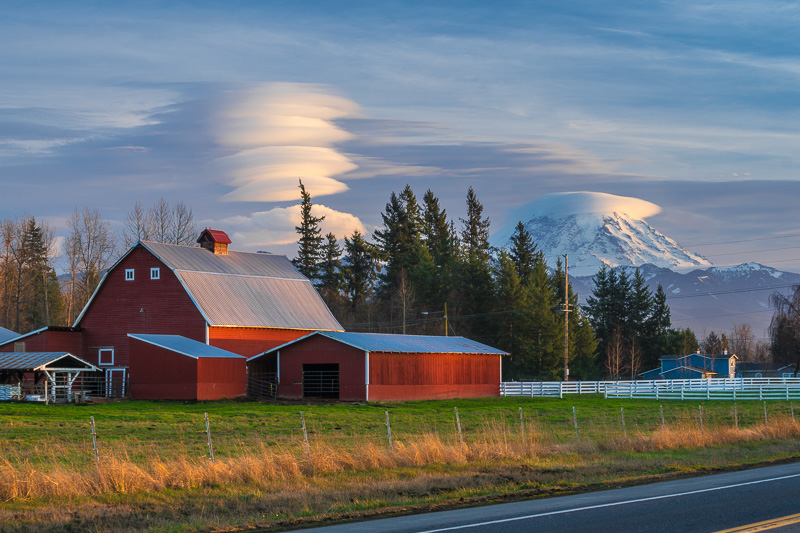 So, it's been a long, strange trip this year. With resolve renewed, onward to 2018!
*(Moved down here because I can't figure how to post a link to a YouTube page without getting a thumbnail instead)
6 replies, 1899 views
Replies to this discussion thread
| | | | |
| --- | --- | --- | --- |
| 6 replies | Author | Time | Post |
| 2017: A Look Back (Original post) | regnaD kciN | Dec 2017 | OP |
| | Solly Mack | Dec 2017 | #1 |
| | Docreed2003 | Dec 2017 | #2 |
| | CaliforniaPeggy | Dec 2017 | #3 |
| | orleans | Dec 2017 | #4 |
| | mnhtnbb | Dec 2017 | #5 |
| | Mira | Dec 2017 | #6 |
---
Response to regnaD kciN (Original post)
Sat Dec 30, 2017, 01:13 AM
Solly Mack (87,681 posts)
1. Good to see you. Lovely photos as always.
---
Response to regnaD kciN (Original post)
Sat Dec 30, 2017, 01:45 AM
Docreed2003 (14,570 posts)
2. Beautiful...thank you for sharing...
The eclipse day was my sonís birthday...and, as life often does, we had moved back to my home town the summer before and we just happened to not only be within the path of totality, but also one of the areas with the longest time of totality. The eclipse will always be one of my most treasured experiences and to share that event with my son on his birthday was extra priceless. Thank you for sharing your incredible photography!
---
Response to regnaD kciN (Original post)
Sat Dec 30, 2017, 02:14 AM
CaliforniaPeggy (143,313 posts)
3. These are wonderful photos!
I especially love the luminous tulips.
We made the trek to Madras to see the eclipse and for once, I got some good shots of totality and even the diamond ring effect. Here's a link to my thread on that:
https://www.democraticunderground.com/103659866
I loved your video of Mt. Rainier! I even left a comment. I hope you will continue to photograph your environment and to share those photos with us. Your work is just stunning.
---
Response to regnaD kciN (Original post)
Sat Dec 30, 2017, 03:53 AM
orleans (31,265 posts)
4. absolutely beautiful pictures
---
Response to regnaD kciN (Original post)
Sat Dec 30, 2017, 10:21 AM
mnhtnbb (29,876 posts)
5. Gorgeous photos. So glad you picked up your camera again.
The shot of Mount Shuksan and Picture Lake is stunning.
The stacked lenticular clouds are amazing!
Thank you for posting your retrospective.
Here's to a better 2018!
---
Response to regnaD kciN (Original post)
Sun Dec 31, 2017, 12:12 AM
Mira (22,196 posts)
6. So thrilled you remembered
Thank you for your annual monthly photos, thanks for remembering, and I must say I scrolled down with a quizzical expression, because the photos, though lovely, just were not YOU.
Until I started reading about your year, your sadness and fears, and got happy about you picking the camera up and proceeding.
Then with the video I really got to meet you, Nick Danger, and I must say I loved it all. Hellofalot of traffic you braved to get that splendid photograph.
And I liked riding with you in your car