Wed Jun 13, 2012, 06:04 PM
regnaD kciN (25,310 posts)
Water Falling Over Things 2012: Part I (A pair of nearby favorites)
It has been too long since my last installment of WFOT, but, for varying reasons relating to my schedule and the weather, opportunities for waterfall shooting were few and far between this spring. (I had hoped for at least one trip to the Columbia Gorge, but the weather every flippin' weekend was either bright and sunny or torrential downpours.) I finally decided to just grab the camera and head up the reopened east side route to Rainier, and try my hand at a couple of falls I've visited many times before.
First up was
Skookum Falls
.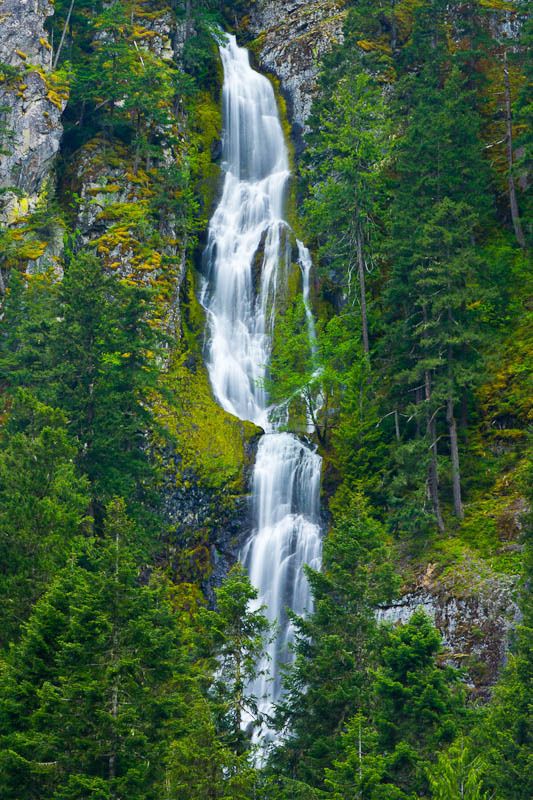 Now, if you've seen any of my other photos of this fall, you're probably thinking "it looks just the same." True -- the fact is, there's only one real vantage point for this waterfall, and so pretty much every photo is going to look like another, except for winter shots where the fall has frozen over. Since this is the case, I decided to put away the telephoto, go wide, and show the "big picture" of the fall and the White River in the foreground.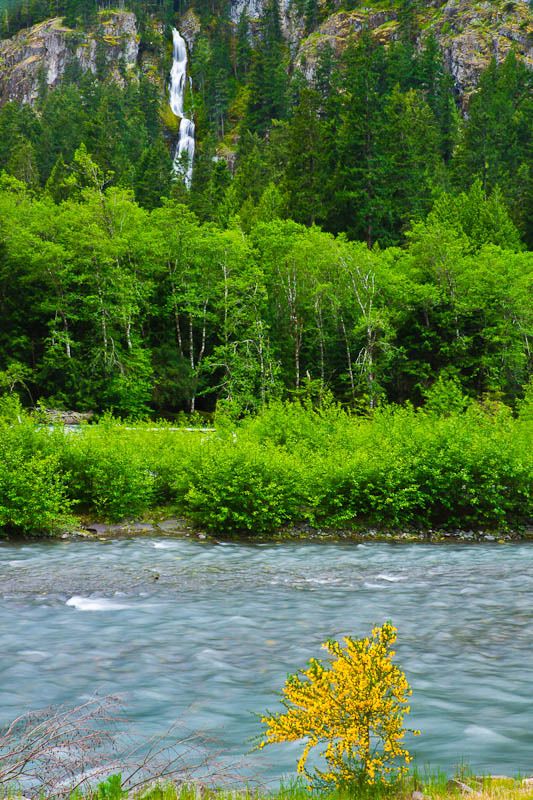 My second destination was
Pass Falls
, or, as I call it, "That Fall With The Blasted Curved Tree In Front Of It, Blocking The View."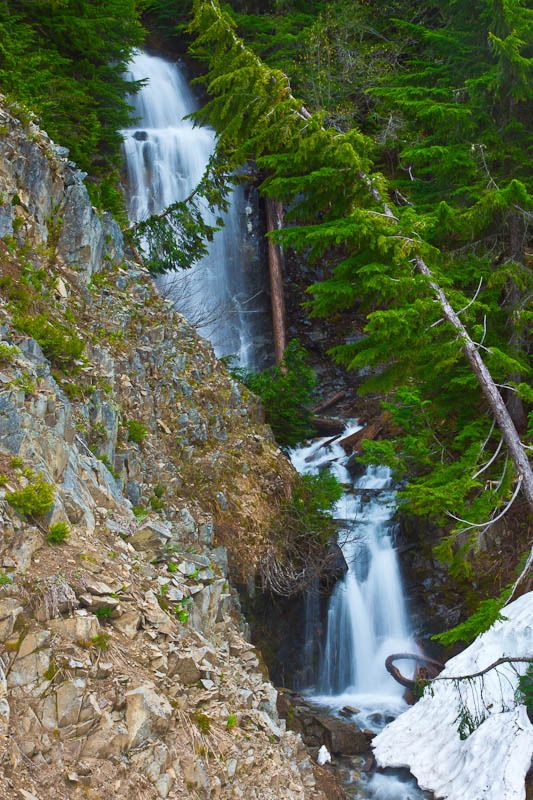 Fact: When I first visited this waterfall, that tree was straight. Since then, however, the weight of the winter snow has made it more and more curved, so that, each year, it's more in the way. The
good
news is that it's finally bent so much, you can move a bit up the road and get a decent view around the other side of the tree. Unfortunately, at this point of the year, there is still snow at the base, causing contrast problems and general distraction. I'll have to get up here again soon, after the snow melts but before the falls starts to dry up in summer, as I get the feeling that this vantage point will wind up looking real good by then.
Next up, in two or three weeks,
Deo Volente
: WFOT2K12 Part II, with some major waterfalls from quite a bit further afield than is usual for me.
4 replies, 2762 views
Replies to this discussion thread
| | | | |
| --- | --- | --- | --- |
| 4 replies | Author | Time | Post |
| Water Falling Over Things 2012: Part I (A pair of nearby favorites) (Original post) | regnaD kciN | Jun 2012 | OP |
| | freshwest | Jun 2012 | #1 |
| | Solly Mack | Jun 2012 | #2 |
| | CaliforniaPeggy | Jun 2012 | #3 |
| | fe6252fes | Jun 2012 | #4 |
---
Response to regnaD kciN (Original post)
Wed Jun 13, 2012, 06:28 PM
freshwest (53,661 posts)
1. I love all of them! Thanks for taking the time to post these.
---
Response to regnaD kciN (Original post)
Wed Jun 13, 2012, 06:40 PM
Solly Mack (87,681 posts)
2. Wonderful shots!
So glad to see you and your photos!

K&R
---
Response to regnaD kciN (Original post)
Wed Jun 13, 2012, 06:50 PM
CaliforniaPeggy (143,313 posts)
3. These are wonderful!
I was hoping you'd be back.....you must have heard me, lol!
Thanks for sharing your wonderful work...
---