Wed Jan 4, 2017, 06:22 AM
regnaD kciN (25,310 posts)
Water Falling Over Things, R.I.P. - A view lost to us
Nature can be majestic, indeed -- but that majesty can be found in destruction as well as creation.
These are photographs I took in 2014 of Oregon's
Metlako Falls
. Personally, this was one of my favorite spots in the Pacific Northwest. Coming off the famed Eagle Creek trail, you took a short spur downhill to a promontory at a bend in the creek; looking upstream from the narrow viewpoint, you could gaze into an impossibly-lush (particularly in late spring) canyon toward the spot in the mid-distance where Metlako plunged into a small pool. Adding to the wonder of that spot, there was often a trace of mist hovering about the fall.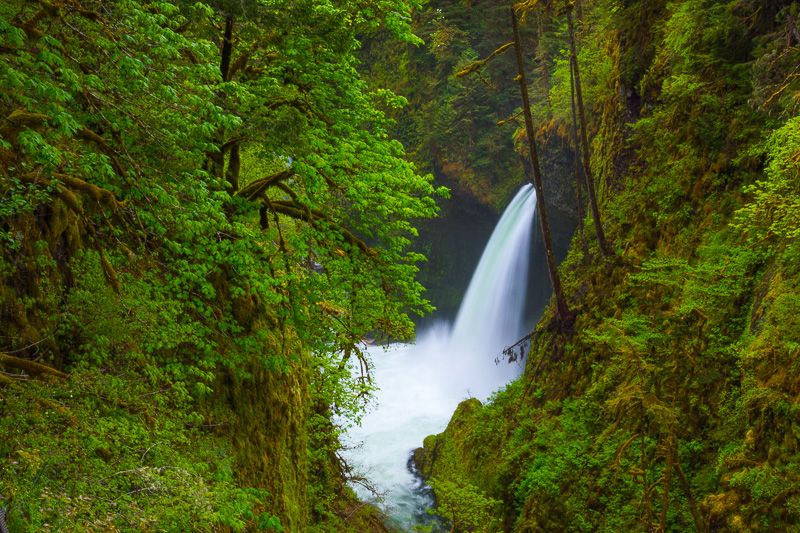 Sometime in late December, in the midst of winter storms, a massive landslide hit the area. While the Eagle Creek trail itself survived, the Metlako viewpoint did not; it, and around a 300-400 foot stretch of the surrounding cliff, simply collapsed and fell into the canyon. The spur trail leading to it now stops abruptly about half-way there, at a hundred-foot-plus drop-off. The only view of Metlako left from the trail is downstream, partially obscured by the canyon walls, and blocked by tree limbs. Unless one rappels into the canyon itself (a very-dangerous maneuver which is way beyond my, or most hikers', skills), there is no other unobstructed view of the waterfall. Since it would be extraordinarily difficult and prohibitively expensive to build any sort of a stable viewing platform where the viewpoint once stood, it is likely that Metlako Falls will remain unviewable to hikers for years (or, more likely, decades if not centuries) to come.
Let this serve as a reminder to everyone: if there's a natural place you've always wanted to visit -- or photograph! -- do so as soon as possible. Otherwise, as we in the Pacific Northwest have just been reminded once again, you have no guarantee that spot will be there when you finally get around to making the trip.
4 replies, 3065 views
Replies to this discussion thread
| | | | |
| --- | --- | --- | --- |
| 4 replies | Author | Time | Post |
| Water Falling Over Things, R.I.P. - A view lost to us (Original post) | regnaD kciN | Jan 2017 | OP |
| | alfredo | Jan 2017 | #1 |
| | regnaD kciN | Jan 2017 | #3 |
| | eppur_se_muova | Jan 2017 | #2 |
| | regnaD kciN | Jan 2017 | #4 |
---
Response to regnaD kciN (Original post)
Wed Jan 4, 2017, 09:56 AM
alfredo (59,674 posts)
1. Sorry you lost your favorite "model."
---
Response to alfredo (Reply #1)
Thu Jan 5, 2017, 03:37 AM
regnaD kciN (25,310 posts)
3. I'm less concerned for myself...
...than I am for generations of future hikers who will never have the chance to see that view for the first time.

---
Response to regnaD kciN (Original post)
Wed Jan 4, 2017, 12:48 PM
eppur_se_muova (34,641 posts)
2. Is it possible to kayak upstream ?
i.e. get past the obscuring canyon walls and tree limbs ? If so, a special view reserved for kayakers only ...
---
Response to eppur_se_muova (Reply #2)
Thu Jan 5, 2017, 03:40 AM
regnaD kciN (25,310 posts)
4. Sure, if you keep in mind that "upstream" means the TOP of the falls...
...and, eventually, going right over them.
(And, yes, some daredevils have already done it.) Not much of an approach for photography, though, but it might provide some interesting video footage with a GoPro.