Thu Aug 4, 2016, 10:38 PM
MagickMuffin (12,131 posts)
Suggestions for an affordable telephoto zoom lens for Nikon D3300
I don't have a great budget but was hoping someone here might offer me some advice.
There are several chicken hawks in my neighborhood that I'd really love to get some good pics of, currently the lens I'm using is a Nikon DX VR 18-55 mm. The lens isn't strong enough to take good pics of them high up in the trees.
Any suggestions? Hopefully something under the $200 range. That's all I can afford right now.
7 replies, 1976 views
Replies to this discussion thread
| | | | |
| --- | --- | --- | --- |
| 7 replies | Author | Time | Post |
| Suggestions for an affordable telephoto zoom lens for Nikon D3300 (Original post) | MagickMuffin | Aug 2016 | OP |
| | TreasonousBastard | Aug 2016 | #1 |
| | MagickMuffin | Aug 2016 | #2 |
| | Major Nikon | Aug 2016 | #6 |
| | Act_of_Reparation | Aug 2016 | #7 |
| | csziggy | Aug 2016 | #3 |
| | ManiacJoe | Aug 2016 | #4 |
| | TreasonousBastard | Aug 2016 | #5 |
---
Response to MagickMuffin (Original post)
Thu Aug 4, 2016, 11:05 PM
TreasonousBastard (39,200 posts)
1. Here's one for a hundred bucks...
http://www.bhphotovideo.com/c/product/479252-DEMO/Nikon_1928_Zoom_Telephoto_AF_Zoom.html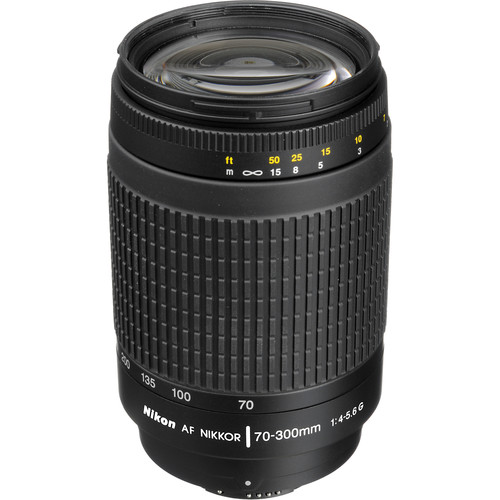 You can go to bhphotovideo.com or adorama.com and search for tele lenses with a Nikon mount. I've done business with both of them and they are reliable. if you get to NYC, stop in the B&H store-- it's an experience.
Besides this, which may not be on sale long, I've had good results with lenses from Tokina and Sigma, which are usually cheaper than Nikon's. Others, such as Tamron, have good reputations. Pretty much anything sold by these guys will be OK-- they rarely deal in junk.
Now, I will say that pro wildlife photographers tend to spend heavily on lenses with much wider apertures because you will miss a lot of shots, or have shutter speeds too slow for sharpness with affordable lenses. But, you should get some good shots with this.
---
Response to TreasonousBastard (Reply #1)
Fri Aug 5, 2016, 12:22 AM
MagickMuffin (12,131 posts)
2. Thx TreasonousBastard
I did a little research on lens, but wasn't sure exactly which one would be the best suited for my camera.
I'm rather new at using a "professional" camera. My first digital camera was a Sony Cyber-Shot, which actually takes really good pics, for a 7 pixel camera.
Any advice I can gather from more experienced users is always welcomed and appreciated!
A few months ago I found a old school Minolta, which had a lot of extras, Focal M500C-Zoom flash added fresh batteries and it appears to work, however, trying to figure if I can make it work with my camera. At least we can experiment around with it and see what transpires. There were also a lot of filters, not sure if they are suitable or not, but the D3300 came as a kit so we have some accessories.
Thx again
---
Response to MagickMuffin (Reply #2)
Fri Aug 5, 2016, 05:06 AM
Major Nikon (35,635 posts)
6. That lens is not going to autofocus with your camera
The reason is because your camera lacks a focusing motor and requires lenses that have their own focusing motors if you want the autofocus to work. For Nikon's own lenses, this means you need one that is prefaced with AF-S. For other lens manufacturers, you have to check to make sure the lens has an internal focusing motor as they have their own codes that differ from Nikon's AF-S.

That lens will still work on your camera, but you'll have to focus manually.

One other option you might consider is renting a lens. Look for large camera shops in your area and check to see if they rent lenses. This will allow you to use a lens that is well outside your budget for a weekend or so, and that may be all you need to capture the shot you want.


---
Response to MagickMuffin (Reply #2)
Fri Aug 5, 2016, 03:44 PM
Act_of_Reparation (8,204 posts)
7. There's a 55-200mm DX-format lens that goes for cheap used.
I picked one up for about $150 bucks a few months ago. I keep it on my backup camera (a D3300) in case I need to snap a quick portrait. With the crop sensor, the 200mm gets you some reach but you might still find it lacking for wildlife photography.


---
Response to TreasonousBastard (Reply #1)
Fri Aug 5, 2016, 01:24 AM
csziggy (33,051 posts)
3. I got the equivalent of that lens for my Nikon 35mm camera and it is great
I bought it and the camera from B&H and recommend calling the store.

When I was not sure about my final decisions I called B&H. The salesman was wonderful - I wasn't sure which long range lens to buy. He suggested the one I bought - same glass as the "pro" version but with more plastic so much cheaper. And he saved me 40% by offering me the open box store display model.

That lens took a lot of photos of horses and birds over the years.

My lens is 16 years old, still works great, though I am not using either the 35mm or the Nikon D70 digital I bought a few years later (from Adorama). I will keep the lenses I bought way back then in case I got back to a digital SLR.
---
Response to TreasonousBastard (Reply #1)
Fri Aug 5, 2016, 04:06 AM
ManiacJoe (9,949 posts)
4. Unfortunately, that "G" lens is the one poor lens that Nikon makes.
If you can find a used copy of the 70-300mm "ED" lens, that would be a better option.
Of course, the 70-300mm VR ($500) is the lens you are looking for.
The 55-300mm is not a bad alternative.
---
Response to ManiacJoe (Reply #4)
Fri Aug 5, 2016, 04:36 AM
TreasonousBastard (39,200 posts)
5. You're right-- I didn't catch that it was a "G" lens and...
I got stuck with some of that stuff years ago when looking for lenses for my 2020, 8080, and some other AF body they shouldn't have tried to sell. Not bottle glass, though, just a little soft, and no manual aperture.

However, I still think it might be worth it for a hundred bucks for a beginner to learn how to use a tele lens.