Wed Dec 23, 2015, 05:10 AM
regnaD kciN (25,310 posts)
Water Falling Over Things 2015: Part One (And Only)
For those who may have been wondering what happened to my annual (mostly-)Pacific Northwest waterfall series, here's the explanation in one sentence:
This has been a godawful year in the PNW for shooting waterfalls
(or pretty much anything else, but more on that later).
Put the blame on last year's truly weird winter, where 60- and 70-degree days were not uncommon, and precipitation was way below normal. That meant two things: first of all, there was a lot less water in rivers and streams; second (and I'll write more about this in my year-end summary, due in the next week), seasons seemed to be running at least a month ahead of usual. In other words, not only were waterfalls flowing at a lower level than normal, but the usual spring period when they're at their highest featured warm, clear, sunny summer-like days that are about the worst possible conditions for shooting waterfalls. It wasn't until late in autumn, when the clouds and rain returned, that conditions for decent (I said "decent," not "great"
waterfall photography reappeared.
But, of course, that doesn't mean that there were no opportunities at all! Unfortunately, for most of spring, it did rather feel like it. Fortunately, we did have one appropriately-cloudy weekend when I was able to get down to the Columbia Gorge, and take the trail up (and up, and up, and
up
...) along Wahkeena Creek to one absolute gem I had never visited before,
Fairy Falls
.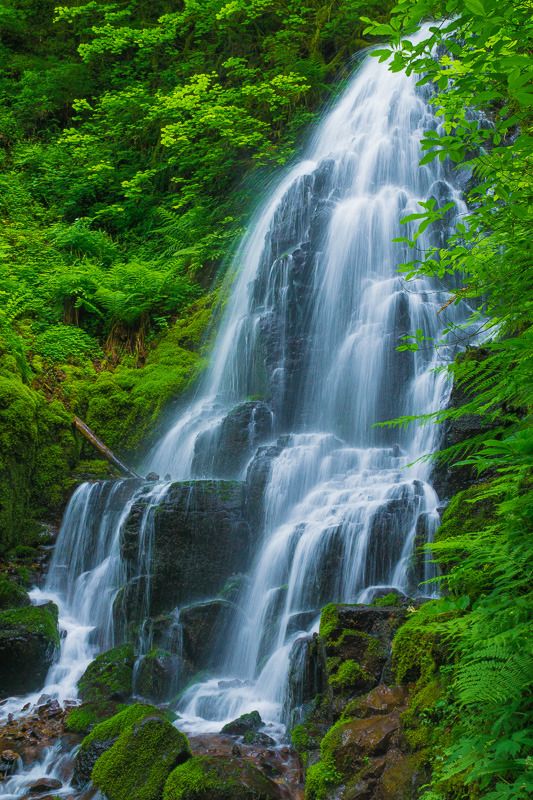 However, that was pretty much the highlight for the entire spring (and summer). Unfortunately, late summer also brought massive wildfires that blackened tens of thousand of acres in Washington state, including the sites of a number of notable waterfalls in the north Cascades, some of which had been on my "must-visit" list for some time. We'll have to wait until next spring's snowmelt to find out whether any of them sustained long-term damage.
Only as mid-October approached did conditions improve, and I was able to capture this autumn scene at nearby
Snoqualmie Falls
(of "Twin Peaks" fame).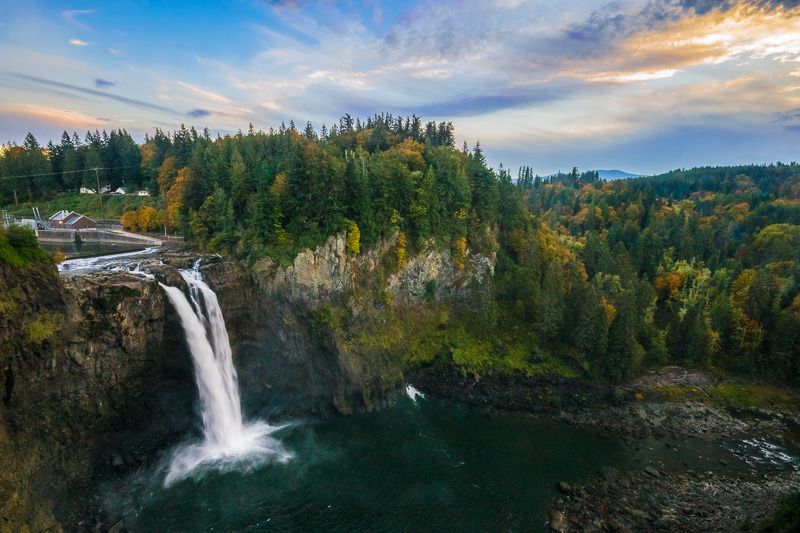 Finally, in November, things were looking up enough that I ventured out on another trip down to the Gorge on what turned out to be a day of steady, drenching rain. (By the time I got back to Seattle, three-plus hours later, my supposedly-waterproof parka was still feeling like it had come straight out of the washing machine.) This time, I avoided the standard tourist stops (which were overflowing with crowds) and headed east. First up was
Emerald Falls
, another fall I'd never visited before.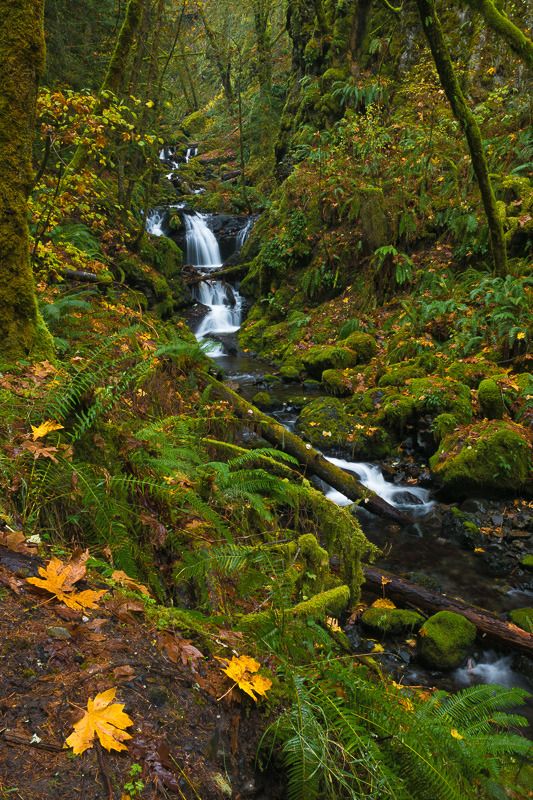 Then further east to Starvation Creek State Park, where the namesake
Starvation Creek Falls
was the first attraction.
From the park, I cut back west on a trail running parallel to the highway. Ephemeral
Cabin Creek Falls
is actually screened from the trail by a giant boulder (visible on the right edge of the image), but can be accessed by going off-trail a few yards.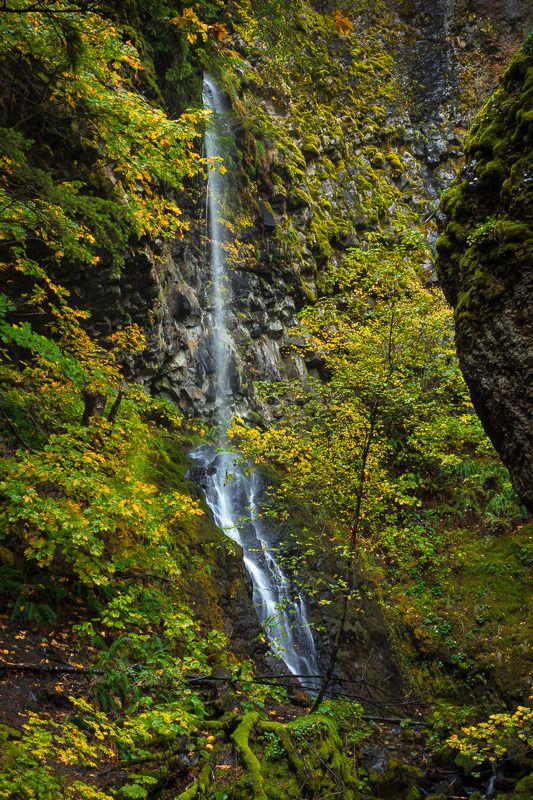 Finally,
Hole-in-the-Wall Falls
is a striking location I'd visited before, but only in spring. As it turns out, autumn foliage adds a lot to the scene.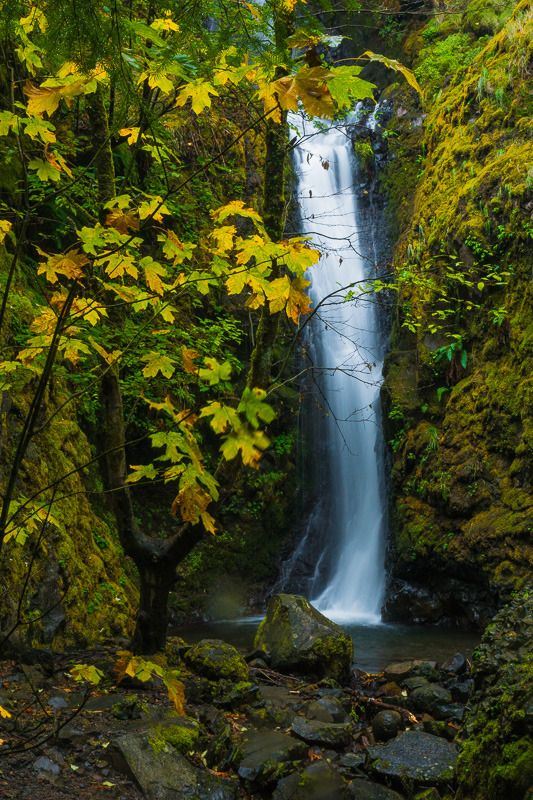 And that was it for this year. Hopefully, 2016 will be better -- certainly, the amount of rain and mountain snow we've already received gives a reason for optimism in that regard.
6 replies, 2196 views
Replies to this discussion thread
| | | | |
| --- | --- | --- | --- |
| 6 replies | Author | Time | Post |
| Water Falling Over Things 2015: Part One (And Only) (Original post) | regnaD kciN | Dec 2015 | OP |
| | mnhtnbb | Dec 2015 | #1 |
| | dixiegrrrrl | Dec 2015 | #2 |
| | CaliforniaPeggy | Dec 2015 | #3 |
| | Curmudgeoness | Dec 2015 | #4 |
| | Dyedinthewoolliberal | Dec 2015 | #5 |
| | Blue_In_AK | Dec 2015 | #6 |
---
Response to regnaD kciN (Original post)
Wed Dec 23, 2015, 07:51 AM
mnhtnbb (29,876 posts)
1. Beautiful shots!
---
Response to regnaD kciN (Original post)
Wed Dec 23, 2015, 08:30 AM
dixiegrrrrl (59,976 posts)
2. Thank you!
If I had a dollar for every time I drove past Snoqualmie Falls , I could afford to live up there again.
Lovely shot of the falls,
And you are right, the autumn colors do add a lot to the pics.
---
Response to regnaD kciN (Original post)
Wed Dec 23, 2015, 11:34 AM
CaliforniaPeggy (143,313 posts)
3. How wonderful to see these amazing photos! I have missed your work.
These are so beautiful. You always find the most wonderful waterfalls...

Thank you!


---
Response to regnaD kciN (Original post)
Wed Dec 23, 2015, 08:58 PM
Curmudgeoness (18,219 posts)
4. Love the photos,
love the stories. Always worth opening the thread.

I hope that the wildfires didn't get close to all the falls you intend to visit, but if they did, get photos anyways.

---
Response to regnaD kciN (Original post)
Thu Dec 24, 2015, 09:59 AM
Dyedinthewoolliberal (14,068 posts)
5. Great stuff and
Inspiring me to get out in the great NW more often
---
Response to regnaD kciN (Original post)
Sat Dec 26, 2015, 08:16 PM
Blue_In_AK (46,436 posts)
6. These are so beautiful.
We were down your way the early part of this month, and, oh, my god, I've never seen so much rain. Certainly not conducive to picture-taking, that's for sure.