Fri Nov 14, 2014, 05:34 AM
regnaD kciN (25,314 posts)
Water Falling Over Things 2014: Part IX (Autumn's End)
This week, remnants of "super-typhoon" Nuri drove far north into Alaska, joined with the polar jet stream, and plunged back down into the U.S., bringing record low temperatures to the north central states. As a side-effect of this storm, frigid air from Canada flowed into eastern Washington and Oregon, from where it was driven by pressure differential across the Cascade passes and Columbia Gorge to the coast. Where I live, in the Cascade foothills of Seattle, such windstorms are not uncommon, but this one was notable in its length and ferocity. Normally, these storms last twelve to eighteen hours; this one, however, gave us an amazing
two-and-a-half days
of steady, freezing winds, with gusts regularly reaching over 60 miles per hour. Aside from uprooted trees and widespread power outages, the windstorm, coming in the midst of a late fall, stripped what still remained of colorful foliage from trees throughout the Northwest, leaving bare limbs in its place. Once the storm had passed, so had autumn. Winter was on its way.
Earlier, before leaving Portland on the day of my Japanese Garden visit, I made a quick side-trip to the Columbia Gorge, guessing -- correctly -- that it might offer my final opportunity for fall shooting. My first stop was, as for so many other photographers,
Multnomah Falls
. Although the color wasn't as widespread as I've experienced on previous visits, a pair of big-leaf maples were ideally placed to provide foreground counterpoint for the upper fall.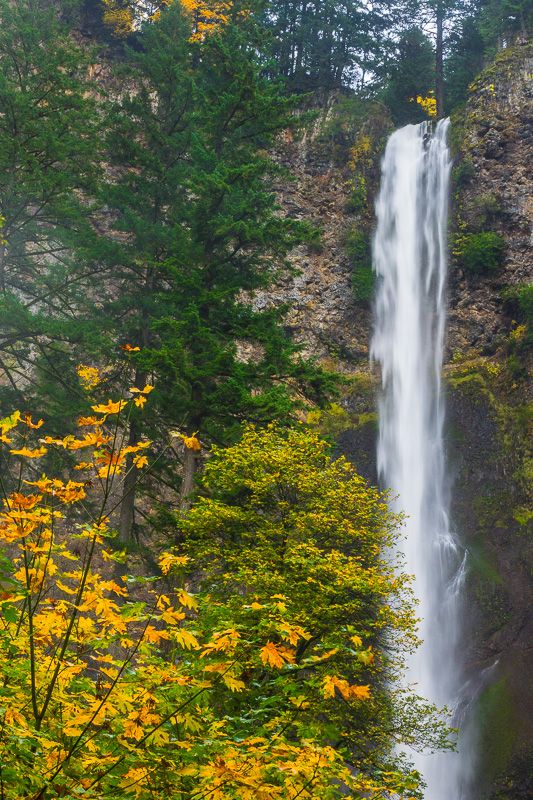 I had just enough time before sundown to visit
Horsetail Falls
, the other easily-accessible waterfall in that stretch of the Columbia Gorge Highway. By now, the drizzle had increased to the point where tilting the camera up to capture the entire 100-plus feet of the fall would be impossible; any viewpoints would have to be level or tilted downward. Fortunately, once again, a big-leaf maple was in just the right position to serve as a colorful foreground accent to the lowest portion of the fall, captured with water-smoothing slow shutter speeds.
Finally, I descended into the bowl of Horsetail itself. The spray here was an almost-steady mist, and far too may of my attempts wound up being spoiled by water on the lens. But I was able to capture one image where the spray didn't interfere, and which, for me served as an almost-perfect "farewell to autumn" - where the only foliage consists of fallen, but still colorful, leaves floating in the pool beneath the fall.
It was a fitting final image for a season that, although initially seeming somewhat of a disappointment, wound up providing some truly-memorable ones. Now - on to winter.
3 replies, 1673 views
Replies to this discussion thread
| | | | |
| --- | --- | --- | --- |
| 3 replies | Author | Time | Post |
| Water Falling Over Things 2014: Part IX (Autumn's End) (Original post) | regnaD kciN | Nov 2014 | OP |
| | Curmudgeoness | Nov 2014 | #1 |
| | CaliforniaPeggy | Nov 2014 | #2 |
| | Dyedinthewoolliberal | Nov 2014 | #3 |
---
Response to regnaD kciN (Original post)
Fri Nov 14, 2014, 02:11 PM
Curmudgeoness (18,219 posts)
1. I always love your WFOT posts.
I feel as if I am there too, with the commentary. I felt like I was getting wet from the mist and I am glad you were able to get a decent photo without water on the lens. The golden leaves in the foreground of that last one really make that picture.

---
Response to regnaD kciN (Original post)
Fri Nov 14, 2014, 04:03 PM
CaliforniaPeggy (143,349 posts)
2. Sometimes we have to dig to get the best images, and you have done that superbly...
Thank you for posting these! They are amazing and a very fitting farewell to autumn.
---
Response to regnaD kciN (Original post)
Mon Nov 17, 2014, 11:17 AM
Dyedinthewoolliberal (14,075 posts)
3. Just gorgeous!
Some time I'll ask the reason for the Firesign Theatre reference in your user name.