Wed Nov 5, 2014, 06:28 AM
regnaD kciN (25,314 posts)
Autumn in Tumwater Canyon
The fall foliage season, now drawing to a close, turned out to be a disappointment in much of the Pacific Northwest. Blame the hot, dry summer, and the record high low temperatures (that's not a typo - daily
low
temperatures were abnormally
high
) throughout early autumn, which prevented the frost that could jump-start fall colors. But, as happens in years like this, the foliage didn't turn together. Instead, we had a "slow-motion autumn" where trees already gone to dead, brown leaves group with neighbors who are still green; there was never a point where much of the foliage was at a photogenic peak at the same time.
But there are always places where you can count on good fall color, and Tumwater Canyon, north of Leavenworth on the east side of the Cascades, is generally one such place. This year, even Tumwater was a bit subdued -- but a subdued season there is still equal to much of the Northwest at its best. I made three trips to the Canyon this autumn; the first was a scouting mission before the leaves had turned enough to be worth photographing, while the second two caught different stretches of the Canyon as their foliage reached its peak.
About halfway down from Stevens Pass, Winton Road branches off from Route 2; stands of aspen were, as usual, providing great opportunities for long-lens "texture" shots.
Further south, the highway meets the roaring Wenatchee River. The northernmost part of this area remains blackened by a forest fire from earlier this summer. But, once past the burned-out area, there are many pullouts where you can walk down to the river (or at least close enough to it) and capture autumn colors fronted by rushing waters.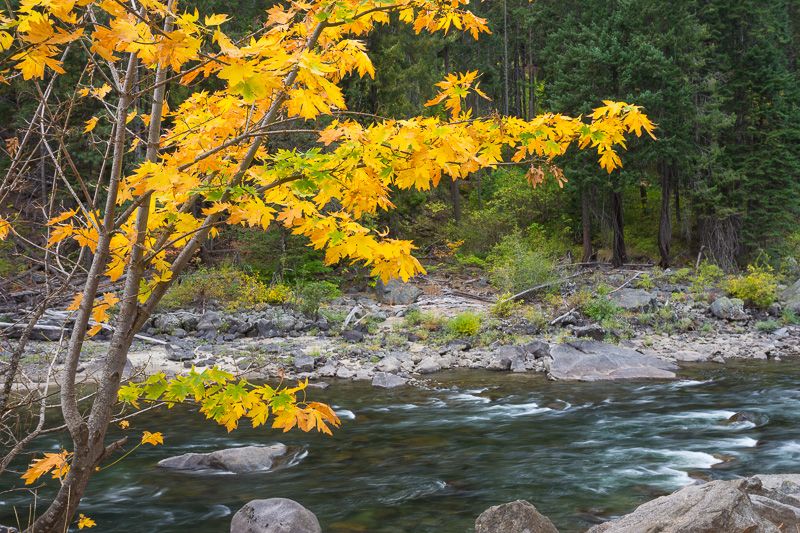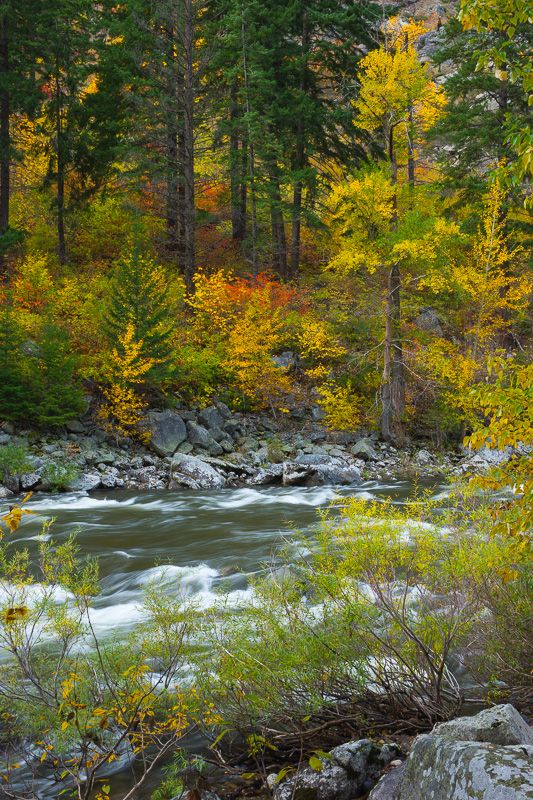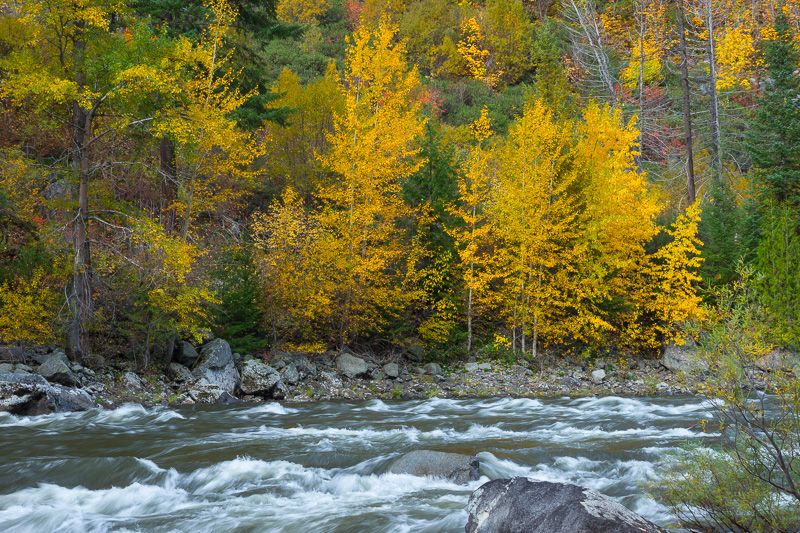 And, even when leaves have fallen in some places earlier than one might want, they still leave the opportunity for "intimate landscapes" underfoot, particularly when framed by the speckled, water-polished stones of the river-bank.
There's more color to be found west of Leavenworth along Icicle Creek, and south through Blewett Pass...but those will have to wait for another autumn - hopefully, an even-more-colorful one.
7 replies, 2172 views
Replies to this discussion thread
| | | | |
| --- | --- | --- | --- |
| 7 replies | Author | Time | Post |
| Autumn in Tumwater Canyon (Original post) | regnaD kciN | Nov 2014 | OP |
| | dixiegrrrrl | Nov 2014 | #1 |
| | Earth_First | Nov 2014 | #2 |
| | snappyturtle | Nov 2014 | #3 |
| | Hoppy | Nov 2014 | #4 |
| | alfredo | Nov 2014 | #5 |
| | Tom Kitten | Nov 2014 | #6 |
| | northoftheborder | Nov 2014 | #7 |
---
Response to regnaD kciN (Original post)
Wed Nov 5, 2014, 07:06 AM
dixiegrrrrl (59,978 posts)
1. If anything can make me homesick, your pics do.
Wonderful pics of one of the loveliest areas just east of the Cascades.
I actually could feel the cold water on my hands and smell the leaves as I looked at your shots.
Memories.....
---
Response to regnaD kciN (Original post)
Wed Nov 5, 2014, 07:39 AM
Earth_First (14,910 posts)
2. Beautious!
They are all wonderful!

I enjoy how you describe how "opportunities underfoot" create landscapes that make for great photographs. How true this can be.

I really love your first shot!

Thanks for sharing!
---
Response to regnaD kciN (Original post)
Wed Nov 5, 2014, 09:06 AM
snappyturtle (14,656 posts)
3. I appreciate your post...very much...food for the soul the morning after. nt
---
---
Response to regnaD kciN (Original post)
Wed Nov 5, 2014, 01:37 PM
alfredo (59,675 posts)
5. Beautiful photos.
---
Response to regnaD kciN (Original post)
Wed Nov 5, 2014, 02:35 PM
Tom Kitten (7,047 posts)
6. These are gorgeous
I don't have a favorite - I like them all. Thet are beautiful photos.

You're right about it not being a good Fall for foliage color here in the NW. Trees are just now turning red and yellow but we've had some really windy days and they've lost a lot of leaves. Plus, like you say, we haven't had any cold nights yet.
---
Response to regnaD kciN (Original post)
Wed Nov 5, 2014, 06:31 PM
northoftheborder (7,432 posts)
7. ALL so beautiful.....
Thanks for the eye-feast!