Thu Jul 3, 2014, 07:09 PM
regnaD kciN (25,310 posts)
Water Falling Over Things 2014: Part VII (Punch Bowl Falls...now with extra poll!)
(The majority of this post, with the exception of the postscript, is adapted from the latest journal entry on my website.)
Punch Bowl Falls
, in Oregon's Columbia Gorge, has long been one of the meccas for Northwest landscape photographers. It's also been one that, for one reason or another, I had never visited. It was on my "must shoot" list for the past couple of years, but vision problems got in the way. With eyesight renewed, I made Punch Bowl Falls one of my top goals for "making up for lost time" this spring.
There was only one problem: for more than a decade, the view of the falls had been partially blocked by a fallen log. This log had finally been washed away in the winter storms of 2009, and Punch Bowl Falls was at its best once again. So it remained, literally until just before my planned trip back in April. The Thursday before that weekend, I logged onto the
Portland Hikers' website
to check conditions, only to read that an entire tree had toppled into Eagle Creek just in front of the falls in a storm a couple of weeks beforehand. While this tree, unlike the previous log, was not cutting a diagonal swath across the waterfall itself, a twisting and unattractive branch protruding from the trunk stood in front of the fall, blocking it from every imaginable tripod position available within the "punch bowl" itself.
I didn't make the trek after all that weekend, but, on my second trip to the Gorge this year, hiked Eagle Creek to the falls this past weekend. I did so, in part, after hearing from fellow Northwest photographer
Mark Metternich
that Punch Bowl Falls was still worth visiting.
When I arrived, I found, as expected, the fallen tree in front of the falls. I also discovered, with the proper camera positioning, that you could place the majority of the branch along the right side of the fall, instead of in front of the water itself.
While this framing is better than simply having the entire branch block the waterfall, it still left something to be desired, in my opinion. Interestingly, what I found even more annoying than the branch is the broken-off piece of moss-covered bark jutting up from the tree to the right of the fall; it tends to catch the light and draw one's eyes away from the image's center of interest.
One thing that Metternich had mentioned, in his Facebook post referenced above, was that it looked to be possible to "clone out" the branch in Lightroom and/or Photoshop. I was personally dubious; while I have used such techniques to remove visual annoyances like telephone lines or road signs in previous images, the objects I have removed using those techniques have been relatively small. Certainly, that branch was far too big and visually-intrusive to be successfully removable, wasn't it? As it turns out, I had underestimated the power of the latest editions of "digital darkroom" tools. With a
lot
of work with the spotting brush in Lightroom, and a final touch-up in Photoshop, I found I was able to, indeed, remove all traces of the branch (and the aforementioned bark).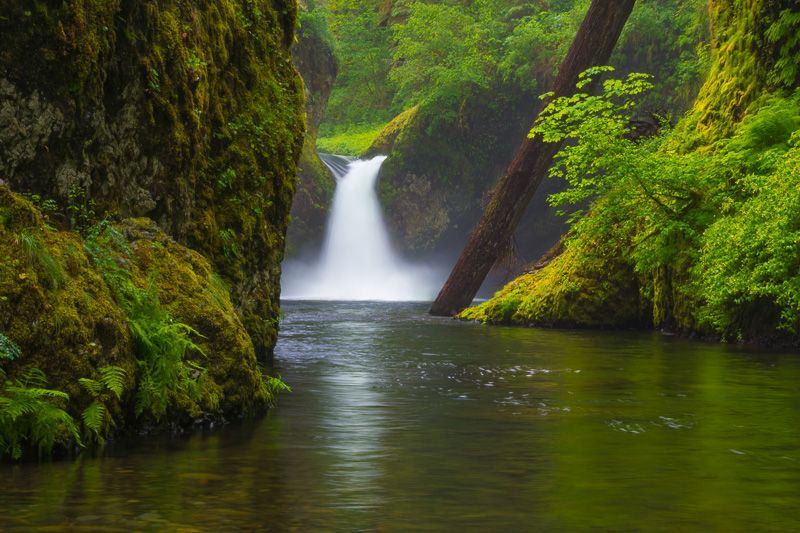 But, needless to say, this opens up a whole new can of ethical worms. (Is it possible for worms to be ethical?) As I noted above, cloning out distracting elements has been a common photographic practice for years, and not just in digital photography; witness the retouching of prints and even negatives in past years. But that had generally been reserved for small, distracting patches that were peripheral to the image's center of interest. Now that it's possible, at least in some limited circumstances, to remove large distractions from the focal point of a photograph, the question immediately arises, "is it
wrong
to do so?"
Before proceeding, I'd like to first note the irony here: for decades, a common belief among many was that "photography cannot be art," because it was, supposedly, merely a bare, unyielding reproduction of elements already present at the scene, as opposed to the creative vision of a painter or sculptor. However, as capabilities increased for creative manipulation of photographs in post-processing (and, to be honest, some of these techniques have been around, and used by landscape photographers, since the early days of Ansel Adams; it's just that such capabilities have increased by an order of magnitude since the advent of digital photography and computer processing), the paradoxical claim has arisen that, if a photograph includes anything that diverges from that bare, unyielding reproduction of elements already present at the scene, it's somehow "dishonest." (Sometimes,
both
of these positions are held by the same would-be "critic," which is enough to make one's head spin.)
Also, I think we need to recognize that most landscape photography distorts reality in ways no longer recognized, simply because such ways are so common. Certainly, waterfall photography is among the most blatant cases here, as the slow shutter speeds almost always employed in order to render the falling water as a soothing, graceful blur mean that the image will already look unlike the scene in real life. (In reality, the water flowing over Punch Bowl Falls takes the form of a rapid, choppy pulse that simply wouldn't photograph as nicely with a higher shutter speed.) Similar uses of shutter speeds to blur the motion of waves or clouds are also common. And, while time can be distorted in such ways, so can space; the effect of most wide-angle lenses favored by landscape photographers is to provide a field of vision and perspective that people simply cannot see with their own eyes while looking at any particular scene, while telephotos can radically distort the scale of the background relative to the foreground. Photography has almost always manipulated reality in some ways -- the only issue in most cases is when the form of the manipulation is, due to technology, of a newer and less-familiar type than those with which we've grown so familiar that we no longer notice them.
Having said all that, the question remains: is removing large, distracting elements, such as is done here, thus creating a scene that, to be blunt about it, doesn't exist in real life, unethical or dishonest? I'm going to get irritatingly vague here, and say that, for me, "it depends." What is the
intention
of the photograph? Is it to provide
information
, or a
sensory experience
? If the former, if the primary goal of a given photograph is to show to viewers what a location actually looks like, then it's obviously disingenuous to render the scene in a way that visitors there simply couldn't see for themselves. However, if the primary goal of that photograph is to appeal to the eyes and senses, to create a mood or stir the heart through the beauty of (possibly-idealized) nature, I don't see the objection to presenting the "ideal vision" the photographer may have had in mind when he or she chose to capture that image. It would be a little like complaining that the real night sky over Saint-Rémy-de-Provence never looked anything like Van Gogh's representation of it in
The Starry Night
. My only qualm would be in the matter of how the image was being presented -- if there's any chance of the image being taken for a documentary photograph rather than an artistically-modified one, the nature of the modification should be made explicit to viewers.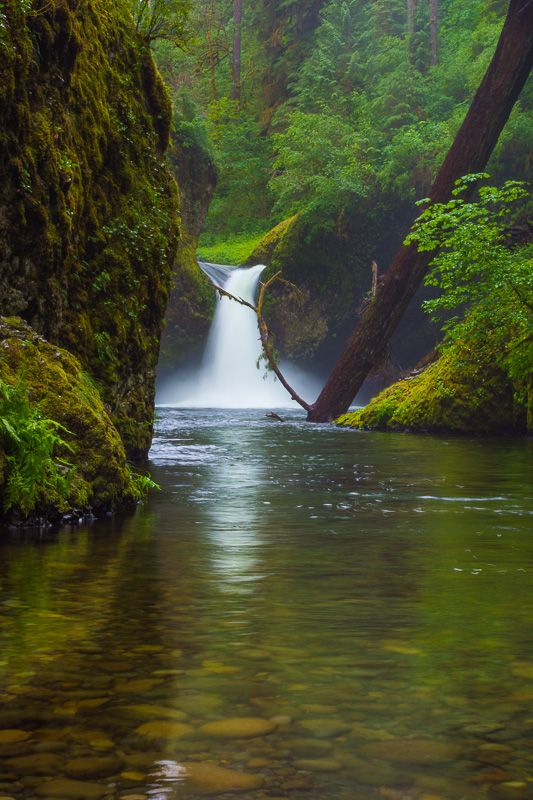 Therefore, my current inclination is to offer the modified images, as befits their intention as "visions" rather than journalistic documents, as prints on my site's Image Gallery, with each clearly captioned as having been retouched. At the same time, the unmodified versions will be made available in the site's Stock Library, since images from that collection are more intended for a "documentary" purpose.
At the same time, I welcome comments on my proposed solution, along with the greater issue of what should and should not be permissible in nature photography. For the convenience of DUers, I've included a poll below.
POSTSCRIPT:
On the way back, I stopped by
Metlako Falls
, which I had photographed earlier this spring. I had already decided I wouldn't go to the trouble of taking any further photographs here unless, this time, there was mist in the gorge surrounding the fall...which there was.
(While it's a nice image, I find my photographs from the last trip, where the foliage was fresher and the flow of the fall much stronger, to be preferable. But I thought I should include it for the sake of completeness.)
---
POLL QUESTION: Is such manipulation of photographs permissible?
1 vote, 0 passes | Time left: Unlimited
Yes -- anything goes when it comes to art!

1 (100%)

No -- nature photographs should be of nature as it is. Anything else is deception.

0 (0%)

Your compromise is reasonable -- major modification only for "artistic" images clearly labeled as such.

0 (0%)

I'm not against it in principle, but, in this case, I like the unretouched versions better.

0 (0%)

Other (please specify)

0 (0%)

0 DU members did not wish to select any of the options provided.
Show usernames

Disclaimer: This is an Internet poll
9 replies, 3075 views
Replies to this discussion thread
| | | | |
| --- | --- | --- | --- |
| 9 replies | Author | Time | Post |
| Water Falling Over Things 2014: Part VII (Punch Bowl Falls...now with extra poll!) (Original post) | regnaD kciN | Jul 2014 | OP |
| | CaliforniaPeggy | Jul 2014 | #1 |
| | Curmudgeoness | Jul 2014 | #2 |
| | ohheckyeah | Jul 2014 | #6 |
| | NV Whino | Jul 2014 | #3 |
| | ohheckyeah | Jul 2014 | #7 |
| | alfredo | Jul 2014 | #4 |
| | ohheckyeah | Jul 2014 | #5 |
| | Stevenmarc | Jul 2014 | #8 |
| | Solly Mack | Jul 2014 | #9 |
---
Response to regnaD kciN (Original post)
Thu Jul 3, 2014, 08:03 PM
CaliforniaPeggy (143,313 posts)
1. Thank you for your wonderful and artistic photos!
Manipulate all you want! It's fine with me...
---
Response to regnaD kciN (Original post)
Thu Jul 3, 2014, 08:22 PM
Curmudgeoness (18,219 posts)
2. When I saw the first photo,
it took my breath away with the beauty of the falls as well as the rest of the landscape. When you showed the photoshopped photo, that was the first that I really noticed that branch. Odd how the eye can do that.

My vote was that it is OK if it is disclosed. I see photography as art, but I do think that people should know when it is "fixed" instead of letting people assume that it is as if they are seeing what you saw. No ethical problem if people know that it is an art form that has been created. (BTW, beautiful job on the fix.)

---
Response to Curmudgeoness (Reply #2)
Fri Jul 4, 2014, 01:03 AM
ohheckyeah (9,314 posts)
6. I respectfully disagree
that it should be disclosed, except when the intention is to deceive and then it's unlikely the unethical person would disclose it. Even the great Ansel Adams dodged and burned, cropped, stacked photos, and used filters. All of those things change the reality of the scene as it is naturally observed.


---
Response to regnaD kciN (Original post)
Thu Jul 3, 2014, 09:39 PM
NV Whino (20,886 posts)
3. As a painter I would never have included that branch
I see photography (except photojournalism*) as art, and I have no qualms about removing distracting items.

On a personal note: a couple of years ago I created a panoramic postcard for a client. I had a great photo of his beautiful vineyards. But, there was one of those damned electrical lines running through it. No way to frame and miss it. I debated whether to remove it or keep it. It was, after all, selling the ambiance to potential wine buyers. Truth in advertising and all that. In the end, I elected to remove it. My rational was, people viewing the vineyard would see only the beautiful vineyard and not the electrical line. We do tend to have selective vision. And we were selling the wine, not the property.

The only time I do not alter a photograph, except for exposure or sharpness, is real estate photos. You can get in a world of trouble removing telephone poles in real estate photos.

*photojournalism can be art, but you may not alter it.
---
Response to NV Whino (Reply #3)
Fri Jul 4, 2014, 01:04 AM
ohheckyeah (9,314 posts)
7. I absolutely agree...
removing the electrical lines in an ad to sell the wine isn't, in my opinion, unethical. If you were doing an ad to sell the property it would be, as you stated.

---
Response to regnaD kciN (Original post)
Thu Jul 3, 2014, 11:24 PM
alfredo (59,674 posts)
4. Is wearing makeup deceptive? Converting a 3D moving scene into a static 2D image
is not reality, so removing a branch is no big thing.

Beautiful images.

I always crop or clone out trash or errant branches in my images. Resynthesize and I have formed a lovely relationship.
---
Response to regnaD kciN (Original post)
Fri Jul 4, 2014, 12:57 AM
ohheckyeah (9,314 posts)
5. First - your photos are beautiful.
I'm of the opinion if the photograph is done as a matter of art and not journalism, sales, or documentary purposes, then the goal is to present the most visually appealing final result as possible.

Even journalists and documentarians use some artistic license in the words they choose or how they arrange the final cut of a documentary.

The only time I find post processing of a photo to be dishonest is if the intention is to be dishonest and mislead....an example would be doctoring photos of a hotel room to sell the consumer on the hotel.

Photographers have almost always used filters to change the appearance of things in a photo, dodged and burned to make the scene more visually appealing, and even stacked photos in the enlarger. We often combined two negatives in the darkroom to make one scene. Even the way you develop film can be manipulated to change the negative or you can double develop your print in the darkroom to create a totally different kind of print (sabattier effect).

Photographers are not just Xerox machines making exact duplicates of what they see any more than any other artist is and photographs aren't Xerox copies.

Just my opinion.

PS - I'm glad you brought up this topic....it has long been debated in the photography world.

---
Response to regnaD kciN (Original post)
Fri Jul 4, 2014, 10:04 AM
Stevenmarc (4,483 posts)
8. Before it got to post
You made the decision to alter nature by shooting a long exposure shot so a little branch removal isn't really a huge deal.
---
Response to regnaD kciN (Original post)
Fri Jul 4, 2014, 11:43 PM
Solly Mack (87,681 posts)
9. K&R