Mon Jun 9, 2014, 05:01 AM
regnaD kciN (25,310 posts)
Water Falling Over Things 2014: Part VI (Victor Falls...vanquished photographer)
After the long-distance WFOT extravaganzas of the past few weeks, I was feeling like staying closer to home for my next venture, and decided to check out
Victor Falls
on Fennel Creek, found (rather surprisingly) in the Seattle exurb of Sumner.
I had seen photographs of Victor Falls before, but it was only after visiting them myself that I realized one common denominator of those photographs: they were apparently all taken in
winter
, or at least before the leaves had emerged on the maple saplings directly in front of the falls.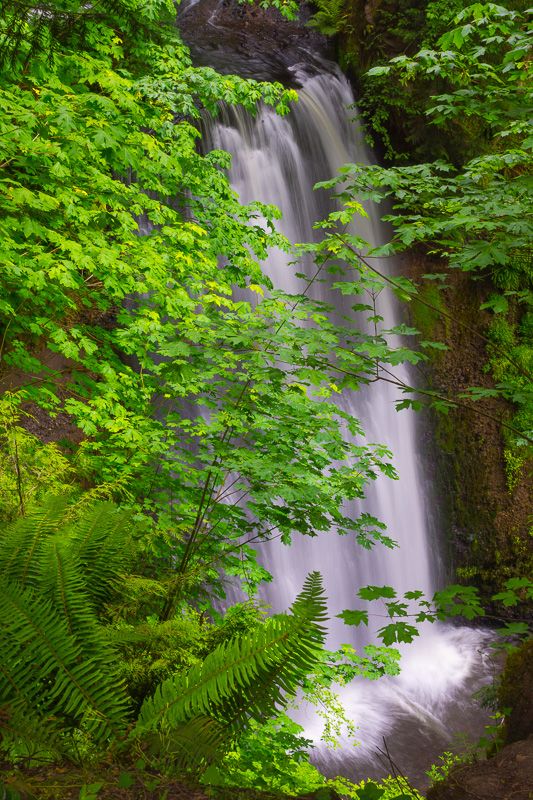 This was the best angle I could get on Victor Falls from the upper path, one which would be more appropriate under the category of "Water Falling
Behind
Things 2014."
There was also a lower path, but that was no improvement, to put it mildly. This was the photo I could get from the end of that lower path, a photo that required me to place the tripod on a narrow shelf at the very end of the path, with me standing to the side of the camera instead of behind it, and using the hinged "live view" monitor to compose, while I used my other hand to hold back even more maple branches.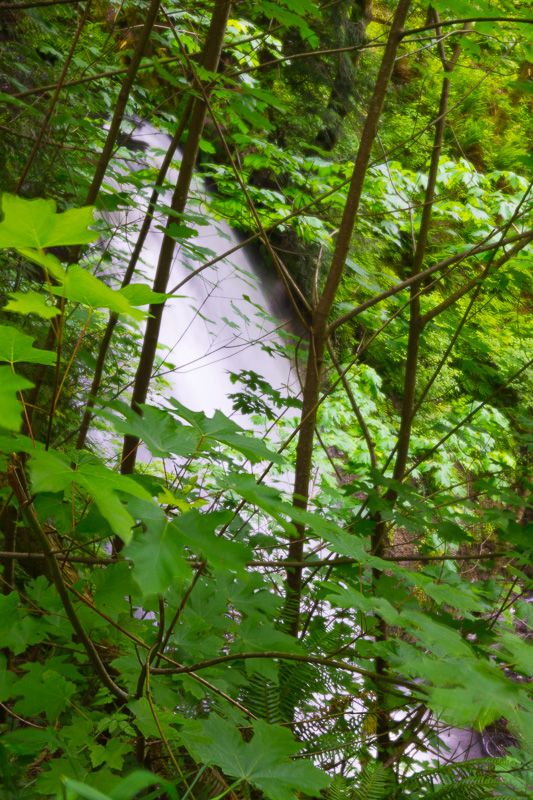 Fortunately, Fennel Creek upstream of the falls was scenic enough to make up for my disappointment at not being able to get a clear image of the falls themselves.
5 replies, 1814 views
Replies to this discussion thread
| | | | |
| --- | --- | --- | --- |
| 5 replies | Author | Time | Post |
| Water Falling Over Things 2014: Part VI (Victor Falls...vanquished photographer) (Original post) | regnaD kciN | Jun 2014 | OP |
| | Hoppy | Jun 2014 | #1 |
| | regnaD kciN | Jun 2014 | #5 |
| | CaliforniaPeggy | Jun 2014 | #2 |
| | Curmudgeoness | Jun 2014 | #3 |
| | alfredo | Jun 2014 | #4 |
---
---
Response to Hoppy (Reply #1)
Tue Jun 10, 2014, 03:00 AM
regnaD kciN (25,310 posts)
5. I'm inclined to agree...
---
Response to regnaD kciN (Original post)
Mon Jun 9, 2014, 11:47 AM
CaliforniaPeggy (143,314 posts)
2. I love 'em all! Ya done good.
You did the photographer's equivalent of "when life gives you lemons...etc."
They're beautiful, and now you're on the Greatest Page!
---
Response to regnaD kciN (Original post)
Mon Jun 9, 2014, 01:49 PM
Curmudgeoness (18,219 posts)
3. Things never go the way we expect.
Some times, they go better, but most times, not so much. You are right, the upper creek is lovely. Looks like there was water falling over things, in a smaller way, up there as well. Looks like you had a very enjoyable day.

---
Response to regnaD kciN (Original post)
Mon Jun 9, 2014, 03:10 PM
alfredo (59,674 posts)
4. All beautiful, but four is my fav. I like the composition.