Thu May 29, 2014, 02:55 PM
regnaD kciN (25,314 posts)
Water Falling Over Things 2014: Part V (May's Grand Finale)
In the Pacific Northwest, the last week of May is the traditional end of "waterfall season," at least for the lowlands, as the heavy rains that guarantee roaring falls become a thing of the past. Therefore, I wanted to "go out with a bang," and decided, since the forecast for north-central Oregon was for solid cloud cover (as I would soon be reminded yet again, forecasts do not always correspond to reality), to spend Memorial Day at a favorite for Northwest waterfall-lovers, Silver Falls State Park, a place featuring
ten
waterfalls, and one I had only previously visited in autumn.
As it turns out,
not
one of my better ideas.
You see, while the falls were running full, so were the parking lots, as practically half the population of Portland, not to mention Eugene and Salem, were apparently out communing with nature by mugging for innumerable cameraphone snapshots while standing under waterfalls, clad in either white sweats or the gaudiest-possible neon Aeropostale t-shirts. And, yes, I said
under
waterfalls, as most of the falls in the park feature trails cut behind the fall itself, guaranteeing Disneyland-like lines behind most of the photographic attractions of the park. Between the tourists and the not-exactly-as-forecast partly-sunny conditions we wound up with, finding a point with clouds-and-no-crowds became a quest for the sort of "critical moment" Henri Cartier-Bresson never imagined.
The expedition began auspiciously enough at
Winter Falls
. As you can no doubt tell from the name, this fall is truly impressive during the winter rainy season; while it was less-so now, it was certainly remained imposing, if a bit problematic photographically, as the only angles available are from the side, looking up at a patch of bright sky.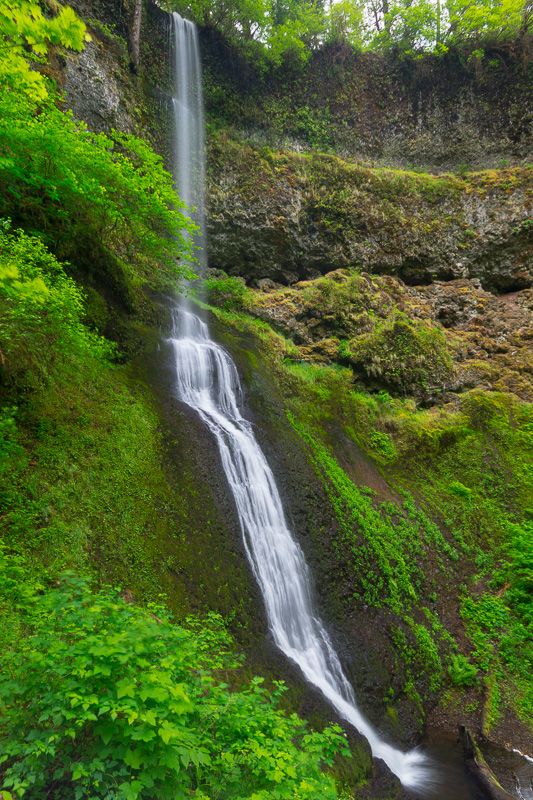 About a mile down the trail, I got to
Middle North Falls
, considered one of the photographic highlights of the park. While it certainly was that, it was also the spot where I began to realize the scope of my challenge here, as tourists tended to not only go behind the falls but, once there, settle in for several minute's worth of basking in the experience, taking their own pictures with point'n'shoots (using the obligatory camera flash to light up several acres of foreground, of course), modeling for family members in flexing-muscle or "I'm King of the World!" poses, etc., etc. And, when they finally opted to move on, so did the clouds, and the scene would be bathed in ugly, high-contrast sunlight. As a result, I took far longer than planned standing there at the viewpoint, waiting less-than-patiently for people to leave and clouds to arrive. Finally, a few moments' respite provided me with the chance I needed.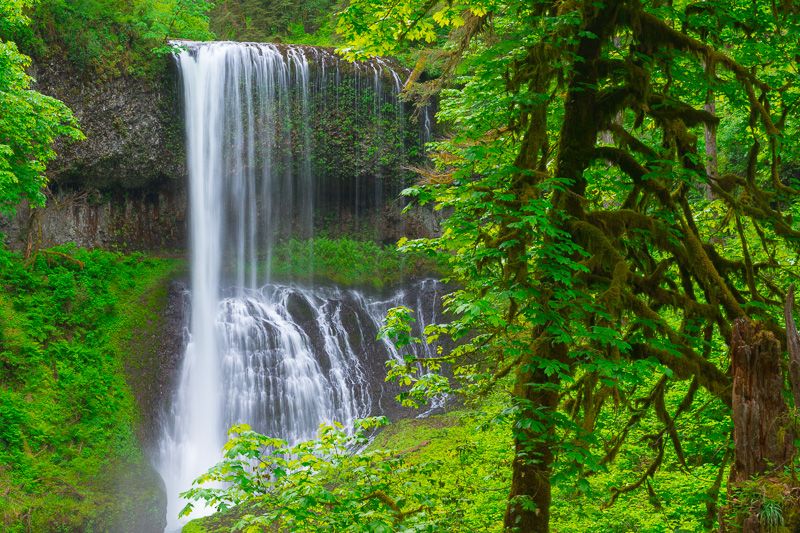 My next stop was
South Falls
, the tallest fall in the park, and here the problems of visiting on Memorial Day really hit home, as this fall is not only the most popular, but the most-accessible from the main parking area. How bad was it? Take a look.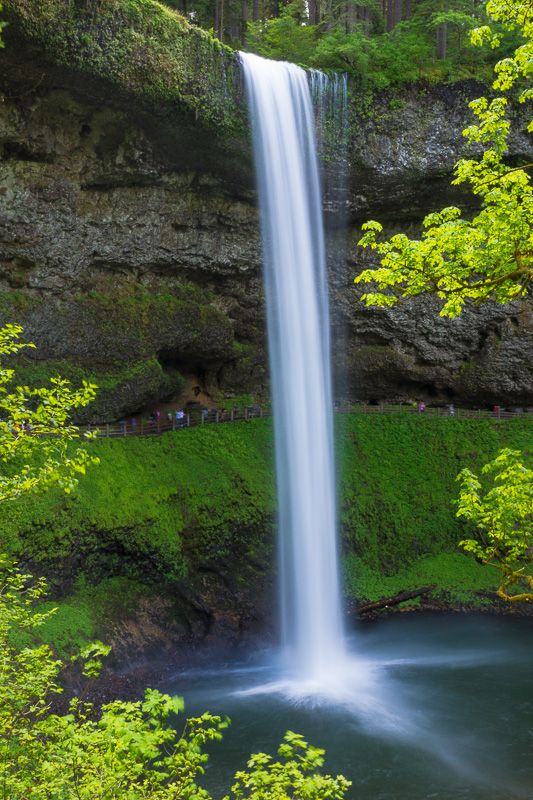 For the record, there are at least
twenty-seven
people standing under the falls in this otherwise-nice shot. And, when you combine them with the irregular wooden fence on the trail and some other features of the underside of the fall, it's clear that there's no way to Photoshop the crowd out of the image. And this wasn't even the most extreme -- in an image taken a few minutes after this one, I count at least
forty-three
tourists clumping under the waterfall.
Leaving South Falls for the moment, I headed down the trail another mile to
Lower South Falls
, hoping that the distance would mean fewer people. As it turned out, I was only part-way correct, as there was a line down to the falls that would rival anything this side of the Magic Kingdom. Fortunately, these people were more interested in looking at the falls from the front than spending time under them so, once I realized that what would normally be the best viewpoint for photos would give me a steady line of tourists' upper torsos in the frame, I decided to stay higher up the trail, where any such visitors could be cropped out of the frame.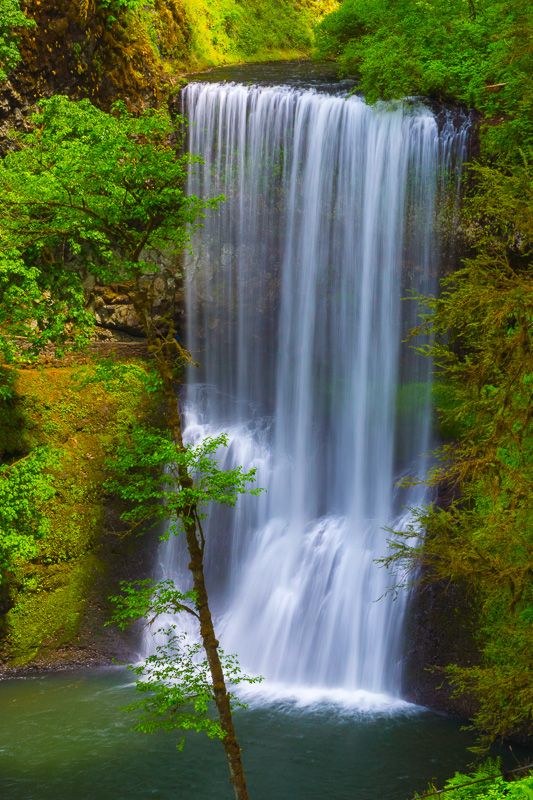 Returning to South Falls, I found that the crowd behind the waterfall had abated only slightly, and those remaining had apparently decided to compensate for it by spending even more time underneath the waters. What to do? Well, the only option was to, literally, "go over their heads"; to zoom in for a mid-detail shot of the top of the fall, cutting out the Madd(en)ing Crowd. Fortunately, I was able to come up with a very satisfying composition.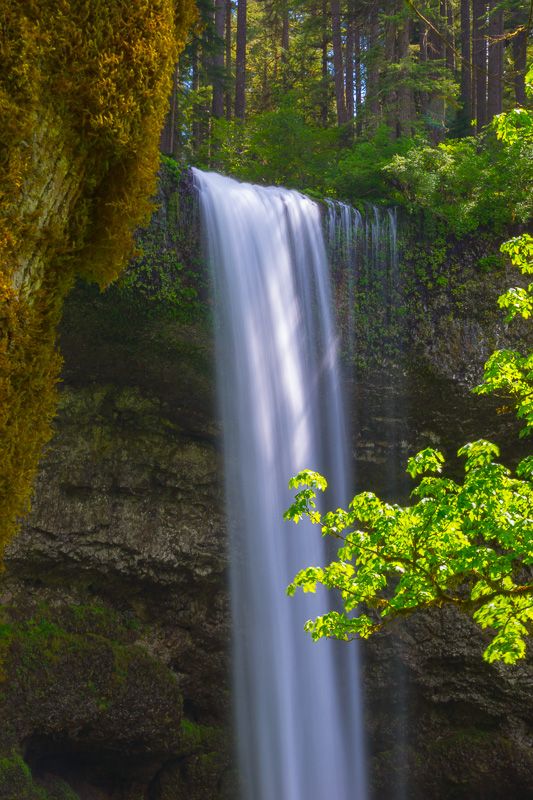 When I last visited the park in autumn, one of my favorite images came from
Upper North Falls
, and I was eager to see what it would look like in spring coloring. Unfortunately, I found that, since my last visit, several fallen trees had blocked-up the falls, making them significantly less photogenic. Also, at this point, the clouds began to dissipate, leaving me dealing with harsh sunlight. This was not so much of a problem at Upper North Falls, due to the falls themselves being partly shadowed by the canyon wall.
However, when I arrived at
North Falls
, the problem was obvious: the falls were in direct sunlight, making proper slow shutter-speeds impossible. Given that I had already taken a number of good autumn shots there, and that North Falls, more than any other, was dependent on fall foliage for maximum effect, I decided to content myself with a "record shot" of my sixth waterfall at the park.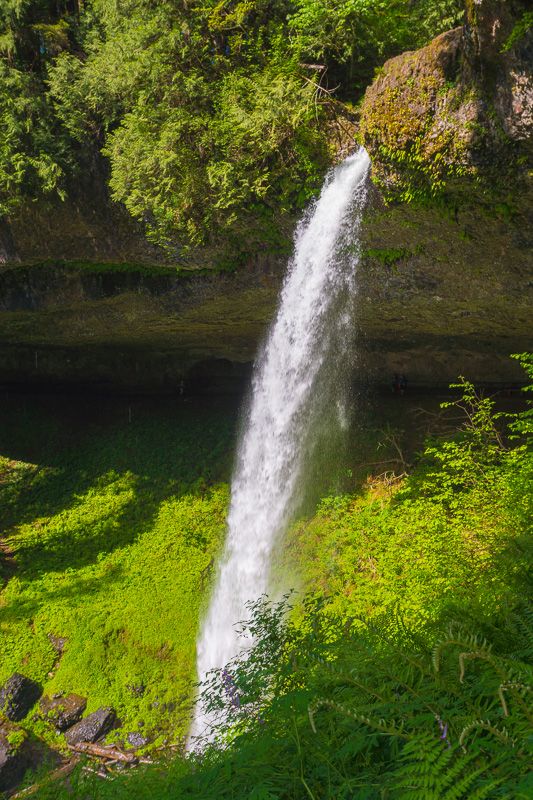 I may have been done with WFOTourists, but it was scarcely the end of my day. I decided to head north into the Santiam State Forest, to the trail at Butte Creek, site of two supposedly quite photogenic falls, whose valley placement would allow them natural shade from late-afternoon sunlight. After the last frustrating stops at Silver Falls, I was determined to close out the day with a satisfying waterfall photo or two, or die trying.
As it turned out, I almost wound up doing
both
.
To quote from Gregory A. Plumb's
Waterfall Lover's Guide - Pacific Northwest
, the directions to Butte Creek are as follows:
"From the turn for the all-terrain vehicle area (described earlier), continue 0.5 mile, then turn left onto another gravel road (not signed). Travel 2 miles down this route to a turnout to the left. A sign now exists at the trailhead."
I had read that the "gravel road" in question, Forest Service Road 400, had been closed to the public for most of the spring due to logging, and had just been reopened two days before. What I did
not
know was that the first mile's worth of the road had been completely clear-cut, and, with the slope denuded of trees, what I was faced with was a steep, narrow, slippery gravel road with about a quarter-mile plunge off one side, and an almost-ninety-degree bend partway down, where any sliding on the loose gravel could send one skidding right off the edge...not that it was much more secure the remainder of the descent. Needless to say, there was no guardrail, nor any place to turn around safely, so that, even if you thought better of it once you saw the drop, you had no alternative but to continue all the way down and then be faced with ascending the same road. This might have been no big deal with a 4WD, but, in my passenger car, it was one of the most white-knuckle drives I've ever experienced, and one I would
not
recommend to others. Eventually, I made it past the clear-cut area and into the forest, where the trailhead was as free of tourists (I only encountered one other family of hikers) as Silver Falls had been full of them.
An additional surprise was in store at
Butte Creek Falls
. Plumb's guide at least specifies that
"The viewpoints are beautiful, as they are from the top of unguarded rock outcrops."
with an added
"Be careful."
Having dealt with unguarded outcrops many times before, I was unfazed by the description, until I got there and realized that said outcrop was really a rough ledge, about eight feet wide, sticking out into the canyon for thirty or forty feet, with a hundred-and-fifty-foot drop on either side. I'm just glad I chose to bring my trekking poles along on this trail as, without the additional support, I would have opted to turn back at this point. However, with the poles, I was able to gingerly maneuver myself to the end of the ledge where I had a clear view of the falls.
Fortunately, the route to the second fall,
Upper Butte Creek Falls
, was somewhat less-"interesting," and a shaft of sunlight broke through the forest above the falls at just the right moment.
Then it was another white-knuckle trip back
up
F.S. Road 400 (with the sun in my eyes in the crucial section this time). Needless to say, I breathed a
big
sigh of relief when I got to the top of the clear-cut and returned to normal roads for the four-hour drive home.
While I'm certainly not done with WFOT for the year, this marks the end of high season until autumn. I think it safe to say I got my money's worth!
5 replies, 1188 views
Replies to this discussion thread
| | | | |
| --- | --- | --- | --- |
| 5 replies | Author | Time | Post |
| Water Falling Over Things 2014: Part V (May's Grand Finale) (Original post) | regnaD kciN | May 2014 | OP |
| | Blue_In_AK | May 2014 | #1 |
| | CaliforniaPeggy | May 2014 | #2 |
| | NV Whino | May 2014 | #3 |
| | Solly Mack | May 2014 | #4 |
| | Curmudgeoness | May 2014 | #5 |
---
Response to regnaD kciN (Original post)
Thu May 29, 2014, 03:23 PM
Blue_In_AK (46,436 posts)
1. These are beautiful, as always, regnaD
---
Response to regnaD kciN (Original post)
Thu May 29, 2014, 03:38 PM
CaliforniaPeggy (143,349 posts)
2. Just wonderful, my dear regnaD...
I'm really glad you didn't die...

These are just astonishing, even the ones with (gasp) people!

Thank you.


---
Response to regnaD kciN (Original post)
Thu May 29, 2014, 04:31 PM
NV Whino (20,886 posts)
3. What an adventure!
I rather like the one with the people. I gives scale to the falls. Thanks for taking us alone on your treks.
---
Response to regnaD kciN (Original post)
Thu May 29, 2014, 05:15 PM
Solly Mack (87,699 posts)
4. Thank you so much for this series!
It's been great!

Wonderful photos! Wonderful info!


---
Response to regnaD kciN (Original post)
Thu May 29, 2014, 07:05 PM
Curmudgeoness (18,219 posts)
5. They are all so beautiful.
I wish I would have been there with you to see it all.