Mon May 12, 2014, 06:40 PM
regnaD kciN (25,314 posts)
Water Falling Over Things 2014: Part III ("Eagle Creek keeps fallin' on my head...")
Saturday marked my first attempt at Eagle Creek Trail in the Columbia River Gorge. My goal was to shoot two prominent waterfalls: Metlako Falls and Punch Bowl Falls. I must admit I was a bit apprehensive; I've been wanting to do this hike for years, but was never sure of whether I'd be able to handle the difficulty level. On the one hand, most people ranked it as "easy"; on the other, portions of the trail were literally blasted into the cliff, and I'd heard horror stories of passages where you had to traverse stretches of a narrow rock trail with a cliff-face on one side and a several-hundred-foot drop on the other. So, was it going to be easy or difficult?
As it turned out, the answer was "a little of both." The grade, although undoubtedly challenging to me when I first started doing serious photography several years ago, was pretty easy in my current condition. And the rock-ledge stretches were not dangerous for anyone with trekking poles, plus there was a cable "handrail" mounted on the cliff to provide further security (although I would still caution anyone with any degree of acrophobia to avoid this trail altogether). However, the experience did bring home a hard lesson or two: while late April and early May are considered the height of waterfall season in the Gorge, if you're going to be hiking this trail, make sure you have waterproof boots -- and it wouldn't hurt to be absolutely sure your parka is waterproof as well. (I discovered the hard way mine wasn't.)
The unavoidable fact is that, during this high-water season, you're going to find
lots
of waterfalls on Eagle Creek -- most of them of the seasonal variety. And most of
those
coming down right on the trail itself. There was one stretch of the aforementioned blasted-into-the-cliff portion of the trail where a substantial seasonal fall was veiling right off the cliff and directly onto the middle of the narrow trail for about ten or fifteen feet. There was simply no way to avoid walking right under it, and getting predictably drenched. (Fortunately, I have a waterproofed camera body; otherwise, I might have turned back then and there to save my equipment.) In other places, the "falls" were sliding down the cliff-face and pooling on the trail itself -- trust me, a narrow rock shelf cut into a cliff high above the river does
not
feel more secure when there's an inch or so of water running over it! And, in other places, what should have been small rivulets crossing the trail had become creeks where you had to either balance on rocks never meant for the purpose, or just slog through several inches of water with increasingly soggy hiking shoes.
Eventually, however, I reached my first goal, as a spur off the trail led to an overlook of one of the places I'd most wanted to photograph for years,
Metlako Falls
. Unfortunately, just at the minute I reached the spur, the clouds parted and direct, contrast-killing sunlight streamed into the gorge. I had no option but to set up my camera and tripod (which necessitated climbing over the protective cable fence and positioning myself and my gear on an even-smaller ledge with a direct drop of well over a hundred feet) and wait for the clouds to move back in. Fortunately, within a few minutes, the sun was gone and I was able to get the images I had been wanting for a long time.
Since there is only one viewpoint for Metlako, I was limited in the possible compositions, but changed lenses and orientations for a few other versions.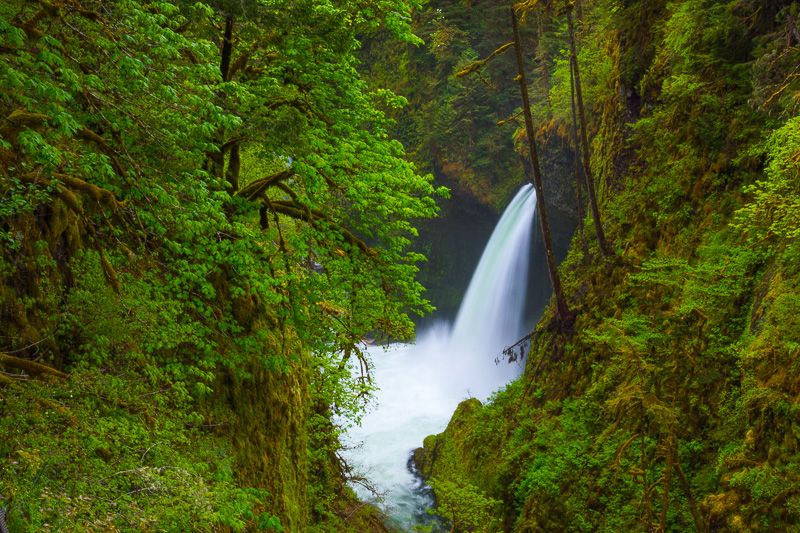 Returning to the main trail, I only went a short distance further before encountering
Sorenson Creek
.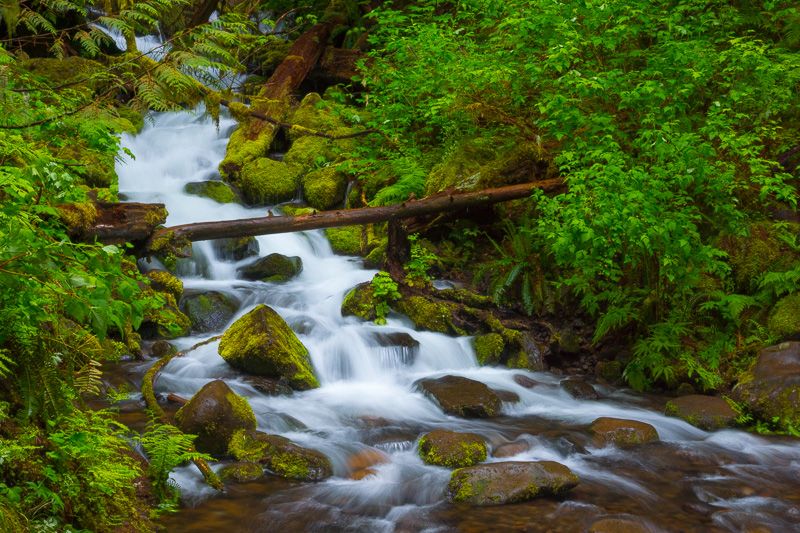 Doesn't that look nice and photogenic? Only one small problem, which becomes obvious when you pull back a bit:
See that area in the center of the image? That's actually
the trail itself
, which, according to the guides, is supposed to cross Sorensen on a series of circular paving stones. Apparently, sometime during the winter or spring, all but two of those stones got washed away (and the ones that remained were completely underwater, not topping-off above the surface). There were only two options for proceeding further: wading ankle-deep through icy, rushing water, or trying to balance your way over a series of logs in the foreground. And one of the things
not
apparent from the photo is that, immediately past those logs, the creek turns into
Sorenson Falls
, plummeting a hundred feet or so into Eagle Creek itself (actually, if you look at the previous pictures of Metlako, Sorenson Falls can be glimpsed behind the large tree on the left). I watched as a number of hikers made their own attempts to cross, each turning into something worthy of
America's Funniest Hiking Videos
. Finally, after having used my trekking pole as a handhold to help someone get across the logjam, I decided that discretion was the better part of valor, and turned back (this turned out to be a wise choice, as I understand from later reports that the "beach" that forms the prime camera position for Punch Bowl Falls was likewise underwater). Oh, well, as a certain Republican-loving '70s rock star might have sung, "one out of two ain't bad." At any rate, I'll be back...but probably in late June, when more of the water will be restricted to the creek and falls, and less to giving me unplanned showers and footbaths.
2 replies, 1029 views
Replies to this discussion thread
| | | | |
| --- | --- | --- | --- |
| 2 replies | Author | Time | Post |
| Water Falling Over Things 2014: Part III ("Eagle Creek keeps fallin' on my head...") (Original post) | regnaD kciN | May 2014 | OP |
| | Curmudgeoness | May 2014 | #1 |
| | CaliforniaPeggy | May 2014 | #2 |
---
Response to regnaD kciN (Original post)
Mon May 12, 2014, 07:33 PM
Curmudgeoness (18,219 posts)
1. I don't know what I loved more,
the narrative or the photos. Both were excellent. And the story reminds me of too many of my own experiences. "Easy trail" has roped me in too many times.....I am almost ready to look for "handicapped accessible" to avoid some of the "America's Funniest Hiking Videos" scenes.

The first photo is so nice, as is the last one. I wish I was there....well, except for the trail under the waterfall.

---
Response to regnaD kciN (Original post)
Mon May 12, 2014, 07:35 PM
CaliforniaPeggy (143,350 posts)
2. Wow! These are wonderful, amazing, beautiful...in short, nothing but brilliant.
I most definitely want a BOOK. Sign me up if you get a deal.
Oh, and thank you...
And I'm thrilled that you will be going back.
Wow.