Sun Oct 7, 2012, 11:01 PM
CBHagman (15,550 posts)
TCM Schedule for Wednesday, October 10: Classic Horror
Spend the day in court and the night in a haunted house. A word of warning: Make sure you have company, or at least keep the lights on.
Wednesday, October 10th, 2012
12:45 AM
Reach For The Sky (1956)
A double amputee fights to master his artificial legs and become a World War II flying ace.
Dir: Lewis Gilbert Cast: Kenneth More , Muriel Pavlow , Lyndon Brook .
BW-136 mins, TV-G, CC,
3:15 AM
Bright Victory (1951)
A blinded veteran struggles to adjust to peacetime life.
Dir: Mark Robson Cast: Arthur Kennedy , Peggy Dow , Julia Adams .
BW-97 mins, TV-PG, CC,
5:04 AM
Quebec In Summertime (1949)
C-10 mins,
5:15 AM
One Who Came Back (1951)
A wounded soldier tells of the efforts to evacuate and treat the injured during the Korean War.
BW-21 mins, TV-G,
5:49 AM
Night Court, The (1927)
BW-10 mins
6:00 AM
Lawyer Man (1933)
Success corrupts a smooth-talking lawyer.
Dir: William Dieterle Cast: William Powell , Joan Blondell , David Landau .
BW-68 mins, TV-G,
7:15 AM
Law in Her Hands, The (1936)
A lady lawyer for the mob tries to break free of her criminal connections.
Dir: William Clemens Cast: Margaret Lindsay , Glenda Farrell , Warren Hull .
BW-58 mins, TV-G,
8:30 AM
Case of the Velvet Claws, The (1936)
Perry Mason's honeymoon with Della Street is interrupted by the murder of a scandal-sheet publisher.
Dir: William Clemens Cast: Warren William , Claire Dodd , Winifred Shaw .
BW-63 mins, TV-G, CC,
9:45 AM
Midnight Court (1937)
A district attorney sells out to the mob until he falls for an honest girl.
Dir: Frank McDonald Cast: Ann Dvorak , John Litel , Carlyle Moore Jr. .
BW-64 mins, TV-G,
11:00 AM
Divorce Of Lady X, The (1938)
In need of a hotel room, a woman poses as a scandalous divorcee.
Dir: Tim Whelan Cast: Merle Oberon , Laurence Olivier , Binnie Barnes .
C-91 mins, TV-G,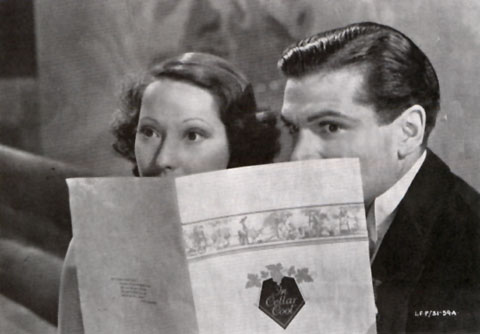 12:45 PM
Woman Against Woman (1938)
A divorcee decides she wants her husband back after he's re-married.
Dir: Robert B. Sinclair Cast: Herbert Marshall , Virginia Bruce , Mary Astor .
BW-61 mins, TV-PG,
2:00 PM
Made For Each Other (1939)
A couple struggle to find happiness after a whirlwind courtship.
Dir: John Cromwell Cast: Carole Lombard , James Stewart , Charles Coburn .
BW-93 mins, TV-G, CC,
3:45 PM
Father Is A Prince (1940)
An industrialist values money over his family's happiness.
Dir: Noel Smith Cast: Grant Mitchell , Nana Bryant , John Litel .
BW-57 mins, TV-G, CC,
4:45 PM
Obliging Young Lady (1941)
A lawyer's secretary tries to protect a controversial client from prying eyes at an over-crowded hotel.
Dir: Richard Wallace Cast: Joan Carroll , Edmond O'Brien , Ruth Warrick .
BW-80 mins, TV-G, CC,
6:15 PM
Proces de Jeanne d'Arc, Le (1962)
Joan of Arc's trial and execution are re-created from the original court records.
Dir: Robert Bresson Cast: Florence Carrez , Jean-Claude Fourneau , Marc Jacquier .
BW-64 mins, TV-14, Letterbox Format
7:30 PM
MGM Parade Show #16 (1955)
Nelson Eddy and Jeanette MacDonald perform in a clip from "Maytime"; George Murphy introduces a clip from "I'll Cry Tomorrow." Hosted by George Murphy.
BW-26 mins, TV-G,
WHAT'S ON TONIGHT: CLASSIC HORROR
8:00 PM
Haunting, The (1963)
A team of psychic investigators moves into a haunted house that destroys all who live there.
Dir: Robert Wise Cast: Julie Harris , Claire Bloom , Richard Johnson .
BW-112 mins, TV-PG, CC, Letterbox Format
10:00 PM
Uninvited, The (1944)
A brother and sister buy a house with a ghostly secret.
Dir: Lewis Allen Cast: Ray Milland , Ruth Hussey , Donald Crisp .
BW-99 mins, TV-PG, CC,
12:00 AM
House On Haunted Hill (1959)
A millionaire offers total strangers a fortune to spend the night in a haunted house.
Dir: William Castle Cast: Vincent Price , Carol Ohmart , Richard Long .
BW-75 mins, TV-14, CC, Letterbox Format
1:30 AM
Dead of Night (1945)
Guests at a country estate share stories of the supernatural.
Dir: [Alberto] Cavalcanti Cast: Mervyn Johns , Hartley Power , Roland Culver .
BW-103 mins, TV-14, CC,
3:30 AM
Innocents, The (1961)
A governess convinces herself the children in her charge are haunted.
Dir: Jack Clayton Cast: Deborah Kerr , Peter Wyngarde , Megs Jenkins .
BW-99 mins, TV-PG, CC, Letterbox Format
5:15 AM
13 Ghosts (1960)
A family inherits a house haunted by 13 ghosts and a living killer.
Dir: William Castle Cast: Charles Herbert , Jo Morrow , Martin Milner .
BW-82 mins, TV-PG, Letterbox Format
0 replies, 2473 views