Sat Oct 21, 2017, 02:20 PM
Kali (53,381 posts)
I got a nice letter delivered to the post office . . . by Pony Express!
Last edited Fri Oct 5, 2018, 10:28 PM - Edit history (2)
Over 30 years ago the nearby small town came up with an event to promote some local tourism. They call it Butterfield Days to commomorate the Butterfield Stage line that came through the area during its brief existence. One of the activities they do is a Pony Express mail run. (because doing a stagecoach is not really practical, there is rough terrain and about the only way they could swing it would be to go along the UP railroad tracks. horses that aren't used to trains might have a problem with that, and probably the RR wouldn't allow it anyway) A good part of the route goes through the ranch so while I don't do anything to participate, it IS part of the fall schedule around here.
Somewhere I have a cancelled envelope from the first year they did it, (I think my Mother had attended that year and bought an envelope to send to herself) and now this year I received one for myself as a really nice thank you surprise. I think my contribution amounted to telling them they could take a fence down to bypass a longer route to a usable gate, but nice of them to do this anyway.)
Here is a good article from last year -
http://www.bensonnews-sun.com/news/article_14a42430-8a76-11e6-9c71-fbaf0fced2da.html
the envelope
the letter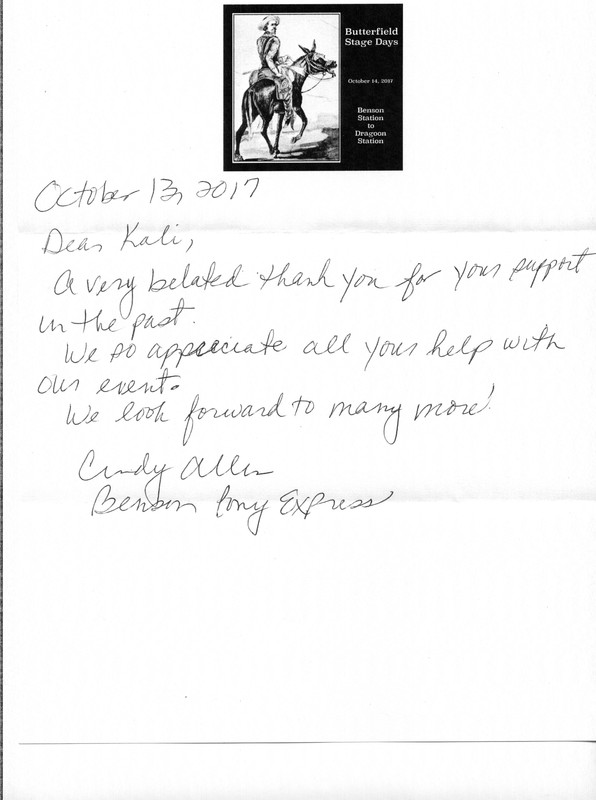 3 replies, 2424 views
Replies to this discussion thread
| | | | |
| --- | --- | --- | --- |
| 3 replies | Author | Time | Post |
| I got a nice letter delivered to the post office . . . by Pony Express! (Original post) | Kali | Oct 2017 | OP |
| | hibbing | Oct 2017 | #1 |
| | Solly Mack | Oct 2017 | #2 |
| | LuckyCharms | Oct 2017 | #3 |
---
Response to Kali (Original post)
Sat Oct 21, 2017, 05:06 PM
hibbing (9,209 posts)
1. Fun!
Looks like a fun event. Interesting article, love that they get sworn in by a postmaster.


Peace
---
Response to Kali (Original post)
Sat Oct 21, 2017, 05:16 PM
Solly Mack (87,315 posts)
2. Very cool
---
Response to Kali (Original post)
Sat Oct 21, 2017, 05:48 PM
LuckyCharms (12,936 posts)
3. Very nice, Kali. n/t