Tue Sep 10, 2019, 06:09 PM
catbyte (14,410 posts)
This Awkward Photo Of An Eagle Isn't What It Seems
"The eagle looks so surprised as if he is saying, 'That was not me!'"
BY LILY FEINN
Christian Sasse was up to his hips in water, waiting for that perfect picture of a bald eagle. The photographer, who documents the eagle population in Vancouver, British Columbia, didn't realize he was about to take a photo unlike any he'd captured before.
The eagle Sasse was observing had come to the beach in search of a snack. "During low tide [the eagles] can access the intertidal zone," Sasse told The Dodo. "And we have a lot of fish called midshipman fish there that are high in protein for eagles."
Sasse snapped a few photos and left for the day, not expecting anything spectacular. But when he reviewed the shots later that night, he started cracking up: "When I came home, I looked at the photos, and said, 'Oh my gosh, this is just too funny.'"
In one of the shots, a mysterious stream of water seemed to be coming from the eagle. It looked to Sasse as if the bird was peeing, but he knew that was impossible.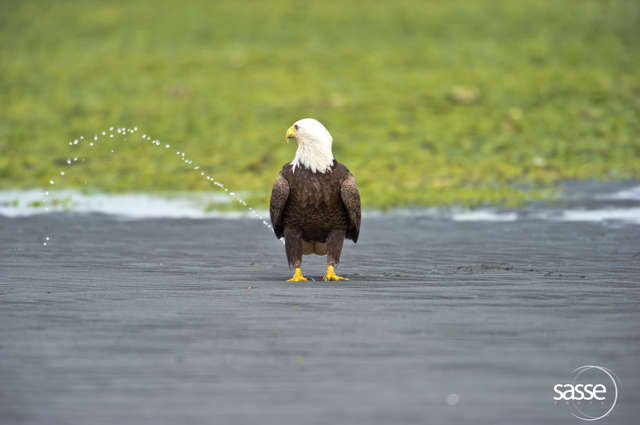 Like most birds, eagles expel their pee and poop at the same time. "It's very white and it's completely different," Sasse said. "It's like a normal bird's only it comes in quite a big squirt. It's not like water."
So, then, why did it look as if the eagle was going number one? The explanation was quite simple: geoduck clams.
"You'll only find geoducks at very low tide and you might not know you're standing over one until it squirts you with water as it swiftly digs itself deeper," Sasse wrote in a Facebook post. "This is exactly what happened in this picture! And the eagle looks so surprised as if he is saying, 'That was not me!'"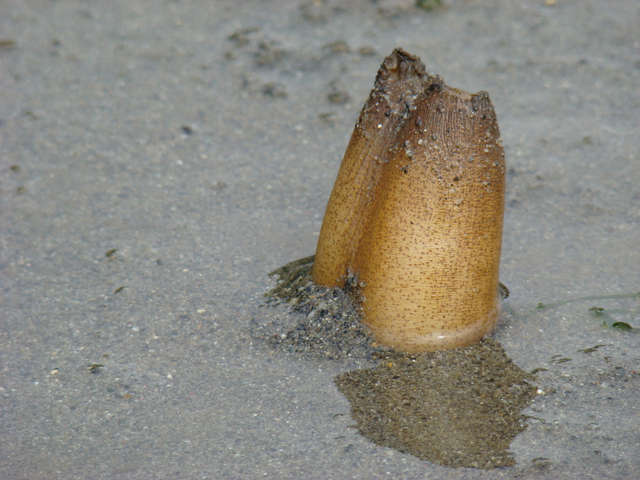 Sasse's Facebook followers agreed that the timing of the photo was perfect, making it a once-in-a-lifetime shot.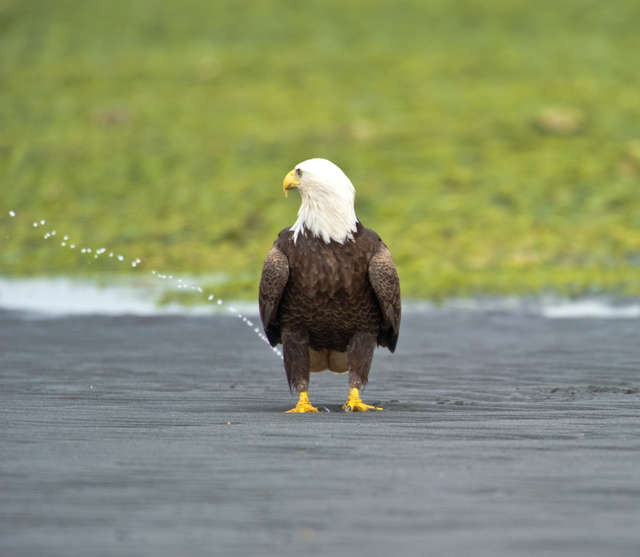 Sasse's photography usually verges on the serious side, but in this case, he was glad to brighten people's days.
"I published that one picture, and it became a hit by surprise — people liked it," Sasse said. "Sooner or later you're going to catch something that nobody else has done. And this was one of those hilarious moments."
https://www.thedodo.com/in-the-wild/bald-eagle-peeing-photo-goes-viral
6 replies, 2429 views
Replies to this discussion thread
| | | | |
| --- | --- | --- | --- |
| 6 replies | Author | Time | Post |
| This Awkward Photo Of An Eagle Isn't What It Seems (Original post) | catbyte | Tuesday | OP |
| | Marie Marie | Tuesday | #1 |
| | Cracklin Charlie | Tuesday | #2 |
| | PJMcK | Tuesday | #3 |
| | Karadeniz | Wednesday | #4 |
| | yuiyoshida | Wednesday | #5 |
| | IronLionZion | Thursday | #6 |
---
Response to catbyte (Original post)
Tue Sep 10, 2019, 06:53 PM
Marie Marie (7,015 posts)
1. Very cool
---
Response to catbyte (Original post)
Tue Sep 10, 2019, 07:02 PM
Cracklin Charlie (7,271 posts)
2. Last time I saw a bald eagle...
It was riding an iceberg down the Missouri River.

I wish I would have had my camera.
---
Response to catbyte (Original post)
Tue Sep 10, 2019, 10:08 PM
PJMcK (10,376 posts)
3. Bald eagles are remarkable birds!
There are two eagles that live in the trees at our house on the Delaware River. They are huge! Their wingspans exceed 6 feet and they have ferocious talons.

When we go to the river to relax on the deck, they glare at us, seemingly saying, "What are you doing in our yard?!" Frankly, they're a little scary.

They're also magnificently beautiful. The coloring of their plumage is artistic and sublime. They fly with a grace and power that is Olympic in its athleticism. And they can be fierce hunters. Last week, we were watching them fly over the river at about 5:00 pm when they both made fast dives from above to snatch fish from the water and then fly upwards with their dinners in their claws.

I love the first picture in the OP. It captures so much of their power and beauty.

Thanks for the post, catbyte!
---
Response to catbyte (Original post)
Wed Sep 11, 2019, 02:00 PM
Karadeniz (2,875 posts)
4. So cute!
---
Response to catbyte (Original post)
Wed Sep 11, 2019, 06:52 PM
yuiyoshida (29,068 posts)
5. That's a big clam
edible?
Love clams...
---
Response to yuiyoshida (Reply #5)
Thu Sep 12, 2019, 08:19 AM
IronLionZion (26,107 posts)
6. Yes you can eat them
Everything You Need to Know About Geoducks
https://www.eater.com/2016/7/17/11691958/what-is-geoduck
Geoduck meat is sweet and clear in taste. Seattle-based chef Ethan Stowell features geoduck seasonally at Goldfinch and How to Cook a Wolf. "It's definitely unique to the Northwest, and I think we should be proud of it," Stowell says. "It's a raw clam, and it's as sweet as it gets for something that comes from the ocean."
A delicate, crunchy texture distinguishes the geoducks from other mollusks too. "When it's raw, it has that crunchy clam quality that I think is very unique to the geoduck," Brandon Jew, San Francisco-based chef and owner of Master Jiu's, says. "Because of how dense the trunk is, when you cut it very thin on the bias, you get a specific kind of snap when you bite into it."