Sat Jul 6, 2019, 10:27 AM
left-of-center2012 (17,052 posts)
The World's First Long-Range Solar Car - The 4-Passenger Lightyear One
It can charge directly from the sun, but also can be plugged in. So effectively, you charge a lot faster from any power outlet. You can charge up to 400 km (248 miles) at night from an ordinary household electrical outlet.
The car is constructed from high-tech materials to have the lowest weight possible while maintaining stringent passenger safety.
The roof and hood are comprised of five square meters of integrated solar cells in safety glass so strong that a fully-grown adult can walk on them without causing dents.
Lightyear One is propelled by four independently driven wheels, so no energy is lost in transit from the engine to the wheel.
In addition to solar power, Lightyear One can be charged at a (fast)charging station or a regular outlet.
Crash testing has yet to be undertaken, but they're looking forward to crashing one "for science."
Since new technology has a high unit cost at the beginning, they have to start in an exclusive market—the first production vehicles cost $127,000. But the next models Lightyear plans to develop will have a significantly lower purchase price.
Combined with the low operating costs of the vehicle—a low price per kilometer—the third, final step will be to provide truly sustainable cars that are more affordable to use than the cost of gas you would need to drive a combustion car. "This will prove to be our most important tipping point in the near future, and it will pave the way for a car fleet that is one hundred percent sustainable."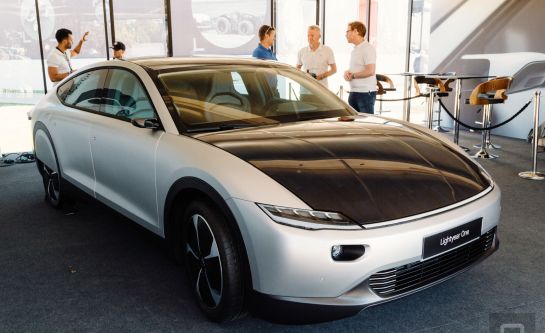 https://www.goodnewsnetwork.org/first-4-passenger-solar-car-lightyear-one/
5 replies, 734 views
Replies to this discussion thread
| | | | |
| --- | --- | --- | --- |
| 5 replies | Author | Time | Post |
| The World's First Long-Range Solar Car - The 4-Passenger Lightyear One (Original post) | left-of-center2012 | Jul 6 | OP |
| | JohnnyRingo | Jul 6 | #1 |
| | UpInArms | Jul 6 | #2 |
| | humbled_opinion | Jul 6 | #3 |
| | SunSeeker | Jul 6 | #4 |
| | djacq | Jul 6 | #5 |
---
Response to left-of-center2012 (Original post)
Sat Jul 6, 2019, 12:26 PM
JohnnyRingo (13,484 posts)
1. But it stops at night!
LOL. Not really, but that area of photo cells does less than what most people think. Sure, it'll help under ideal conditions, but with current technology in solar cells it doesn't add all that much to the range. I'm invested in solar energy and expect a breakthrough on that front in the fairly short distant future.
As it is now, this is just a concept car meant to bring in investors- and they'll need a lot to bring it to production. Crash testing alone, required before a car can be sold in the US would see a need for about seven or eight to test it in all scenarios (front, rear, rollover, etc). That's why the company is looking to "crash one for science" instead of certification.
Right now the car is a hype to generate cash for future development.
Per Jalopnik:
The Lightyear One 'Solar Car' Is Amazing But Isn't Quite What You Think It Is
The tagline of Lightyear One's website reads "Lightyear One | The electric car that charges itself with sunlight," and while, yes, this is technically true, in practice it's really sort of bullshit. Yes, the car does have about 15 square feet of fairly efficient solar panels, but calling it a "solar" car like many outlets are doing, is very misleading.
It's an impressively designed EV, overall, with four hub motors, one per wheel, it'll apparently go from 0 to 62 mph in an OK 10 seconds, has advanced torque vectoring, and a claimed range of 450 miles. Lightyear claims that the solar panels used on the hood, roof, and rear window area of the car provide 20 percent more energy than conventional solar cells.
And, yes, if this is all accurate, the Lightyear One's solar charging capability is much better than other cars that have claimed to be powered by the sun, like the Karma Revero, which had a solar roof that was, charitably, a joke.
While the Lightyear One appears to have much more solar panel coverage, let's look into what it would actually take to run the car on solar power, like its website suggests.
Continued here:
https://jalopnik.com/the-lightyear-one-solar-car-is-amazing-but-isnt-quite-w-1835853011
---
Response to left-of-center2012 (Original post)
Sat Jul 6, 2019, 12:30 PM
UpInArms (45,702 posts)
2. That is so very cool
The world needs to be driving this type of vehicle
---
Response to left-of-center2012 (Original post)
Sat Jul 6, 2019, 01:09 PM
humbled_opinion (4,413 posts)
3. This is the future
We need one of our candidates to jump on this as a viable solution to replace all combustion engine vehicles in say 15 years, of course the cost would have to be subsidized massively for anyone trading in a gas vehicle and completely based on their income level.
---
Response to left-of-center2012 (Original post)
Sat Jul 6, 2019, 01:28 PM
SunSeeker (35,818 posts)
4. I WANT ONE!!!
---
Response to left-of-center2012 (Original post)
Sat Jul 6, 2019, 01:43 PM
djacq (920 posts)
5. It's all about range, speed, and affordability.
Still happy with my 2013 Honda Civic Hybrid.
Still waiting for the Hydrogen Fuel Cell Car to compete.