Tue Mar 12, 2019, 07:38 AM
Omaha Steve (67,742 posts)
Nebraska family built a lifelike Ford Mustang out of snow, and a state trooper gave it a ticket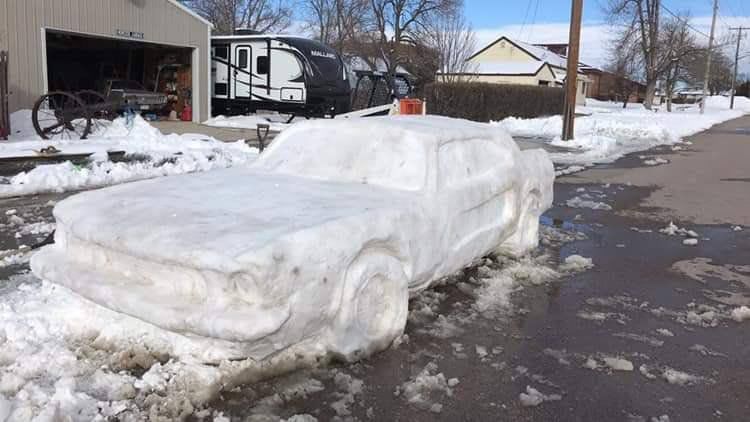 By Chris Peters / World-Herald staff writer 6 hrs ago
A family in northwest Nebraska built a Ford Mustang out of snow so lifelike that a state trooper gave it a ticket.
During Saturday's snow in Chadron, Jason Blundell, a 43-year-old concrete plant manager, and his two teenage kids shoveled neighboring driveways into a massive mound and created a work of art. They spent five hours sculpting a clone of the 1967 Ford Mustang GTA that they store in their garage, then they posted a photo to Facebook.
That caught the eye of Nebraska State Patrol Sgt. Mick Downing, who attends the same church as the family. He drove by and recorded himself giving the sculpted car a pretend tow notice, then posted the video on the patrol's social media channels.
"Holy cow, this thing blew up," Do
https://www.facebook.com/NEStatePatrol/videos/2231861447026444/?t=32
FULL story:
https://www.omaha.com/news/nebraska/nebraska-family-built-a-lifelike-ford-mustang-out-of-snow/article_3af5bc5a-27da-51d1-a4af-0e3fd721b511.html
6 replies, 3711 views
Replies to this discussion thread
| | | | |
| --- | --- | --- | --- |
| 6 replies | Author | Time | Post |
| Nebraska family built a lifelike Ford Mustang out of snow, and a state trooper gave it a ticket (Original post) | Omaha Steve | Tuesday | OP |
| | panader0 | Tuesday | #1 |
| | Omaha Steve | Tuesday | #3 |
| | mopinko | Tuesday | #4 |
| | Maraya1969 | Tuesday | #5 |
| | FailureToCommunicate | Tuesday | #2 |
| | Aristus | Tuesday | #6 |
---
Response to Omaha Steve (Original post)
Tue Mar 12, 2019, 09:07 AM
panader0 (18,274 posts)
1. Good to see you posting Steve.
---
Response to panader0 (Reply #1)
Tue Mar 12, 2019, 09:43 AM
Omaha Steve (67,742 posts)
3. I'm doing very well on trazodone
https://www.alzdiscovery.org/news-room/announcements/addf-funded-scientists-discover-two-drugs-for-alzheimers-ftd
ADDF-FUNDED SCIENTISTS DISCOVER TWO REPURPOSED DRUGS WITH PROMISE FOR ALZHEIMER'S AND FTD
A team of scientists from the Medical Research Council (MRC) in the UK have found two drugs, which block brain cell death and prevent neurodegeneration in preclinical studies. Their findings were published today in Brain.
Misfolded proteins build up in the brain in several neurodegenerative diseases and are a major factor in dementias such as Alzheimer's and Parkinson's as well as prion diseases. In previous studies, the team found that the accumulation of misfolded proteins in mice with prion disease over-activates a natural defense mechanism, "switching off" the vital production of new proteins in brain cells. They then found switching protein production back on with an experimental drug halted neurodegeneration. However, the drug tested was toxic to the pancreas and not suitable for testing in humans.
In the latest study, published today in Brain, the team tested 1040 compounds from the National Institute for Neurological Disorders and Stroke. They found a number of suitable candidate compounds that could be tested in models of prion disease and a form of frontotemporal dementia (FTD), both of which causes minimal side effects.
The researchers identified two drugs that restored protein production rates in mice—trazodone hydrochloride, a licensed antidepressant, and dibenzoylmethane (DBM), a drug now in clinical trials to treat cancer. Both drugs prevented the emergence of signs of brain cell damage in most of the prion-diseased mice and restored memory in the FTD mice. In both mouse models, the drugs reduced brain shrinkage, which is a feature of neurodegenerative disease.
FULL story at link above,
---
Response to Omaha Steve (Reply #3)
Tue Mar 12, 2019, 09:58 AM
mopinko (52,245 posts)
4. i took that for a while for my fibro.
i slept like a baby on that stuff. weird but entertaining technicolor dreams, which was a great perk for me, as i have a lot of nightmares.
it gave me some problems, tho, and i stopped taking it.
have often thought about trying it again.

the link between sleep and health, esp brain health, has always seemed like something we need to understand a whole lot better.
---
Response to Omaha Steve (Reply #3)
Tue Mar 12, 2019, 01:18 PM
Maraya1969 (14,258 posts)
5. So glad to hear that this is working for you Steve.
I've taken Trazadone for sleep for awhile now.
---
Response to Omaha Steve (Original post)
Tue Mar 12, 2019, 09:32 AM
FailureToCommunicate (9,770 posts)
2. Wouldn't it be cool to mold a snow tow truck hooking up to take it away.
Nice to see you 'back' Omaha Steve.
---
Response to Omaha Steve (Original post)
Tue Mar 12, 2019, 01:54 PM
Aristus (45,557 posts)
6. If they had put a black snowman behind the wheel,
the cop would have shot it...