Wed Jun 13, 2018, 01:36 PM
mahatmakanejeeves (20,865 posts)
The dark, twisted story of National Lampoon and Cheeseface
The dark, twisted story of National Lampoon and Cheeseface
The only assassination in celebrity animal history January 3, 2017
The unlucky dog known as Cheeseface may be the only case of deliberate assassination in celebrity animal history.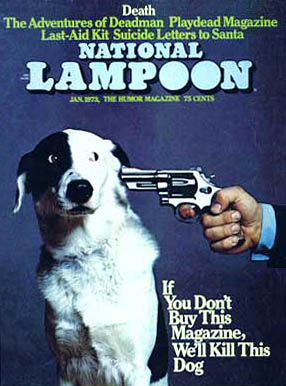 In 1973, Cheeseface appeared on the cover of National Lampoon magazine with the caption "If You Don't Buy This Magazine, We'll Kill This Dog". In early 1976, an unidentified assailant tracked down Cheeseface to the farm where he lived and killed him.
The dog was a professional. Like a model, it sat perfectly still with a blank expression. Finally, Lampoon's art director Michael Gross had the idea of standing off-camera behind the dog's trainer (who was holding the gun) and shouting the dog's name. Hence the perfect pathos of the dog's sidelong glance.
Apparently, when this edition of the National Lampoon was released in Jan. 1973, it caused many readers to go into a frenzy and buy the magazine to avoid the risk of an innocent dog being killed, ... In early 1976, Susan Devins, who'd just completed her master's degree in library sciences, was hired as an assistant copy editor at National Lampoon. Early on her first day, she received a phone call.
"Cheeseface is dead," the caller said. "Cheeseface the dog is dead."
Someone had tracked down the black-and-white mutt from the January 1973 cover at the farm where he lived and shot him. After initially thinking the call was a joke, Devins realized the bizarre event was real and that Cheeseface had been assassinated. She burst into tears, thinking, "Oh my god, what have I gotten myself into."
Updated 12 February 2018:
I received an email from the Ronald Harris, the photographer who shot that infamous cover. ... He clarifies how he, not Michael Gross, was behind that famous expression. ... Thanks so much for the fascinating reminiscence, Robert!
3 replies, 389 views
Replies to this discussion thread
| | | | |
| --- | --- | --- | --- |
| 3 replies | Author | Time | Post |
| The dark, twisted story of National Lampoon and Cheeseface (Original post) | mahatmakanejeeves | Jun 2018 | OP |
| | braddy | Jun 2018 | #1 |
| | red dog 1 | Jun 2018 | #2 |
| | bif | Jun 2018 | #3 |
---
Response to mahatmakanejeeves (Original post)
Wed Jun 13, 2018, 02:19 PM
braddy (2,807 posts)
1. I kept that cover on my wall for awhile.
---
Response to mahatmakanejeeves (Original post)
Wed Jun 13, 2018, 03:50 PM
red dog 1 (12,345 posts)
2. I'd like to track down the evil bastard who murdered Cheeseface
It makes me wish I were a private investigator, (or could afford to hire one for the job)

I used to subscribe to National Lampoon, and I loved the magazine; but whomever came up with the idea to do that cover deserves the same fate as Cheeseface, imo.

(Cheeseface is a good moniker for Shitler)


---
Response to mahatmakanejeeves (Original post)
Wed Jun 13, 2018, 08:10 PM
bif (17,326 posts)
3. I bought that issue.
Wish I had saved all those issues. I was a huge fan, right from the beginning. Have you seen the movie about Doug Kenney? It's on Netflix and is quite good.