Sat Dec 1, 2012, 01:40 PM
AgingAmerican (12,958 posts)
7 replies, 1471 views
Replies to this discussion thread
| | | | |
| --- | --- | --- | --- |
| 7 replies | Author | Time | Post |
| Climate Change Data - CO2 Emmisions Worse Than Thought (Original post) | AgingAmerican | Dec 2012 | OP |
| | limpyhobbler | Dec 2012 | #1 |
| | ReasonsVoice | Dec 2012 | #2 |
| | AgingAmerican | Dec 2012 | #3 |
| | D Gary Grady | Dec 2012 | #4 |
| | AverageJoe90 | Dec 2012 | #6 |
| | AverageJoe90 | Dec 2012 | #5 |
| | Skittles | Dec 2012 | #7 |
---
Response to AgingAmerican (Original post)
Sat Dec 1, 2012, 02:27 PM
limpyhobbler (8,244 posts)
1. k/r
---
Response to AgingAmerican (Original post)
Sat Dec 1, 2012, 05:08 PM
ReasonsVoice (9 posts)
2. Can't even agree
We can't even agree as a nation, which policy for economy is the best. HOW THE HELL, do you think that we can say global warming is caused. The Earth is a huge and complex thing. If anyone is astronomically inclined, the Moon is slowly leaving Earth's orbit, the Sun is approaching solar maximum. In reality it could be those, just climate shift in general...so many MILLIONS of possibilities.

One thing to be sure, man isn't the cause of global warming, nor climate change. It is the Earth regulating itself. May I add, that in the 80's they thought it was global COOLING?
---
Response to ReasonsVoice (Reply #2)
Sat Dec 1, 2012, 05:12 PM
AgingAmerican (12,958 posts)
3. There is scientific consensus
There is no doubt in the scientific world. Only the polluters and their surrogates (the republican party) imply otherwise. The republican party is a suicide cult.
---
Response to ReasonsVoice (Reply #2)
Sat Dec 1, 2012, 06:28 PM
D Gary Grady (133 posts)
4. You've been misled, Voice old fellow
It's been known since the 1800s that without greenhouse gases such as CO2 in our atmosphere, the Earth would be tens of degrees colder, so it's a good thing we have them. But as scientists first noted in the late 1800s, burning fossil fuels adds carbon to the carbon cycle, increases the CO2 in the air, and absent some offsetting cooling effect that would warm the planet -- basic chemistry and physics. By the mid-20th century the problem was fairly widely known. A Bell Telephone science special on the weather in 1958 mentioned human-caused global warming (you can find a clip on YouTube). A National Academy of Sciences report on air pollution prepared at the request of President Johnson in the mid-1960s had an extensive section on global warming.

In the 1970s (not the 1980s -- get your misinformation right) some popular magazines such as Time reported on a minority view among atmospheric scientists that particulate pollutants might be reflecting enough sunlight away from Earth to offset increased greenhouse warming, but as a survey article in the Bulletin of the American Meteorological Society noted, a survey of papers published in the 60s-80s showed that it was never more than a small minority view. And the evidence since then has only grown stronger that human use of fossil fuels explains the large observed increase in CO2 in the air and that increased CO2 has been making the planet warmer. (Incidentally, I first learned about the science behind anthropogenic global warming as an undergraduate studying physics in the early 1970s. The notion that it's some recent fad is simply not true.)

Several years ago a physicist named Richard Muller, one of a small number of legitimate scientists skeptical of anthropogenic global warming, launched an independent scientific collaboration to take a new look at global temperature trends that would be free of the problems he had criticized in other studies. When published, their results closely matched those of the earlier studies, including the sharp observed warming in recent decades. Muller and his colleagues then examined a whole series of possible explanations for that warming including such things as solar variability, volcanic eruptions, and other potential natural causes. The one thing that by far most strongly matched the observed changes was human burning of fossil fuels.
---
Response to D Gary Grady (Reply #4)
Sat Dec 1, 2012, 08:31 PM
AverageJoe90 (10,745 posts)
6. Very true.
I mean, it's been known for practically forever, so some people may ask, "Why are there so many deniers out there"? Part of the blame for the relatively recent "AGW is a hoax" phenomenon lies with corrupt crooks within the energy industry; it also seems to have been inspired by tobacco companies' obfuscation of research into the effects of cigarette smoking in earlier years.
In fact, here's the Wiki article for those who are seeking answers:
http://en.wikipedia.org/wiki/Climate_change_denial#History
A very interesting thing I noted, was this little tidbit:

"In 1984, Robert Jastrow, Frederick Seitz and William Nierenberg were instrumental in founding the George C. Marshall Institute, initially to defend Ronald Reagan's Strategic Defense Initiative (SDI) against other scientists' boycott of it. Oreskes said that this first campaign of the Institute's, from 1984 to 1989, involved demanding equal air-time in the media when mainstream physicists and engineers were critical of the SDI, and producing militarily alarmist material such as the article America has five years left, published in 1987 by Jastrow in the National Review. At the same time, Seitz was employed as a consultant to R. J. Reynolds Tobacco Company. His principal strategy on their behalf, said Oreskes, was to defend their products by doubt-mongering, by insisting that the science was unsettled and therefore that it was always premature for the US government to act to control tobacco use."
Is it perhaps possible certain interests may be playing this same general game with climate change, both demanding equal time and insisting that the basic science isn't settled,
and
perhaps, maybe, helping to push out some of the most extreme doom-and-gloom material(see my other post for a couple of examples), thereby combining both the tobacco industry(insisting that the science isn't settled and/or that concerns are manufactured.) AND pro-SDI tactics(but with an ironic twist; in this case, pushing out some of the most extreme material to try to discredit the very valid mainstream science in the eyes of the public)?
Definitely something to think about, IMHO. In any case, we do, unfortunately, face a rather deeply rooted conspiracy and it's going to take a lot of work to pull these weeds out of the proverbial garden; we may have made progress, but only when the Koch Bros. are no longer able to buy media time, when WUWT, Monckton, et al. are finally shut down once and for all, only then can we have a sure possibility of success.
---
Response to ReasonsVoice (Reply #2)
Sat Dec 1, 2012, 06:39 PM
AverageJoe90 (10,745 posts)
5. Hate to break it to you, but.....
Unfortunately, the science seems to indicate otherwise.
97% of climate scientists are in general agreement that the world IS warming somewhat and that humans are responsible for at least a good portion, if not an absolute majority, of the problem:
http://skepticalscience.com/global-warming-scientific-consensus.htm
Here's a few graphs for you:
http://sks.to/escalator
(Well done graph. Possibly the best of the bunch!)
(A warning: Roy Spencer is a skeptic and not exactly the best source of information, but this graph's data appears to be accurate, even though the interpretation seems rather flawed.)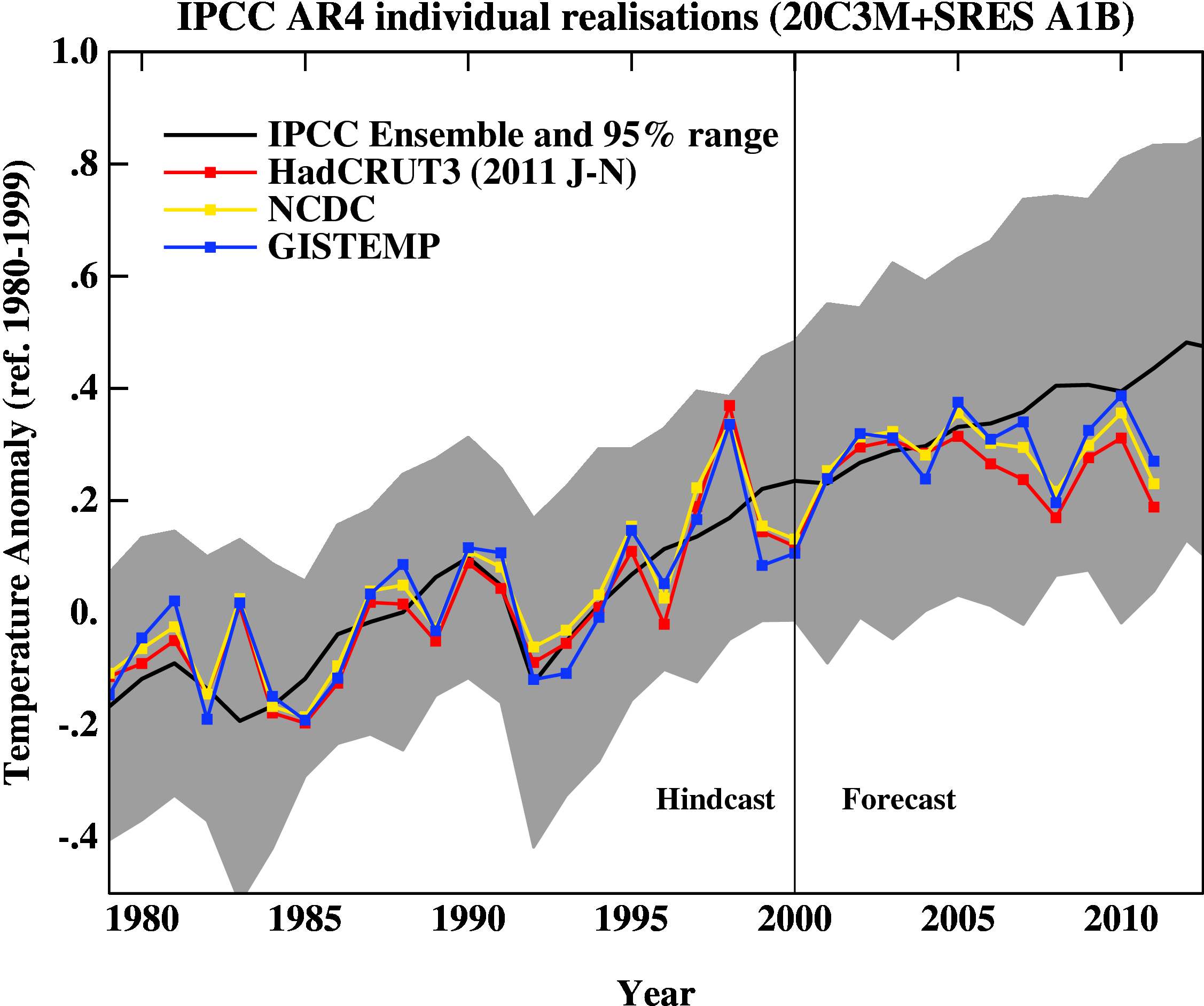 (This one isn't quite totally up to date but appears to be genuine)
And, of course, Arctic ice has been melting quite a clip faster than many expected.
However, though, with all that aside, I am willing to grant you that there has, unfortunately, been a bit of hardcore doom-and-gloom, hype, and even the occasional fearmongering making the rounds(although mostly restricted to people on the fringes of the issue); you may remember, for example, a piece written by Malcolm P.R. Light that basically made the claim that all life on Earth would be extinct by mid-century, us humans included(there was quite a hullabaloo over this here on DU back in the summer)...which, of course, turned out to be horseshit. Then a person named Guy McPherson, another fringe weirdo who's about as nutty as you can get without being openly outed as such, who claimed that we'd be hitting 16*C by 2100; the best models say that 6-7*C could happen by 2100, but
only
under the BAU(Business-as-Usual) scenario and
only if
all of the possible feedbacks play out to their worst possible extent(that is, much worse than the average prediction). Also, more recently, climate blogger Dave Roberts pointed out a paper that claimed that that a 12 degree Celsius rise by 2300 would result in temperature rises of up to
NINETY
, yes, you read that correctly,
90 degrees

Fahrenheit, in places like Texas(which is just a plain crock of you-know-what).
So yeah, there is some bullshit floating around out there. And certainly. it's also true that natural variations are still occurring and always will be.
But the science is clear: the planet's warming, certain human activities are responsible, and we need to mitigate it ASAP.
---
Response to ReasonsVoice (Reply #2)
Sat Dec 1, 2012, 09:29 PM
Skittles (117,533 posts)
7. you really, REALLY need to change your moniker
the Earth regulating itself?