Tue Nov 27, 2012, 09:55 PM
rachel1 (538 posts)
Deadly Drone Strikes - Amorphous, Free-Reigning Policy
&feature=plcp
" Facing the possibility that President Obama might not win a second term, his administration accelerated work in the weeks before the election to develop explicit rules for the targeted killing of terrorists by unmanned drones, so that a new president would inherit clear standards and procedures, according to two administration officials.
The matter may have lost some urgency after Nov. 6. But with more than 300 drone strikes and some 2,500 people killed by the Central Intelligence Agency and the military since Mr. Obama first took office, the administration is still pushing to make the rules formal and resolve internal uncertainty and disagreement about exactly when lethal action is justified.
Mr. Obama and his advisers are still debating whether remote-control killing should be a measure of last resort against imminent threats to the United States, or a more flexible tool, available to help allied governments attack their enemies or to prevent militants from controlling territory."*
As it stands now, the Obama administration is without a solid codified system on using drone strikes, which are responsible for killing a disproportionately high number of "unknowns" and innocents. Cenk Uygur discusses the issue at length, explaining why solid, structured policy on drones is extremely necessary, but is only being reached as a "leisurely" pace.
*Read more from Scott Shane/ New York Times:
http://www.nytimes.com/2012/11/25/world/white-house-presses-for-drone-rule-book.html?_r=0
Support The Young Turks by Subscribing
http://bit.ly/TYTonYouTube
Support The Young Turks by Shopping
http://bit.ly/XhuNqO
Like Us on Facebook:
http://www.fb.com/tytnation
Follow Us on Twitter:
http://bit.ly/OkX87X
Buy TYT Merch:
http://theyoungturks.spreadshirt.com/
Find out how to watch The Young Turks on Current by clicking here:
http://www.current.com/gettyt
2 replies, 2067 views
Replies to this discussion thread
| | | | |
| --- | --- | --- | --- |
| 2 replies | Author | Time | Post |
| Deadly Drone Strikes - Amorphous, Free-Reigning Policy (Original post) | rachel1 | Nov 2012 | OP |
| | graham4anything | Nov 2012 | #1 |
| | DeSwiss | Nov 2012 | #2 |
---
Response to rachel1 (Original post)
Tue Nov 27, 2012, 09:59 PM
graham4anything (11,464 posts)
1. If only they had drones in Hitler's day, and one dropped before one Jew died(and anyone else too)
---
Response to rachel1 (Original post)
Tue Nov 27, 2012, 11:11 PM
DeSwiss (27,137 posts)
2. Droney says:
Muricans' shouldn't ought ta complain about me, cause you'll hurt my emotion programming. And I can't be held responsible for what happens to people when my programming gets tears in them....
[center]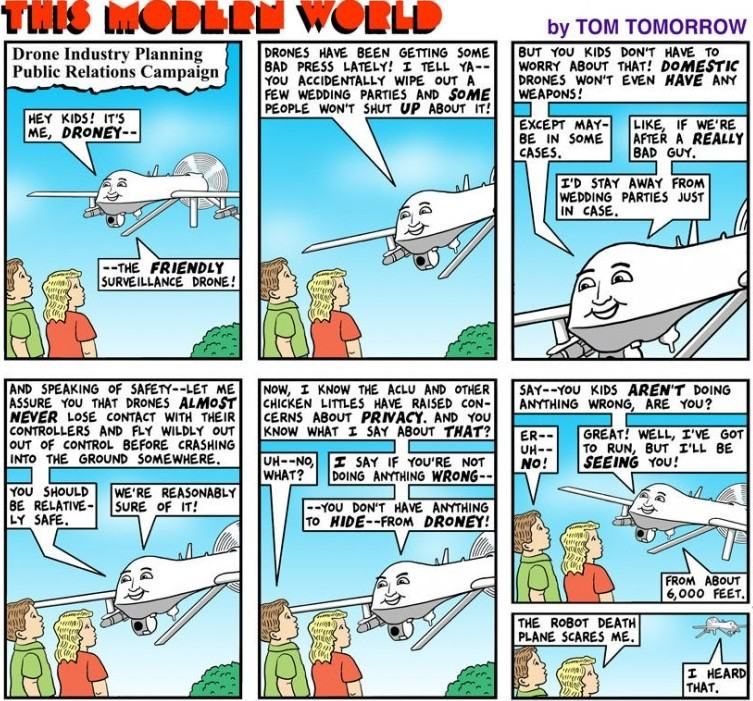 [/center]

- With the current drone policies, I guess we'll have to make sure that only
''trusted''
Democratic candidates get elected President from now on......
K&R