Sun Jul 26, 2020, 11:15 PM
Rhiannon12866 (130,756 posts)
9 replies, 1301 views
Replies to this discussion thread
| | | | |
| --- | --- | --- | --- |
| 9 replies | Author | Time | Post |
| Al Franken on with Brian Williams - MSNBC - 7/22/20 (Original post) | Rhiannon12866 | Jul 2020 | OP |
| | MontanaMama | Jul 2020 | #1 |
| | Rhiannon12866 | Jul 2020 | #2 |
| | MontanaMama | Jul 2020 | #3 |
| | Rhiannon12866 | Jul 2020 | #4 |
| | mountain grammy | Jul 2020 | #5 |
| | Rhiannon12866 | Jul 2020 | #6 |
| | DFW | Jul 2020 | #8 |
| | Rhiannon12866 | Jul 2020 | #9 |
| | Bluepinky | Jul 2020 | #7 |
---
Response to Rhiannon12866 (Original post)
Mon Jul 27, 2020, 12:12 AM
MontanaMama (17,030 posts)
1. Al is a truth teller for our times.
I sorely miss him in the senate....that said, we havenít heard the last of him I donít think.
---
Response to MontanaMama (Reply #1)
Mon Jul 27, 2020, 12:19 AM
Rhiannon12866 (130,756 posts)
2. He sure is and I feel the same way, we need him desperately right now and I wish he'd run again.
I used to actually watch his Air America radio show, it used to be broadcast late night on TV on Sundance - and he was just brilliant! Not to mention his time in the Senate, he was our conscience and we sure could use him now!
---
Response to Rhiannon12866 (Reply #2)
Mon Jul 27, 2020, 12:24 AM
MontanaMama (17,030 posts)
3. I used to listen to him on Air America...
Rachel too! It was eons ago...but Al Franken came to my little city of Missoula, Montana with his Air America broadcast. He set it up in the community theater hall... it was wonderful. If I remember correctly, I called in sick to work to attend.
---
Response to MontanaMama (Reply #3)
Mon Jul 27, 2020, 12:30 AM
Rhiannon12866 (130,756 posts)
4. That is very cool!
I listened to Rachel on Air America, too - she was always excellent. And I was right here on DU the night she was first on MSNBC, substituting for Keith Olbermann. We were all pulling for her and she was nervous to begin with, but got her footing and ended up doing a stellar job!
And that's just terrific that you got to see Al Franken in person! He's not just the smartest guy in any room, but he also has humor so he's very entertaining!
---
Response to Rhiannon12866 (Reply #4)
Mon Jul 27, 2020, 01:38 AM
mountain grammy (22,996 posts)
5. Hey y'all
Al has a podcast weekly. I listen on SiriusXM every Saturday. Itís wonderful.
---
Response to mountain grammy (Reply #5)
Mon Jul 27, 2020, 01:43 AM
Rhiannon12866 (130,756 posts)
6. Thanks! It also looks like it's available on YouTube
---
Response to Rhiannon12866 (Reply #2)
Mon Jul 27, 2020, 04:45 PM
DFW (42,567 posts)
8. He IS interested in elective office again, but is very down on the Senate
He is less than thrilled about serving again with his fellow Democratic Senators who fell en masse like a ton of bricks for Roger Stone's obvious scam. And don't even START asking Franni about that--if Al is slightly bitter, Franni is still furious at them. Two of them acted in the most cynical fashion. They were at the forefront of urging him to resign at a time when Al was under discussion as a possible presidential candidate this year. He really wasn't interested, but they never bothered to ask him that, and saw him as a formidable rival. They then declared, themselves, after he was out of the way.
I don't blame him for being of two minds there. His bitterness about being thrown under the bus for a made-up scam runs deep. He would like to serve again in some capacity, but the Senate is not high on his wish list. Of the 33 Democratic Senators who trashed him publicly, eight--count 'em, all of eight-- have apologized to him in private, and NONE of them have had the guts to apologize publicly.
Leaving it all aside for a second to ring in 2020: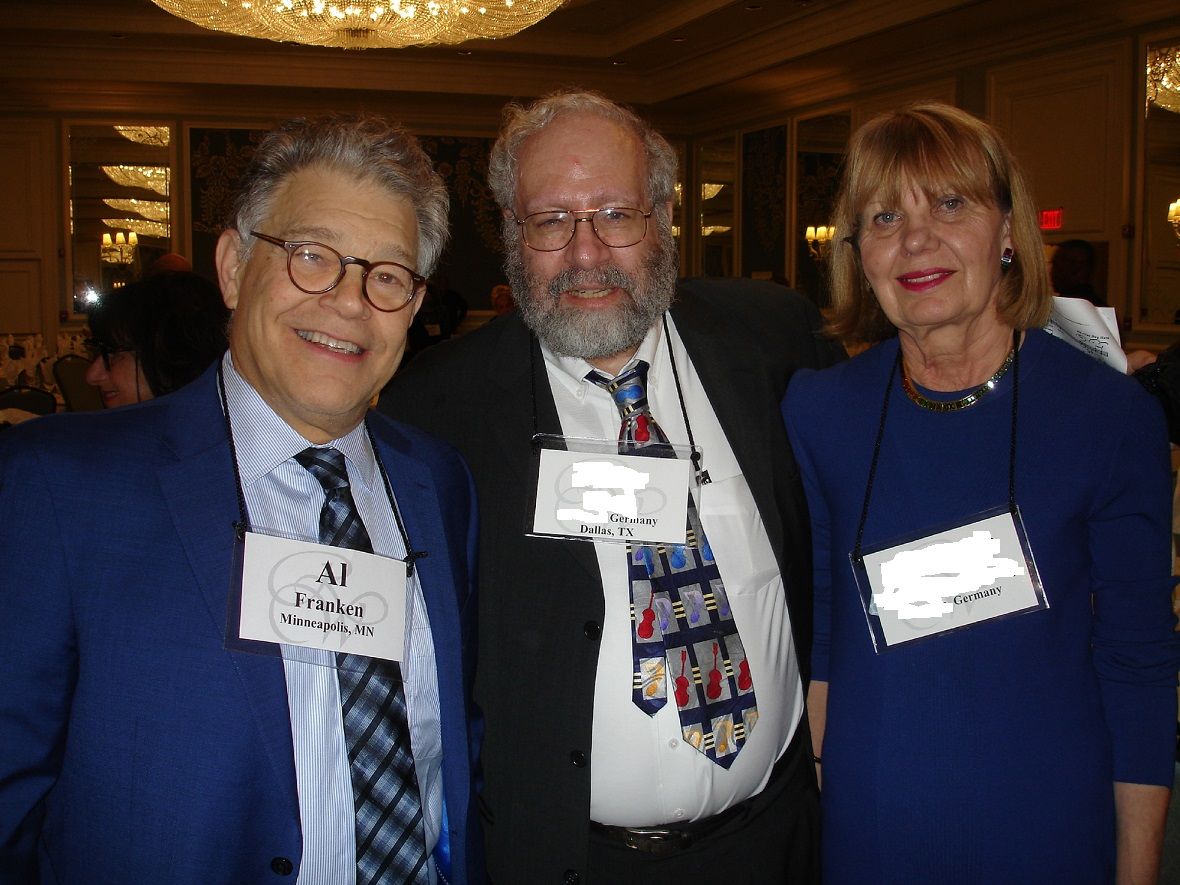 ---
Response to DFW (Reply #8)
Tue Jul 28, 2020, 04:02 AM
Rhiannon12866 (130,756 posts)
9. I thought of that right when I was typing my reply - and I certainly can't blame him.
Serving with those who turned on him with dubious evidence would be awkward as hell - as much as we would like to see him return.
And I certainly take your point about his chief critics - one of them is my senator (and former congressperson - NY-20) and I admit that it's bothered me greatly, especially since we used to be such strong supporters. She managed to run against and defeat a long-time Republican incumbent who the local paper said "could have the job for life, if he wanted it." And that she was appointed senator when Senator Clinton was appointed as Obama's SoS was viewed as a positive thing for the area.
Back when she first ran in 2006 was pretty exciting for this little burg when the biggest draw possible came here to campaign for her. There was standing-room-only at the initial campaign event held at the local airport because President Clinton came to speak and that was pretty exciting. Even Democratic presidential candidates rarely bother to show up since New York, as a "blue state," is viewed as a done deal.
As thrilling as it was to see him (and he is a brilliant speaker!), I did wonder why Hillary Clinton, as our sitting senator, hadn't come instead, but I'm guessing she likely had her hands full at the time and I read later that she was advising the campaign, had recommended that 2006 was the optimum time to run, and of course she was right.
And the other thing that's bothered me (and I'm hardly the only one) is that not only was our sitting senator one of the leaders calling for Senator Franken's resignation, but I've seen other interviews in which she's said that President Clinton should have stepped down back when harassment charges were brought against him - and I honestly credit him and his high-profile support for much of the success of her campaign! And, as I've since learned, both Clintons were actively working to elect her to public office. She obviously wouldn't be where she is now without the support of the Clintons.
So I'm seeing a pattern here and I don't get it, either. I can't speak for the others who called for Al Franken's resignation, but it was a huge loss for all of us, he's always been popular with those of us here in New York and I sure hope that we haven't seen the last of him.
And thanks for the great pic! I recognize everyone in that photo!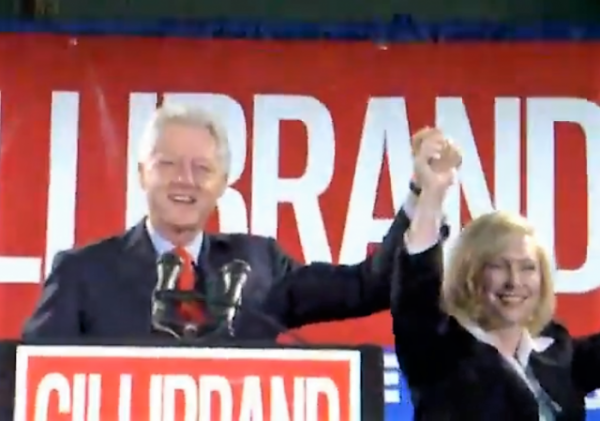 ---
Response to Rhiannon12866 (Original post)
Mon Jul 27, 2020, 10:28 AM
Bluepinky (1,997 posts)
7. He's smart enough, he's good enough, and gosh darn it, people like him!
I love Al Franken. Brains, humor and integrity, whatís not to like? The Trumpers had to take him down, heís just too effective at getting to the truth.

Notice how nobody on the Repub side is funny or is able to make people laugh? Itís all about hate, anger, money and taxes with them. What little humor they have is mean and vindictive, like the class bully taunting his peers.