Fri Feb 8, 2013, 12:50 PM
marmar (70,152 posts)
The Risk Ownership Society
from
Dissent
magazine:
The Risk Ownership Society
By Steve Randy Waldman - February 6, 2013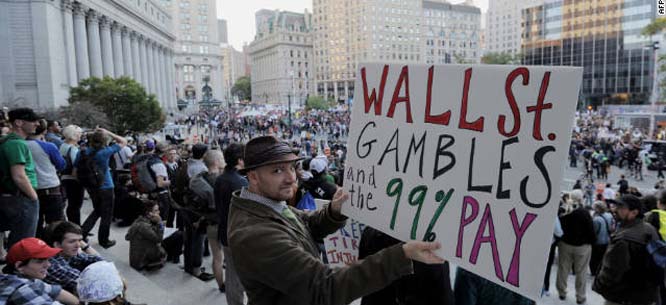 Freaks of Fortune:
The Emerging World of Capitalism and Risk in America
by Jonathan Levy
Harvard University Press, 2012, 432 pp.
It is cliché now to say that we live in a "risk society." We simultaneously celebrate "risk-takers" and blame those who undertake "risky speculations" without much pausing over the contradiction. Freaks of Fortune, by Jonathan Levy, is a history of the United States refracted through Americans' evolving conceptions of financial risk. "Risque," according to Levy, evolved from an arcane term-of-art in maritime insurance to the very anchor of what it meant to be free in nineteenth-century America.
What renders the book interesting is how familiar and natural, even self-evident and inescapable, this Gilded Age conflation of financialized risk-bearing and human autonomy remains today. The sine qua non of a free person is to own her risks, to enjoy successes or good luck, but to take responsibility for losses or setbacks. The word "own" is used advisedly. Levy describes what occurred as an "enclosure" of personal risk, both the "upside" and the "downside," into alienable property.
Contemporary outrage toward finance reinforces this commodification more frequently than it challenges it. What renders today's "banksters" detestable is not that they run financial risks, but rather a notion that Levy pulls straight from an 1856 business text: "a man had a moral 'right to risk his own capital' but 'no right to risk the property of others.'" This moment's malefactors are accused of capturing the upside of speculations while putting losses to others who had neither consented nor been compensated to bear the downside. That risk is a form of property, and that risk management must take the form of an allocation of that property, is axiomatic, invisible, and unchallenged by partisans at both ends of the pitchfork. We're just fighting over who should own what.
But in 1842, the idea that an ordinary workman "owned" his risk was new, a surprising transplantation of maritime norms to a crippled railroad employee. Levy begins with the story of Nicholas Farwell, who was denied what today we would call worker's compensation because, a court found, he enjoyed a "wage premium" for the hazards of his job: just as an insurer of a risky sea voyage enjoys a premium in exchange for accepting the cost of accidents, so too did an engineman on a railroad. Farwell sued under a common-law doctrine that, Levy tells us, "rendered 'masters' responsible for accidents caused by their 'servants.'" By making him responsible for his own risk, the judge affirmed that Farwell was not a servant but a free man who had voluntarily accepted foreseeable hazards in exchange for cash compensation. A "warrant…of protection, and a comfortable subsistence, under all circumstances…(even) when want, misfortune, old age, debility and sickness overtake him" was, according to an 1860 treatise, the prerogative of a slave, the quid pro quo that justified bondage. How could a free man expect the indemnification that a slave labored a lifetime to enjoy? ......................(more)
The complete piece is at:
http://www.dissentmagazine.org/online_articles/the-risk-ownership-society
0 replies, 661 views