Sun Feb 3, 2013, 06:16 PM
dipsydoodle (42,239 posts)
India's undiscovered gem: the hills of Meghalaya
"I'm the supreme power in my house," declared Dave the shopkeeper. "That is certain." Behind him his wife and female relatives giggled. He turned and glared until they agreed that he was definitely the boss.
The women had good reason to snigger. The shopkeeper does not own the shop – it belongs to his wife. He has four children – three sons and one daughter. But none of them went by his family name: they all had his wife's surname, and the daughter would inherit the shop.
The couple live in the Indian state of Meghalaya, one of the few places in the world with a matrilineal system, where women own land and property – and men put on a brave face.
Never heard of Meghalaya? Don't worry, you're not a wannabe Ukip member. It's in the far, far north-east of India and is one of the Seven Sisters, the seven states of India sandwiched between Bangladesh, Bhutan and Burma. The sisters are linked to the rest of India by a sliver of land just 14 miles wide at its narrowest point.
http://www.guardian.co.uk/travel/2013/feb/01/meghalaya-north-east-india-state
Its between Bhutan and Bangladesh :
http://maps.google.co.uk/maps?oe=utf-8&rls=org.mozilla:en-US
fficial&client=firefox-a&q=meghalaya+map&um=1&ie=UTF-8&hq=&hnear=0x37507e8f34bd207f:0xf5ef6117f496d6e,Meghalaya,+India&gl=uk&sa=X&ei=Xu8OUebtCeLB0gXTs4GACw&ved=0CDAQ8gEwAA
2 replies, 1695 views
Replies to this discussion thread
| | | | |
| --- | --- | --- | --- |
| 2 replies | Author | Time | Post |
| India's undiscovered gem: the hills of Meghalaya (Original post) | dipsydoodle | Feb 2013 | OP |
| | formercia | Feb 2013 | #1 |
| | freshwest | Feb 2013 | #2 |
---
Response to dipsydoodle (Original post)
Sun Feb 3, 2013, 07:18 PM
formercia (18,479 posts)
1. Here's a great video about that area:
---
Response to dipsydoodle (Original post)
Sun Feb 3, 2013, 07:44 PM
freshwest (53,661 posts)
2. Oh wow, I'd collected pictures of this place a while back. Great to see a story from there.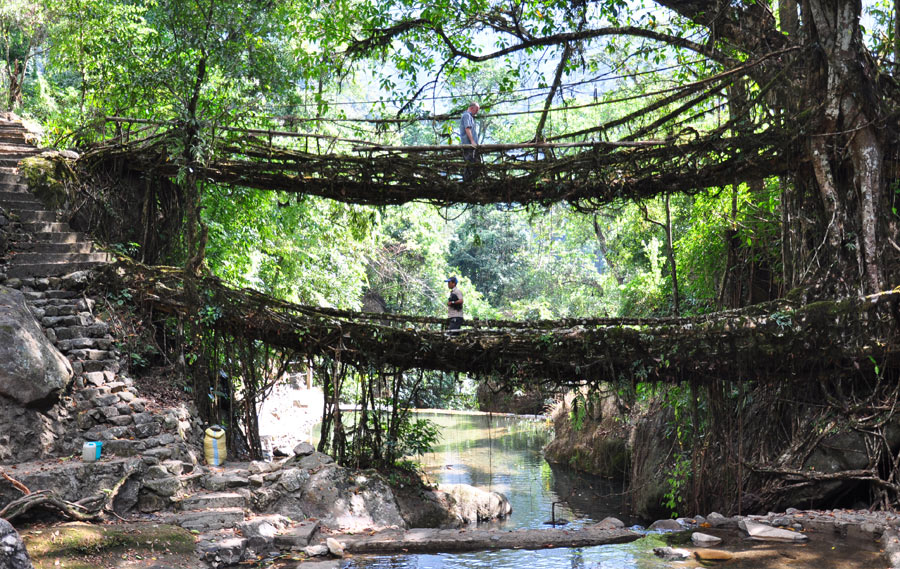 It's one of their living bridges, made of carefully woven living tree roots. It was wonderful to see people doing that. A bit from the link:

...We followed the path, turned a corner and entered Middle Earth. There before us was something from the set of The Hobbit, a bridge made out of a living tree. Its twisted roots formed the base, sides and supports of the 20m span across the river. It looked completely natural and completely insane at the same time, as if the tree had decided one day to go on an unexpected journey. I half-expected to see Bilbo Baggins scuttle across on his way to Rivendell.

In such a wet world a wooden bridge would soon rot, so for hundreds of years villagers have trained the roots of rubber trees across rivers. It could take 10-15 years for the bridges to become strong enough to be used.

This bridge was particularly ambitious because it was a double-decker, one span above the other. I gingerly stepped on to the lower crossing, about 5m above the river bed, but the lattice-work of roots was solid. There were even big flat rocks laid on the base to make a smoother walking surface. My biggest fear was that one of the sinuous roots I was using as a handhold might turn out to be a sinuous snake.

The bridges are still used – I watched as a tiny elderly woman carrying a giant basket walked nimbly across. We crossed more bridges but none was as impressive as the double-decker. It was a shame to see a new wire suspension bridge beside an old and dangerous root bridge in a couple of places...
Thanks for posting DD, I hadn't seen the people behind this society.