Thu Jan 24, 2013, 02:31 AM
madfloridian (88,114 posts)
Cartoonist captures lil Ricky Scott's raise offer for teachers brilliantly.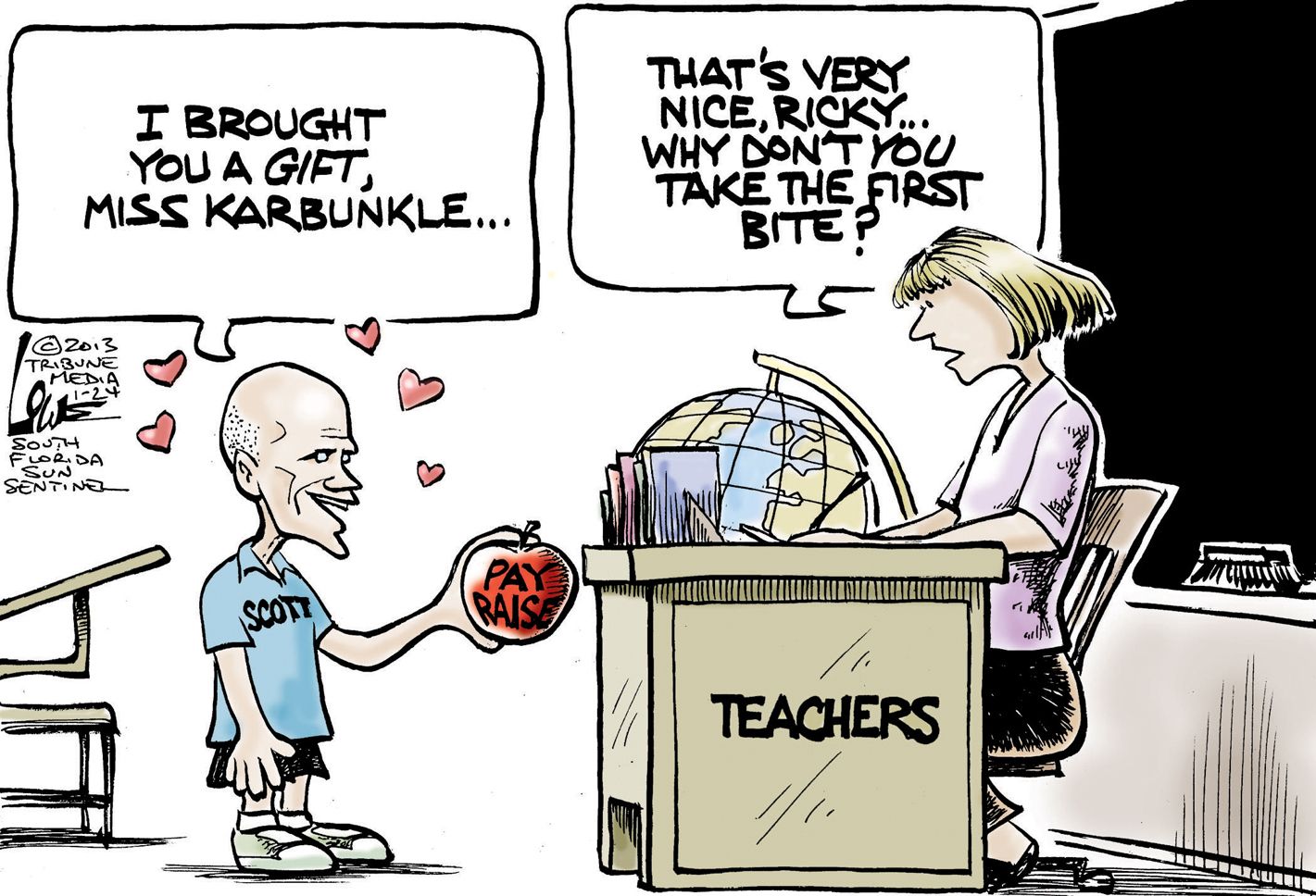 Teachers aren't morons, like the people who got bamboozled into voting for Rick Scott back in 2010 because he spent over $70 million of his own money to make sure they remembered his name instead of Alex Sink's when they went to the polls.

Teachers have advanced degrees. They have the smarts to see a shameless bribe for what it is. If they didn't have good judgment, we wouldn't be putting the education of our children in their hands, would we?

So when Rick Scott suddenly makes nice—after vilifying teachers and their profession for years—and makes noises about wanting to give them raises, they will probably take whatever crumbs they are offered and go ahead and vote the way they originally intended. When you combine the lack of raises over the past few years with the three percent hit they just took by having to pay into their retirement plan, any raise won't even bring them back to square one.

While Florida is one of the biggest, most cosmopolitan states in the country, it often acts like a Southern backwater when it comes to teacher salaries. A Democratic legislator will be introducing a bill in Tallahassee this session that would bring teachers' salaries up to the national average. Certainly, they deserve at least that.

http://www.sun-sentinel.com/news/opinion/chan-lowe/sfl-chan-lowe-rick-scott-offers-teachers-a-raise-20130123,0,1463831.story
Meanwhile, Florida is lowest in school funding and in student achievement K-12.
With a D- in student achievement, an F in funding, Florida makes Top 10 in nation's schools.
There has been a big propaganda spin the last few days about how Florida jumped back up into the Top Ten in Education Week's ranking. Yet Florida received a D and F in two of the most important areas.

FLORIDA'S REPORT CARD

Florida's B- grade from Education Week was based on a variety of subjects, each of which received its own grade. Here's how Florida fared in some of them:

Early-childhood education: A

School Spending: F

Standards, Assessments & Accountability: A

Status of K-12 Achievement: D-

College readiness: B-

Accountability in the quality of teachers: A

Read more here: http://www.miamiherald.com/2013/01/10/v-fullstory/3175937/florida-schools-make-top-10.html#storylink=cpy
5 replies, 3153 views
Replies to this discussion thread
| | | | |
| --- | --- | --- | --- |
| 5 replies | Author | Time | Post |
| Cartoonist captures lil Ricky Scott's raise offer for teachers brilliantly. (Original post) | madfloridian | Jan 2013 | OP |
| | Bradical79 | Jan 2013 | #1 |
| | madfloridian | Jan 2013 | #2 |
| | Grantuspeace | Jan 2013 | #3 |
| | Sancho | Jan 2013 | #4 |
| | madfloridian | Jan 2013 | #5 |
---
Response to madfloridian (Original post)
Thu Jan 24, 2013, 01:39 PM
Bradical79 (3,229 posts)
1. The report card is pretty telling
Status of K-12 Achievement is a D-... and oh, look at that! School spending is an F! I'm not exactly all that well versed in solving educational problems, but it looks like this evaluation method has identified a possible link between spending and achievement.
---
Response to Bradical79 (Reply #1)
Thu Jan 24, 2013, 02:47 PM
madfloridian (88,114 posts)
2. The A grades are in holding teachers accountable.
The poor grades are in the outcomes for the students. Something wrong with that picture.
---
Response to madfloridian (Original post)
Fri Jan 25, 2013, 07:13 PM
Grantuspeace (873 posts)
3. In Wisconsin, Gov. Walker has been floating the idea of teacher bonuses.
There are two intricate levels of douche baggery at work here.

The first level is that the money for this bonus came from taking pay and benefits from teachers and other public employees. So the "bonuses" are actually not really bonuses at all.

The second and perhaps most insidious twist is that not all teachers will get the "bonus".
They will be given to teachers in over performing schools and districts. What a brilliant way to " divide and conquer". Pick a couple upper class white districts and shower them with extra cash. Break the union and solidify your base. Game, set and match.
---
Response to madfloridian (Original post)
Fri Jan 25, 2013, 07:29 PM
Sancho (6,330 posts)
4. Glad to see ya madfloridian! What a great cartoon...
Scott is a liar and a thief. We need him out of Florida forever!
---
Response to Sancho (Reply #4)
Fri Jan 25, 2013, 08:41 PM
madfloridian (88,114 posts)
5. Hey Sancho..
Good to see you as well. Yes to all you said. He has done so much destruction here already....wait until the state universities find out he stacked the deck and in effect controls them.
Wait till people realize what he has done to our public schools already.