Thu Dec 20, 2012, 07:48 AM
xchrom (108,903 posts)
Breaking the hold of corporate welfare on America's incarceration industry
http://www.guardian.co.uk/commentisfree/2012/dec/19/corporate-welfare-incarceration-industry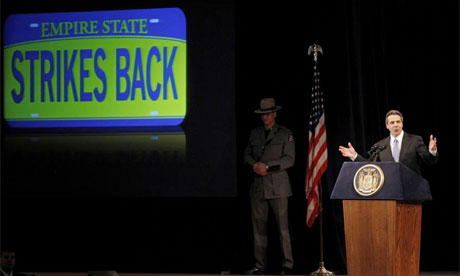 'An incarceration program is not an employment program,' said New York's incoming governor, Andrew Cuomo, at his 2011 State of the Union speech. Photograph: Reuters/Mike Segar
The US department of justice released a report this week (pdf) showing that 26 states have recorded decreases in their prison populations during 2011. California boasted the biggest decline of over 15,000 prisoners and several other states including New York and Michigan reported drops of around 1,000 prisoners each. This is the third consecutive year that the population has declined, and as a result, at least six states have closed or are attempting to close approximately 20 prisons.
This should be welcomed as good news considering that pretty much every state has been going over its own version of a fiscal cliff for the last several years and out-of-control corrections budgets play a significant part in that. But sadly, because incarceration has become a virtual jobs program in many states and because certain corporations are profiting handsomely from the incarceration binge that has been in place for the past few decades, the reduction in prison populations and prison closures is being met with huge resistance.
According to a recent report by the Sentencing Project called On the Chopping Block (pdf), which detailed all the prison closures and attempted closures in the past year, several state governors have been dragged into legal battles with state employees and unions who want the prisons to stay open. In Illinois, for example, Governor Pat Quinn's decision to close down four state facilities, among them the troubled Tamms super maximum security prison, has been challenged in court by the prison employees' union, the American Federation of State, County and Municipal Employees (AFSCME). The closure of the Tamms facility alone is estimated to save the state $21.6m next year and $26.6m each year after that. The court ruled in the governor's favor in the last round of litigation, but AFSCME is working to litigate again to try to authorize funding so these prisons can stay open.
4 replies, 1053 views
Replies to this discussion thread
| | | | |
| --- | --- | --- | --- |
| 4 replies | Author | Time | Post |
| Breaking the hold of corporate welfare on America's incarceration industry (Original post) | xchrom | Dec 2012 | OP |
| | Sherman A1 | Dec 2012 | #1 |
| | davidpdx | Dec 2012 | #2 |
| | tama | Dec 2012 | #3 |
| | jsr | Dec 2012 | #4 |
---
Response to xchrom (Original post)
Thu Dec 20, 2012, 07:56 AM
Sherman A1 (19,398 posts)
1. In too many cases the wrong folks are behind bars
it should be the guys with the briefcases.
---
Response to xchrom (Original post)
Thu Dec 20, 2012, 08:21 AM
davidpdx (22,000 posts)
2. Why we ever let private prisons exist is beyond me
Prisons are not a good place. I've visited people in prison and have seen them up close. If we have to have them, they should be run by the state not some for profit company.
---
Response to xchrom (Original post)
Thu Dec 20, 2012, 08:57 AM
tama (9,137 posts)
3. Fuck the prison guard unions
concentration camp guard unions have no place in labor movement.

Unless the declare indefinite strike and let all people go free.
---
Response to xchrom (Original post)
Thu Dec 20, 2012, 09:20 AM
jsr (7,712 posts)
4. Recommend