Tue Dec 18, 2012, 01:07 PM
swag (24,997 posts)
Nate Silver: Out Magazine's Person of the Year
By Aaron Hicklin, Photography by Mike McGregor
http://www.out.com/news-opinion/2012/12/18/nate-silver-person-year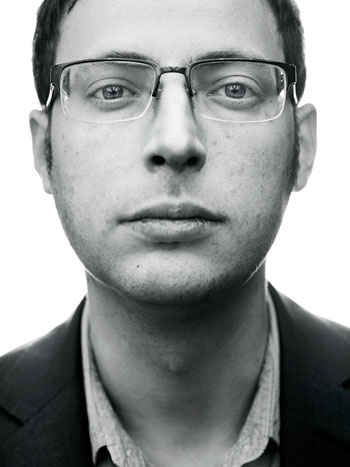 Nate Silver wants to know if I've seen Jiro Dreams of Sushi, the much-praised documentary about Japanese sushi legend Jiro Ono. "It's about this guy in Japan who makes the best sushi, probably in the world, and you're, like, What's the secret?" Silver says. "And the secret is dedication to every little aspect, from the rice to the fish to the way the customers are seated to the order in which the meal is presented." He pauses. "Just dedication to every little aspect of every little thing."
We are in a small restaurant in Brooklyn one Sunday shortly after the election that returned Barack Obama to the White House, and Silver is enjoying the rare prospect of an afternoon watching college football and drinking beer with his friends. "I can't believe it's a Sunday when I actually go and do nothing and not feel guilty about it," he says as a waiter takes his order for a Michelle, a cocktail involving jalapeño-infused tequila, beer, lime, and tomato juice (Silver liked it so much, he had two of them).
Silver's admiration for Jiro Dreams of Sushi, a movie about attention to detail, is of course exactly the kind of metaphor a writer hopes for—an almost too-perfect reveal of Silver's psychology. Fish or numbers, it all comes down to an obsession with method and perfectionism. There is also, of course, the way in which Ono, now in his late eighties, has resisted what, in marketing speak, is described as diluting your brand, an important consideration for Silver, who has been enjoying an unprecedented career high since the election.
"He could have sold out, right?" Silver says. "He could have opened a chain of restaurants and then become a celebrity chef, and he chose not to. He just chose to keep making really good sushi. That's my personality: to really enjoy the work you are doing and not cheapen yourself."
. . . more
3 replies, 1040 views
Replies to this discussion thread
| | | | |
| --- | --- | --- | --- |
| 3 replies | Author | Time | Post |
| Nate Silver: Out Magazine's Person of the Year (Original post) | swag | Dec 2012 | OP |
| | Wait Wut | Dec 2012 | #1 |
| | monmouth3 | Dec 2012 | #2 |
| | libodem | Dec 2012 | #3 |
---
Response to swag (Original post)
Tue Dec 18, 2012, 01:17 PM
Wait Wut (8,492 posts)
1. Let's hear it for the geeks and nerds!
Gratz, Nate!
---
Response to swag (Original post)
Tue Dec 18, 2012, 03:53 PM
monmouth3 (3,871 posts)
2. I am thrilled he beat Anderson out...Go Nate!!..
---
Response to swag (Original post)
Wed Dec 19, 2012, 10:25 AM
libodem (19,288 posts)
3. Mr. Brilliant